The coastline of East Coast Park, which stretches some 15km in length, is filled with sandy beaches, scenic trails, and soothing waterfront dining spots.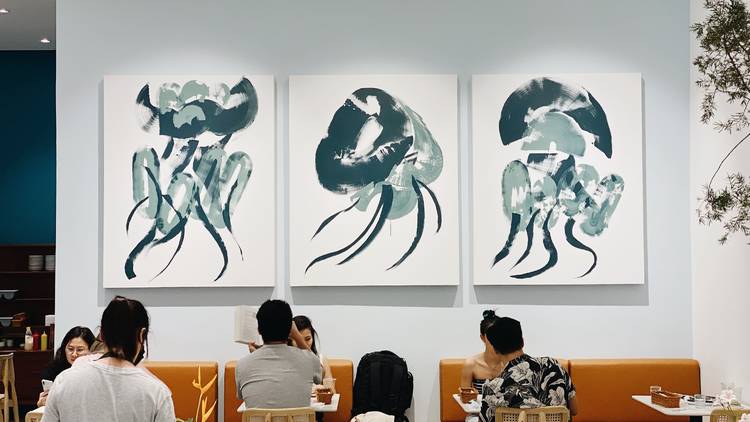 Its latest addition, East Coast Commune, is a charming café with an inviting interior that taps onto the surrounding landscape as design inspiration. Inside, the high-ceiling pitstop comes decked with rattan-backed chairs, wood-panelled counters, and potted foliage to echo the outdoors. A teal-white colour scheme and marine paintings by a local artist also help lend a tropical, seaside touch to the space. More than just a pretty space for the social media savvy, East Coast Commune is also a family-friendly spot with a play area for kids, a changing room for toddlers, and food for the young'uns.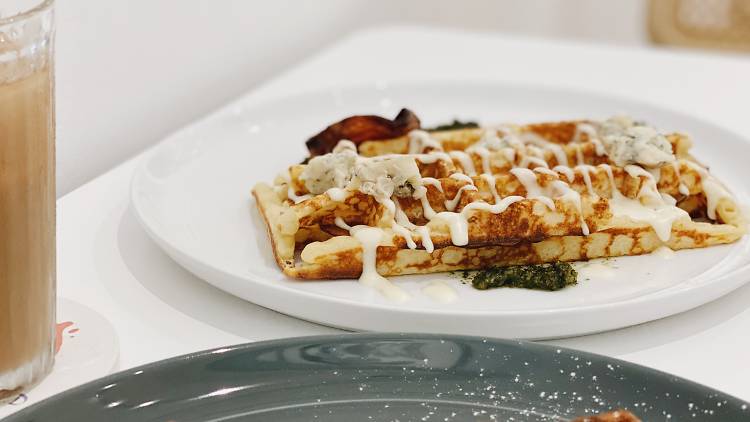 The concise menu features sourdough sandwiches, pasta, and sides of fries and granola. Unique to East Coast Commune is a selection of sourdough waffles. Try the savoury four cheese ($15), which comes with a base of rosemary-scented and caramelised shallot waffle, served with mozzarella, parmesan, gorgonzola, cheddar, confit tomatoes, and pesto; or the fried chicken ($18) with roasted corn waffle.
Sweet options feature a classic ($8) combination of sourdough waffles and maple syrup, along with a version of berries and barely-there mint jelly ($12). The waffle portions run rather small here, so it's best to load up on heartier options of lasagne ($16) or linguine tossed with black garlic ($16) if you're feeling hungry after a long day of activities.
It might be tempting to beat the heat with a cold drink, but our iced hojicha latte ($6) and oat masala chai ($6) came diluted from the ice. Instead, opt for some warm brew of coffee and tea, or grab a bottle of kombucha ($8) to cool off.