The Fat Prince is ready for succession. After years of serving up jazzed-up Middle Eastern plates at its opulent store along Peck Seah Street, its refreshed dinner menu provides fresh updates and new creations that are fit for a king.
Start with the kingfish Crudo ($22), where smoked slices of fish come arranged with burnt orange gelee and pickled shallots to lend brightness and acidity. Roasted bone marrow ($19) is another must-order. Almost like beef butter, the smooth, smoky middle is best enjoyed when smeared on slices of fluffy Turkish flatbread ($4).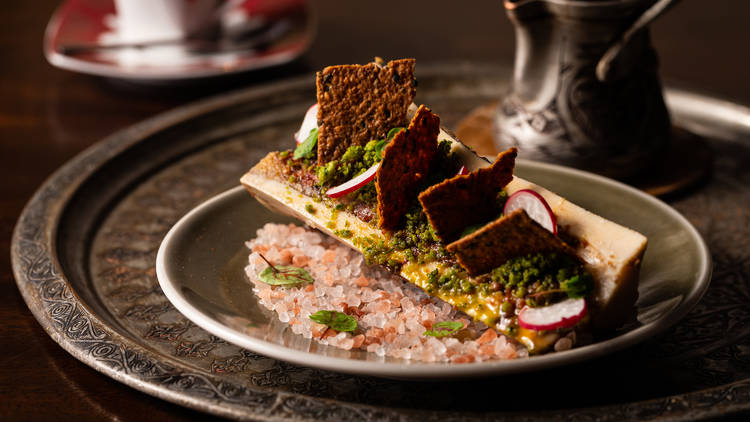 By royal decree, a selection of Fat Prince's best-sellers are making a return to the menu. The usual hummus comes switched up with a mix of braised artichoke, chickpeas, and white vinegar ($14); and smoked Sicilian olives ($12) offers a juicy, briny pop which makes it difficult to stop.
But the feast must continue, and the 'Build It' section is worth saving stomach space for. Put together the ultimate pita in an assemble-it-yourself format; get the fried turbot ($31/100g), coated in an addictive spice-scented crispy batter. To enjoy, layer atop pita a generous spoonful of fish, and dollop spoonfuls of watercress aioli and lentil gravy before wrapping it all into an aromatic bundle. Still hungry? Throw in sides of the umami-laden mushroom farro ($18), cooked with roasted maitake and pickled shimeiji for a play on texture and flavour.
Don't leave without raising a toast, two. The Fat Prince has a series of exotic Koktails to help wash everything down. Sip on The Fez ($24), an alluring mix of rye, apricot, and smoke; or try the refreshing Meyhane Delirium ($24) which combines tequila with cardamom, pomegranate, and citrus. Equally delightful: Milk and cookies ($14), a grown-up take on the classic nightcap where a gooey chocolate treat is served with Raki-spiked warm milk.
–
Original review by Nicole-Marie Ng on October 17 2016
★★★★
Let Fat Prince show you a whole new world of Middle Eastern flavours, shining, shimmering and splendid. Designed to reflect Istanbul's opulent café culture – think velvet navy chairs, wooden rafters lined with gold and Arabic mosaic embedded in the walls – it's grand without being gaudy.
Chef Hunter J Moyes, who competed in Season 2 of Chopped Canada, leads the kitchen to produce modern Middle Eastern food with a focus on kebabs. There are currently six types on the menu, including baharat honey chicken, smoked kasar cheese and spicy beef Adana ($16/two, $24/three). Each kebab is palm-sized but packed with as much filling as it can possibly hold. Order the spicy Adalar prawn kebab, whose sweet pear salad base mellows out the heat of the marinated shellfish. Topped with a sour and slightly bitter pickled chayote (a type of gourd), the taco-resembling dish hits all the taste profiles in one mouthful.
Equally impressive are the small plates and salads. The Fat Prince hummus ($12) is a smooth blend of chickpeas, duck fat, garlic and lemon, and sprinkled with a mix of fragrant spices. Spread it over crispy bread chips and it's filling enough to be a meal on its own. Similarly, the Turkish kisir ($14) is a mix of bulgur wheat and roasted vegetables tossed in herbs and pepper paste. The hearty salad will satisfy people in the CBD looking to eat clean but can't quite give up on grains just yet.
Wash it all down with a pistachio latte ($7) or, for the adventurous, orange chilli mocha ($7) that has specks of chilli powder and zest from the citrus. For something stiffer, Fat Prince has wines ($16-$19/glass, $80-$190/bottle) and beers ($13-$18) from Lebanon and Morocco alongside specialty cocktails ($18-$22) infused with spices.
Time Out Singapore reviews anonymously and pays for all meals. Read our restaurant review policy here.
What the stars mean:
★ Poor ★ ★ Promising ★★★ Good ★★★★ Very good ★★★★★ Exceptional