Falling in love can create beautiful things. For most, it results in a blissful union of like-minded souls. But for others, a gorgeous restaurant might emerge.
Firangi Superstar is one such place; an ode by the owners to the land of India – one that left them completely enamoured. Through rose-tinted glasses (a common affliction for those infatuated), co-owners Rohit Roopchand and Michael Goodman penned a "whimsical love letter" from the viewpoint of a firangi, or foreigner. The result: a dreamy, movie set-like space splashed with everything they admire about the culture.
The cavernous location is split into four thematic sections – each providing a vastly different ambience from another. Step into the Officer's Club, a handsome salon flanked by antique rifles and plush mahogany armchairs; or let the Old Railway Room take you back to the yesteryears, complete with vintage ceiling fans and wall lamps reminiscent of old-school train carriages.
The Elephant Palace dazzles with its quiet opulence, designed with the blue room of the Udaipur City Palace in mind. And tucked deep within is the Jungle Lodge, a lush tropical landscape of dramatic greens and framed tiger photos.
Much like the interior, the food, too, is a dazzling reinterpretation of Indian cuisine. Head chef Thiru Gunasakaran (formerly from Spago Dining Room by Wolfgang Puck) tinkers and tweak traditional flavours so everything tastes new again. Start with some chutney and raita ($10 for two, $14 for three), a colourful entryway to the inspired menu. Roasted pistachio comes blended with green chilli and coconut milk for a toasty, creamy accompaniment; dried chilli chutney packs heat suffused with heady hints of garlic; and cucumber raita is sweetened with jackfruit bits.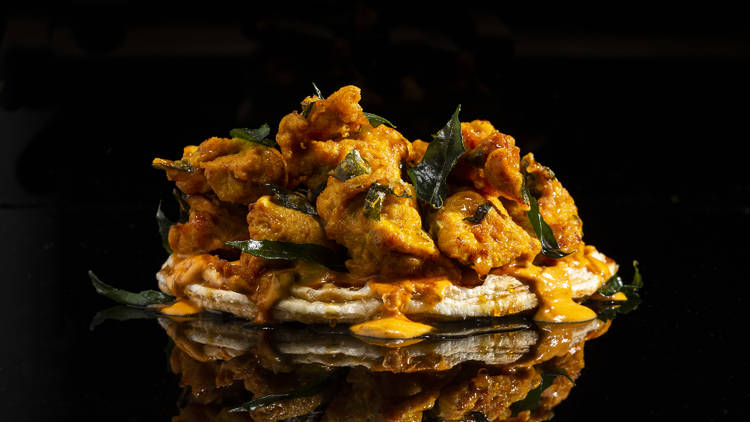 With cheekily named dishes that leave much to the imagination, it is best to leave expectations at the door. Here, shatteringly crispy prata comes presented in the shape of a waffle, topped with spice-scented fried chicken and a drizzle of butter chicken sauce ($24). A dish of curried cauliflower and potatoes is defiantly not aloo gobi, but the addictive layering of crispy potato cubes, oven-roasted cauliflower florets, raisin-studded cauliflower couscous, and masala compote ($16) makes it an easy favourite of the night.
As compared to the delightfully fun starters, the main dish of Indian Saddle ($19 per 100g) seems lacking in the whimsy department. Still, the tandoor-cooked lamb porterhouse is cooked till tender, and the bed of Indian-inspired chermoula pairs well with spoonfuls of anise- and ghee-infused basmati rice ($6).
And while usual Indian sweets can taste cloying, the desserts at Firangi Superstar are playfully subdued. Mango mousse cake ($12) is a mixture of kesari, chewy circles of steamed semolina cake, served with Alphonso mango mousse, mango-infused tea gel, and cream cheese to create a fun, summery treat. Or try jamun ($15) that comes balanced with additions of bittersweet chocolate mousse and floral rose creme.
Unbounded by traditions, the owners at Firangi Superstar have created a charming homage to a culture they so clearly hold in high regard. And it's a version we can't help but fall in love with as well.