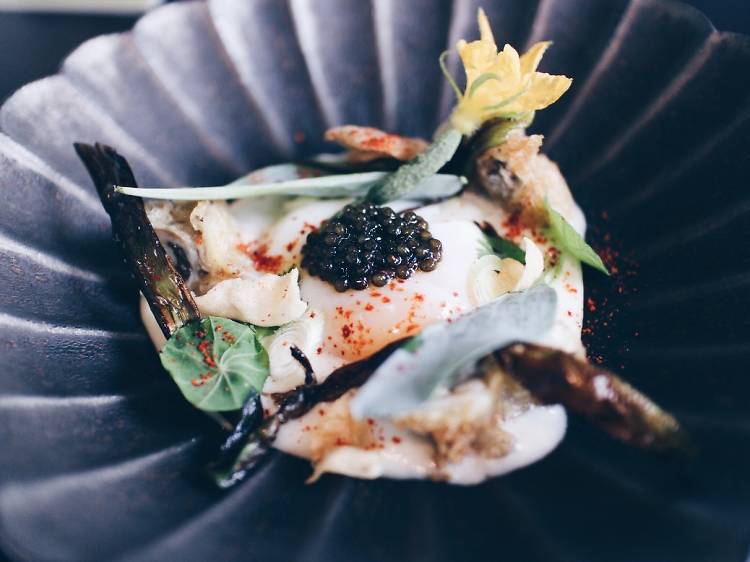 You've had local history drilled into your brains from social studies classes but this isn't another lesson filled with talk of tumult and hard times. Until August 16, CORNER HOUSE's executive chef Jason Tan turns his eight-course Discovery Menu ($248) into an intimately personal meal that melds his own food memories with his own eating milestones growing up in Singapore.
The dinner menu is designed like a timeline. The period in the '60s, '70s and '80s when locals clamoured to be seen eating at Pizza Hut, A&W and McDonalds, is interpreted as luxed up in a foam-based pizza, and Tan's early memories of 'orh luak' is deconstructed into a plate of Royale oysters, Kristal de Chine caviar and oyster leaves.
To honour his encounter with Alain Passard at the 2005 World Gourmet Summit that laid the foundations of his brand of Gastro-Botanica cuisine, Tan serves a deeply satisfying stew of Cevennes onion with baked French beetroot. His stints at Julien Bompard's and Justin Quek's restaurants show up on the meal as a lobster bisque – true to Bompard's original recipe – and an aged Shaoxing wine broth that floods a fillet of sterling halibut and squid with comforting flavour.
CORNER HOUSE's menu is pricier than most other SG50 offerings, but its dishes are exceptional. Plus, you get to dine in the Botanic Gardens, triumphant after its UNESCO crowning – what's more celebratory than that?