Two forks. That's how the soufflé pancakes at Flipper's are meant to be eaten. Its signature, jiggly stacks are so soft – cloud-like even – that they can be enjoyed without a knife. Just two forks are required, along with a hungry appetite.
Hailing from Japan, Flipper's is best known for its kiseki, or miracle pancakes – a term used to describe its almost unbelievable texture: soft and pillowy. To create its signature stack, a secret recipe has to be followed strictly, from the exact measurements used right down to the type of egg (a variant from the Kanagawa prefecture) and flour (Hokkaido wheat) used.
And over at Ngee Ann City (doors open on November 6, Friday, 2pm), the 54-seater marks the brand's first Southeast Asia venture following successful outposts in Hong Kong, Seoul, and New York. To ensure consistent quality, specialised griddles (the exact same model is used in its Japan stores) are flown in to prep the pancakes. Catch a glimpse of the cooking process through the open kitchen; the batter is first whipped up fresh upon order, then left to cook without a ring mould to achieve a consistently soft middle. Do expect a waiting time of around 30 minutes.
Flipper's Singapore will serve a compact menu of just six pancakes – five sweet variants and one savoury option. Have it plain ($16.80) to sample the pancake in all its jiggly glory. Three palm-sized clouds are dressed with simple additions of maple whipped cream for a light dose of sweetness. Other highlights include the matcha pancake ($19.80), with green tea-scented cream and azuki bean paste; and hazelnut chocolate ($21.80) served alongside caramelised banana and a generous dollop of Valrhona chocolate-infused cream.
The eggs Benedict ($22.80) is the only savoury creation available. Instead of the usual muffins, poached eggs are served atop two fluffy soufflé pancakes, then layered with ingredients of smoked salmon on one, and prawns with avocado on the other.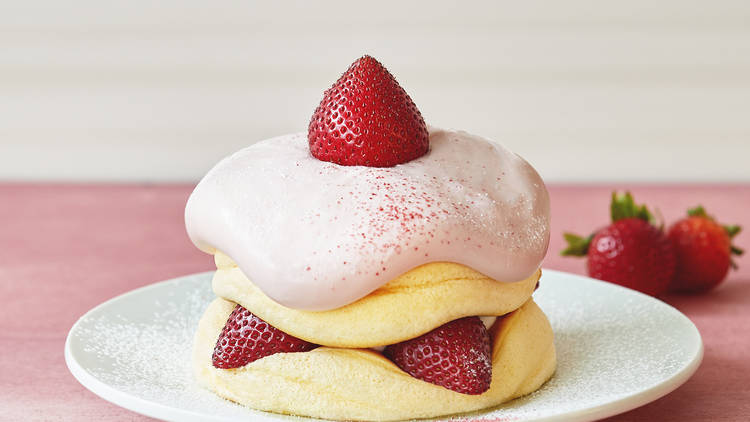 Our favourite, however, is the Millennial Strawberry ($20.80), an opening special available only for the month of November. This picture-worthy creation is studded with fresh Chitose strawberries, and covered with a sweet, tangy blanket of strawberries-blended cream that's best washed down with a glass of rose strawberry milk ($7.90). Beyond November, Flipper's Singapore will also introduce other seasonal flavours featuring fresh Japanese produce of Yubari melon, Shine Muscat grapes, and more.