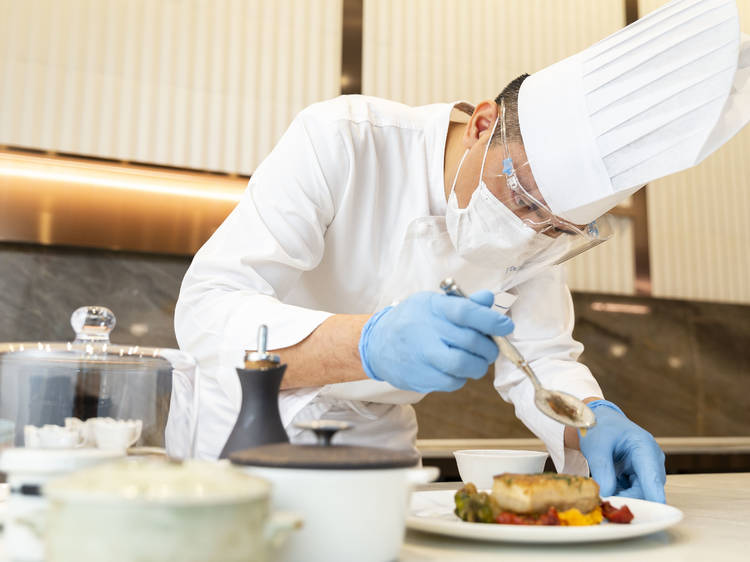 Photograph: Marina Bay Sands
Hungry for change
The integrated resort is now humming with activity following months of closure. Attractions, amenities, and restaurants are springing back to life, ready to welcome guests and hungry diners. Buffets, in particular, are also making a comeback at MBS.
But before these restaurants receive diners, the team is busy writing a new chapter of the self-serve experience. At soon-to-open Rise, diners can either enjoy unlimited servings – à la carte style – or pick from curated set menus. Most food, with the exception of freshly baked bread, cold cuts, and cheeses, will be pre-plated and served at the table. Christine estimates that some 90 percent of the restaurant's original spread will be retained in this new format.
"To minimise cross-contamination, we will be designating a service captain and server to each section of about seven to eight tables," she adds.
The Line at Shangri-La Hotel, Singapore, has reopened to also provide à la carte options. A pared-down selection of some 35 dishes, ranging from seafood to local delicacies, are available for unlimited orders via a digital menu. Each dish is prepped fresh, and served in bite-sized portions directly to the table.
"With dishes that are cooked-to-order, guests can also enjoy a more personalised service with the flexibility to make requests," says a spokesperson from the hotel. "Guests can also catch our chefs in action from their tables as they will still be cooking the dishes at the live stations within the restaurant."
Others, like Goodwood Park Hotel, started making tweaks to its buffet service even before the 'circuit breaker' period. At its English Afternoon Tea Buffet at L'Espresso, staff were previously stationed at counters to help serve dishes to diners.
In Phase 2, the restaurant had to pivot, again, to its current tableside service. Orders are now made via a paper chit, then served in individual portions to each table. "This allows for a more personalised and leisurely experience that is similar, if not more enjoyable," says a representative.