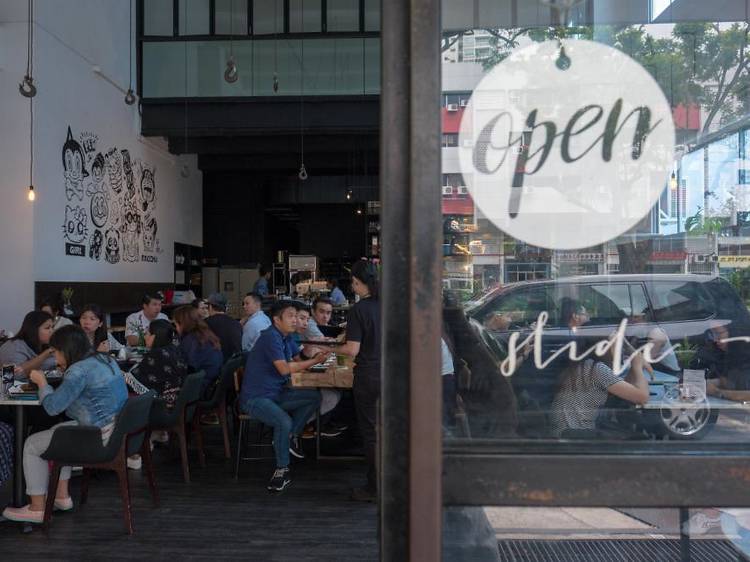 Photograph: Mindy Tan/ Singapore Tourism Board
However, not all businesses are quick to celebrate the return of dine-in customers.
As the owner of The Refinery, Colin Chen points out, there are multiple considerations to keep in mind. For one, the limit on dining groups and social distancing rules means that his restaurant's original capacity is essentially halved.
"For me, running a service for 30 pax or 70 pax is pretty much the same in terms of my manpower cost," says Colin. Moreover, the restaurant has taken time in the past two months to set up its delivery system – from workflow to manpower arrangements. Tables that used to seat customers are now used as cashier and pick-up points for delivery riders.
"We are now more optimised for delivery," he shares. "But when you can only operate at 30 to 50 percent capacity, suddenly we need to have that conversation again to see if it would be worth it to offer dine-in."
He adds: "Suddenly, dining-in doesn't seem like a feasible option for us in the short run."
For restaurants that offer a communal dining experience, the cap of having no more than five people at a table is also a factor to consider.
"We feel that customers might continue to opt for delivery of takeaway options," notes a spokesperson from the Crystal Jade Group. With all the rules in place, eating out in restaurants can become almost functional, rather than convivial. The spokesperson says: "Customers may likely dine in their own homes instead since the duration of dining in restaurants will be kept to a minimum."
Pang Seng Meng, the co-founder of New Ubin Seafood, echoes a similar sentiment.
"Communal dining will be severely restricted as part of the new normal," he says. Instead, the local zi char chain is focusing its efforts on UbinEats, a special menu that caters to solo diners.
"Phase 2 will be challenging for us as we are a communal dining operation," he adds. "And we will need to decide whether we should open for dine-in or continue to focus our efforts on delivery."