Those looking for a meatless meal in town now have a cool, new option to consider: Green Common. It's a one-stop destination for all your plant-based needs; the roomy interior houses a 112-seater eatery, and a retail nook that stocks a wide selection of international meat-free brands.
The multi-purpose concept store was first started by the Green Monday Group in Hong Kong, as a way to promote mindful eating. And its opening at VivoCity marks Green Common's first outlet in Southeast Asia.
Here, the bright interior and all-inclusive menu is made to feel welcoming. Choose to settle down in a pastel-hued chair, under a living air plant ceiling fixture, or head outdoors to dine alfresco by the waters. Then, browse an extensive menu where you'll find a range of meat-alternative being used to create dishes pulled from a variety of cuisine: pizza, noodles, local street food, and more.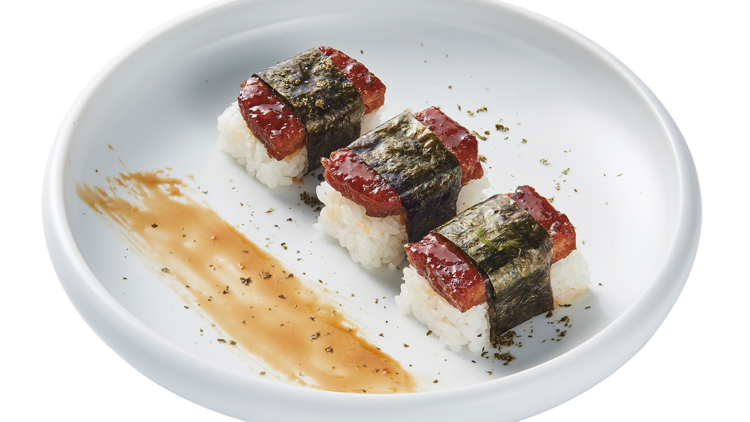 For the first-timers, ease into the meal with some Alpha Nuggets ($8), a guilt-free treat it hour any cholesterol and artificial colours. Or snack on strips of Omni Luncheon Fries ($8), another snack that you can munch on without worrying about cholesterol or nitrates typically found in the canned variants. There's also the Omni Musini ($9) where teriyaki-glazed OmniMeat Luncheon comes wrapped with sushi rice, dolloped with pineapple chilli chutney.
And while most meat-free substitutes are designed for Western meals in mind, Green Common has created meatless version of the usual Asian staples. On the menu, sample Hainanese Trick'en Rice ($16) made using Heura, or get the banh mi-inspired rice bowl ($14), topped with the lesser-seen beef alternative, Unlimeat. Even desserts come with a plant-based spin, too. The Hong Kong Style French Toast ($13) features vegan brulee toast, caramelised banana, and maple syrup.
If a meal here has you inspired to recreate some meat-free meals at home, swing by the retail section. Shop from over 50 different plant-based brands, with options that range from Califia Farms, Gardein, Beyond Meat, Just Egg, Simply Seven, and more. Exclusive to Green Common is the OmniEat range of vegan-friendly, ready to-eat meals. Truffle gyoza ($7.20), siew mai, and more need only a few minutes in the microwave or steamer before enjoying.