Newton Food Centre is undoubtedly one of the most iconic hawker centres in Singapore. Its 2018 appearance in Crazy Rich Asians cemented it as a must-go spot among international travellers but to locals, Newton Food Centre has long had a reputation for being a tourist trap.
Now that Newton Food Centre has undergone a three-month renovation, have things changed? Or is the hawker centre still an overhyped destination with inflated prices, annoying touts and snaking long queues? We head down to investigate if it's finally worth a visit.
But first, a little blast from the past on Newton Food Centre
The Newton crossroads was once a place frequented by locals since the 50s where street hawkers gather around to ply their trade. With state plans to modernise, Newton Food Centre was first erected in 1971. At one point in 1982, it was even the second most popular eating spot in Singapore with official records from the National Heritage Board reflecting an average of 7000 hungry diners during peak hours daily. It also saw multiple facelifts throughout the years of its existence.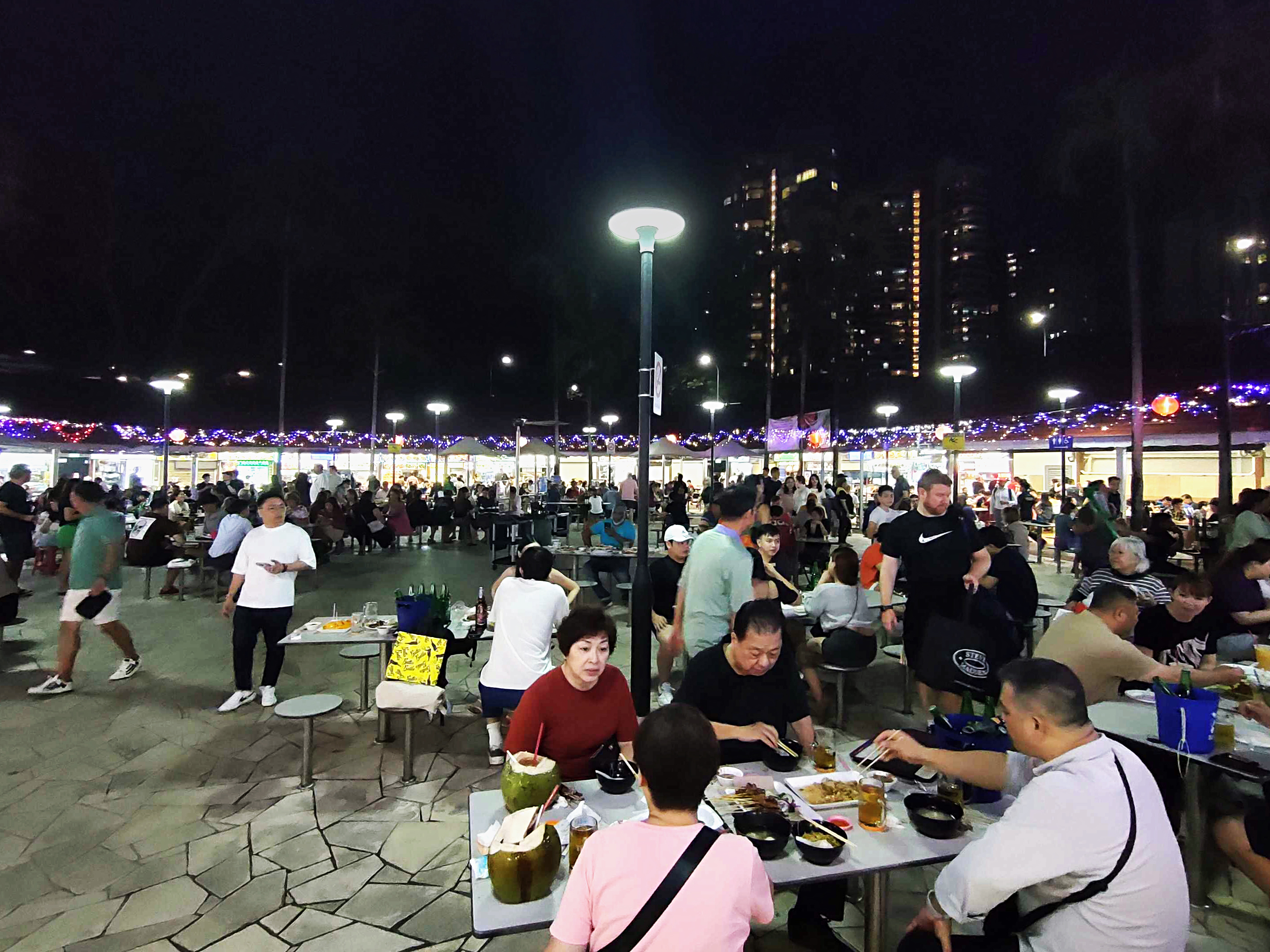 Today, the hawker centre welcomes back a sea of hungry gastronomes from all over the world after a three-month facelift. And vendors who survived the pandemic seem evidently happier – it is high time that they were able to recoup their losses. While Newton Food Centre may well be popular for the wrong reasons, most locals still hold it in a special place in their hearts and paid the rejuvenated space a visit – as witnessed during our visit.
The atmosphere is without a doubt electric and diners are almost always guaranteed to be enveloped in smoke. And there is plenty of diversity: families gather over shared meals, friends chewing the fat over beer and snacks, taxi drivers nursing cups of coffee and of course, tourists looking to do the same.
How overrated is Newton Food Centre?
For the uninitiated, the overrated hawker centre is notorious for being overpriced and overcrowded. It is also rife with persistent touts and ambiguous seafood prices. Many would still recall the harrowing overcharging incident back in 2013 when a group of American tourists were forced to cough up $500 for their first seafood meal at an unethical stall.
Then there are the queues. During peak hours, expect to wait for a table and once that's sorted, there will be another set of queues to brave to satiate your tummies. Want a plate from the legendary Hup Kee Fried Oyster Omelette? It will take a bucket of patience to endure queues of no less than 30 minutes to enjoy one of Singapore's best-fried oysters – allegedly.
Other popular eats include 40-year-old Teochew braised duck by Kwee Heng Duck Rice, Michelin Bib Gourmand recognised Kwang Kee Teo Chew Fish Porridge and chilli crab specialist Alliance Seafood. And they all have one thing in common – queues. While loyal fans may argue that these stalwarts are worth the wait, there are other alternatives around the island that are far more worthy of your dime and time.
Like crispy yet gooey fried oysters like Hup Kee's? Check out Song Kee Fried Oyster in East Coast Lagoon Food Village. The breezy seaside hawker centre is also alfresco as it gets. Want smoky satay like TKR's? Head to Pang's Satay at Chinatown Food Complex. While you're there, you can even pair it with a fresh pint of craft beer from the world's first hawker beer stall, Smith Street Taps. Fancy juicy BBQ chicken wings like R&B's? You ought to eat from wing institution Tong Kee BBQ at Old Airport Road Food Centre.
If you're still up for a visit...
Undeterred? These are two noteworthy stalls that are worth visiting. First off, the legendary Soon Wah Fishball Kway Teow Mee with its silky hand-made fish balls and dumplings. The former, made from mashing pure fish meat by hand, has a firm yet bouncy bite while the silky dumplings stuffed with minced meat seasoned with sun-dried sole fish bone powder. Don't be dissuaded if you see a long queue, the nifty hawkers are rather swift in action – after all, they've been doing this for over 70 years. Our bowl arrived piping hot (and exceptionally tasty) in under 20 minutes on a busy mid-week evening.
Then there is La Porpo, a humble fried chicken shop with bold flavours to offer. While the menu may seem overwhelming at first glance, it all revolves around a crispy foundation of ayam goreng, or fried chicken. Touted as one of Artichoke's Bjorn Shen's favourite fried chicken joints in Singapore, La Porpo does not have a secret batter recipe. Instead, chef-owner Wandi simply mixes salt, pepper, turmeric powder, cornstarch, egg, and water to coat his chickens.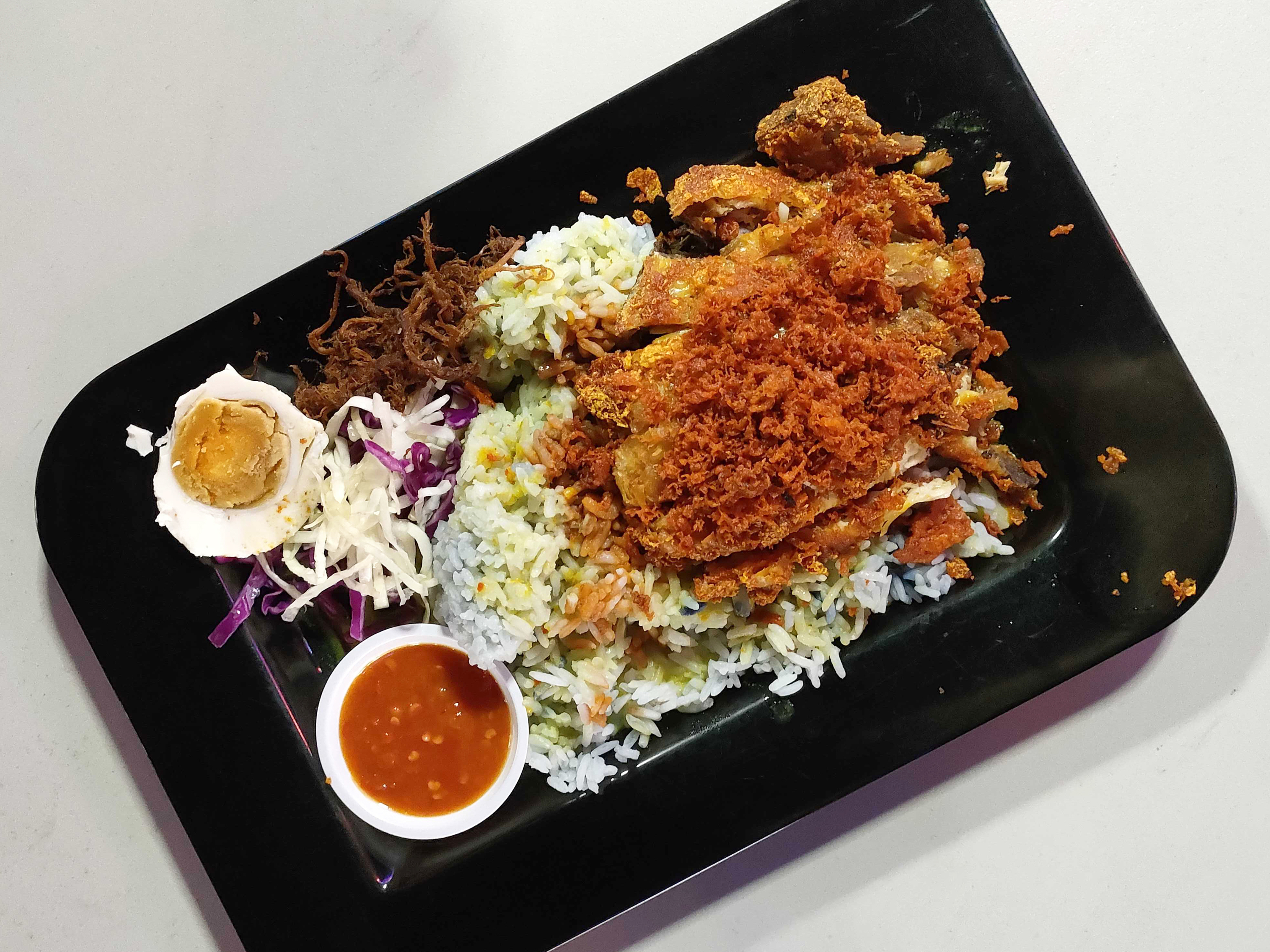 What comes out of the oil-filled wok are juicy yet flavourful chickens with a well-seasoned exterior that delivers a satisfying crunch with each bite – all made with plenty of heart and soul. Depending on your preference, you can enjoy these fried chickens with a Kelantan-style nasi kerabu, ayam penyet or ayam geprek. Chef Wandi recommended trying the best-selling nasi kerabu which comes with a melody of aromatic blue butterfly pea flower rice, dried beef strips, salted egg and pickled vegetables to pair.
The fiery sambal is also worthy of a shout, made with red chilli padi rendered down with onion, garlic, ginger and belacan. Other sambals include the sambal loca, made from green chilli and anchovy, and the scorching sweet yet umami chilli blend of sambal geprek. If they ever get too hot to handle, seek respite with slurps of comforting chicken soup.
Still hungry? Check out other hawker centres below for more tasty hawker culture.