Chef Kenjiro 'Hatch' Hashida might be a big-name for serving up the finest sushi experience, but at his third, and latest, iteration of the eponymous restaurant along Amoy Street, it is the little things that really impress.
It begins with the interior, dressed with refined fixtures and personal touches. Walk through the torii gates, and pull up a seat in one of three dining halls – each with a distinct vibe. Traditional detached roof peeks through in the eight-seater room, and an ancient 200-year-old sakura wood beam flanks an intimate seven-seater space.
But it is in the main 12-seater space where things get intricate. Wood from hiba trees, found in the Aomori Prefecture where his old house is located, is used to create a sleek countertop. On the ceiling is another stunning detail: undulating textures, made ambiguous to resemble clouds, or mountains, or waves – its imaginative shape a mirror of the inventive food that is to come.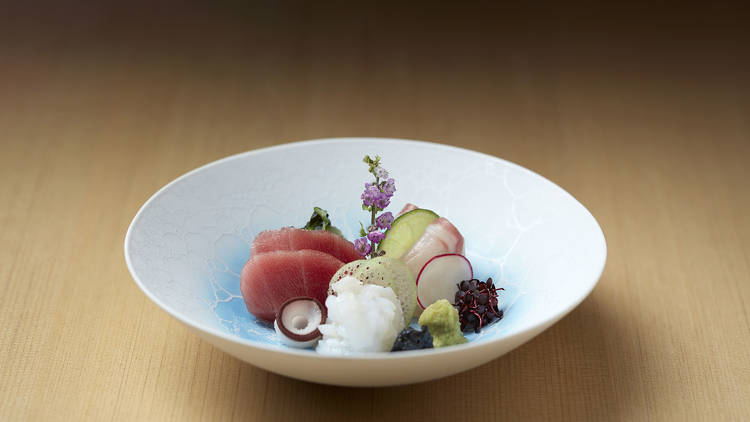 A meal here is best experienced through a dinner omakase. Ozoni, a traditional new year rice cake soup, might be served as an ode to the restaurant's new chapter. Mochi comes mixed with tofu for a softer bite, and white miso soup base comes mixed with burdock for a sweet, creamy finish. The sashimi platter held soft slivers of halibut; soft octopus, scored to better capture the accompanying seaweed paste; and chutoro. Sushi is equally varied and enjoyable: kanpachi is smooth and buttery, snapper comes sprinkled with gin salt, and marinated tuna is brightened with a dusting of sudachi zest. A particular standout: belt fish, lightly grilled over the binchotan, is then wrapped with uni and sushi rice to yield a rich, decadent mouthful.
Throughout the meal, cold courses come interspersed with warm dishes. Chawanmushi is steamed with lotus root and shrimp, topped with a smooth layer of cauliflower paste. Firm codfish is served tempura-style, wrapped in a layer of in beancurd skin for crunch.
But seafood is not the only thing treated with reverence; the condiments here are treated with equal regard. "This is the best ginger in Singapore," exclaims someone from the adjacent seat, referring to the oft-forgotten pickled side dish served alongside sushi. Wasabi, too, is more than just the usual grated variant. The typically discarded skin from the root is cleaned, simmered in soya sauce, then added back to the paste for taste and texture.