Hawker spotlight: Hong Seng Curry Rice
Each month, we check out a hawker and recommend a local dish to try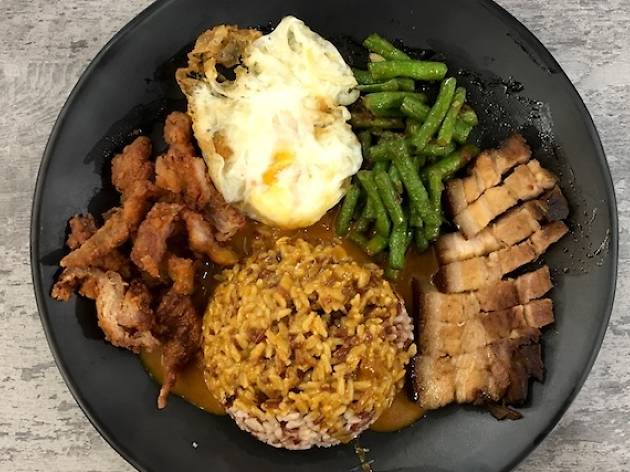 Hainanese curry rice is a messy affair. Deep-fried pieces of pork are snipped with a pair of scissors, stewed cabbage is strewn over the plate and thick curry is sloppily ladled over rice. It's not a glamorous dish and being a hawker is definitely not a glitzy career, so it's surprising to see a handsome 27-year-old calling the shots at Hong Seng Curry Rice.
Three years ago, Alex Lim was fresh out of university and ready to take on the business world. Armed with a shiny new degree in banking and finance, he was looking to invest in his first big project – his family's humble Hainanese curry rice stall at Redhill Food Centre.
"When my sisters and I graduated," recalls Lim, "my dad wanted to retire. I thought it'd be a huge waste because I grew up eating his curry rice and know that people love it as much as I do. I took it as a challenge to test out the F&B industry and learned the ropes from my dad and uncle for three months. Those months were hell. I got to the stall at 4am every day to fry eggs and we'd only be done with prep for all 23 dishes at 11am. At 2pm we'd do the second round of cooking for the dinner crowd because we open 'til 11pm."
Those three months paid off. Not only does Hong Seng continue to see long queues, Lim has also expanded the business to include three other outlets at SMU, Chinatown and Yishun. His mother oversees the original outlet at Redhill, where a plate of rice with pork chops, cabbage and curry starts from $2.20, while popular add-ons include curry chicken ($2), stewed pork belly ($1) and long beans fried with sambal ($0.70), making for a tasty and affordable meal.
4 Questions with Alex Lim from Hong Seng Curry Rice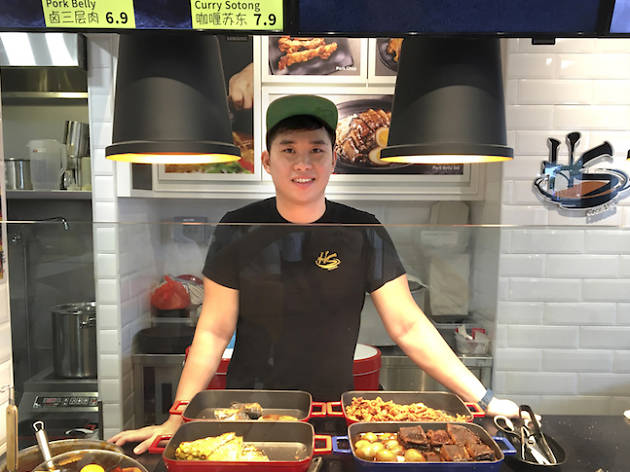 1. Out of the 23 dishes you offer, which is your favourite?
The ikan bilis. It's something I grew up with because my parents would always bring some home for us. When I took over the business, I had an idea to sell it in packs because people can eat it with their porridge or have it as a beer snack.
2. Which dish was the hardest to perfect?
Definitely the curry because my uncle didn't follow a fixed recipe. He would just judge by the taste and consistency of the curry so it was hard to figure out. After a lot of trial and error I finally have a fixed recipe for it.
3. What's a day in your life like?
I spend most of my time in the central kitchen making sure the food is up to standard and taking stock. Then I run between the four outlets to ensure consistency is up to scratch.
4. What's the biggest challenge you've faced?
It's a challenge to hire the right people. I trained 10 people over the course of a year before someone stuck. Because of the lack of manpower, I had to close the Amoy Street outlet. Before we found the right help, I was working 16-hour days and constantly falling sick.
Go there now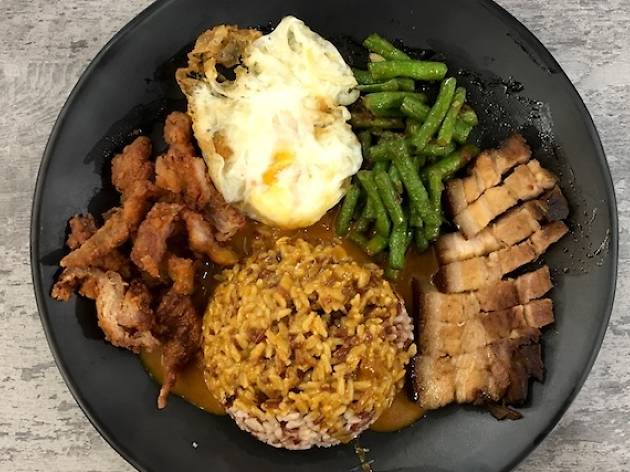 Visit Alex Lim's humble Hainanese curry rice stall at Red Hill and dig into this delicious dish.