First impressions matter a great deal, and hip café Hello Arigato sure knows how to make a good one. It begins with a welcoming abode, cosy and chic, that beckons people to enter. Concrete flooring and wooden fixtures help lend a soothing, minimalist touch to the space.
But it is the menu that invites people to linger. Opened by the people behind the Japanese-influenced eatery The Refinery, the same approach has also been imbued with the selection of food and drinks to present novel plates that are as comforting as they as creative.
A freshly constructed sando, or sandwich, is the main draw here. Slices of toasted milk bread might cradle teriyaki-glazed chicken ($15) or pink-hued Angus striploin ($26). Our favourite: bread stuffed with thick-cut Muar-style otah patty ($20), juicy and meaty – its spiciness balanced with sweetness from smears of coconut mayonnaise and kaffir lime sambal. Throw in a side of tater tots ($13) – for what it lacks in serving size, the dish makes up for in its addictive, punchy condiment, laced with plenty of umami from shio kombu and seaweed-hinted mayonnaise.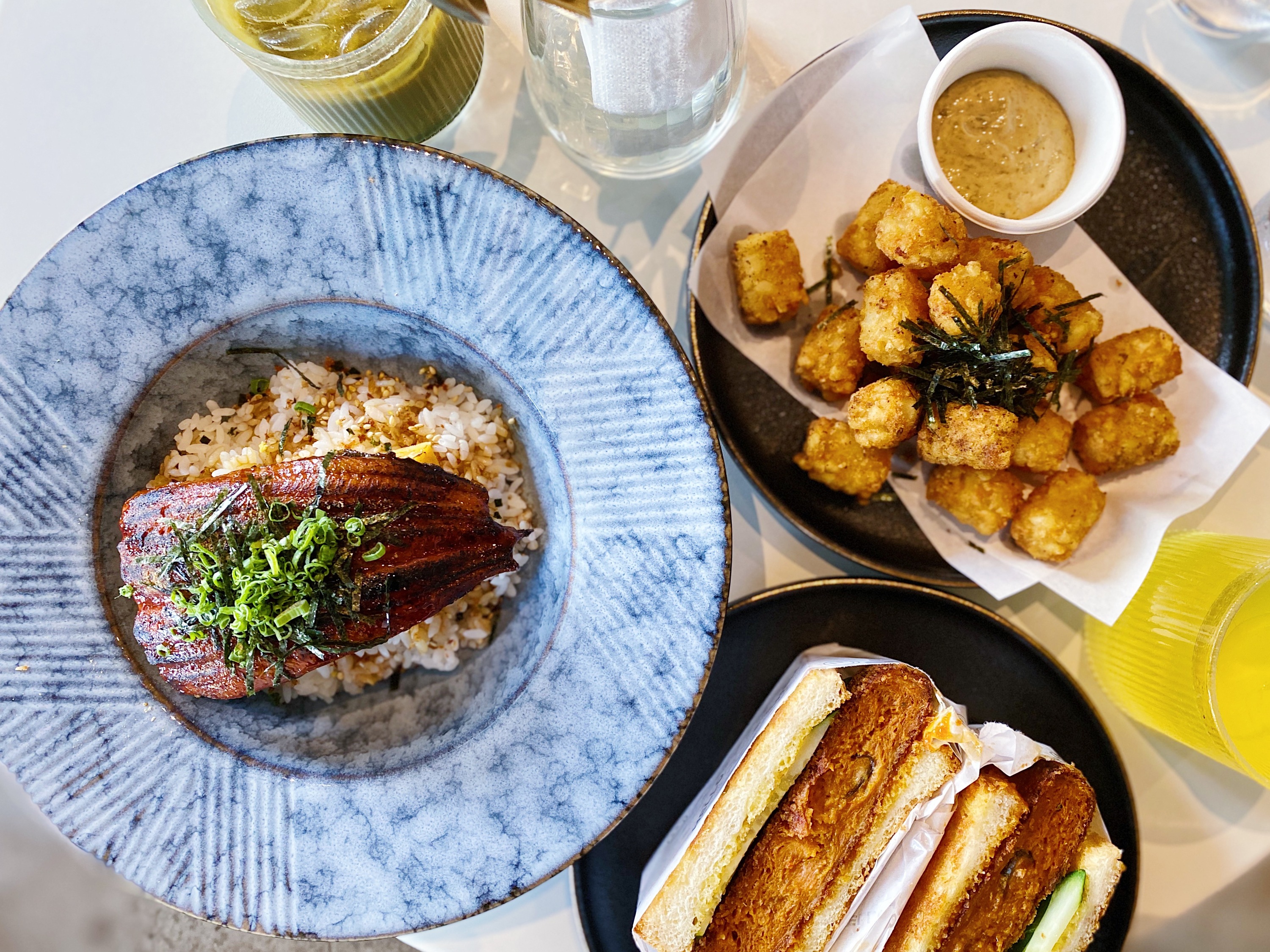 For heartier mains, opt for the overloaded Unagi Supreme ($26). Inch-thick tamago and a slab of charred fish slice sit atop a bed of fluffy grains. Other equally stunning options come presented as somen ($18), spiced with cold tom yum broth; or strands of truffle-kissed capellini ($24) finished with sakura ebi and tobiko.
A tea-skewed beverage program sees iced dirty matcha ($8) making an appearance on almost every table; its bright, toasty quality is highly alluring. On the other hand, Spring Time ($5) is an in-house cold brew that delights with its elegant bouquet of chrysanthemum, orange, and honey. And away from caffeinated drinks, Hello Arigato also stocks a neat line-up of boozy treats – from meads ($15) to sake wines available by the glass ($15-$18) or bottle (from $65). Between its unusual offerings and stylish set-ups, Hello Arigato delivers on a memorable mealtime experience that will leave you feeling impressed.
Time Out Singapore reviews anonymously and pays for all meals. Read our restaurant review policy here. What the stars mean:
★ Poor ★ ★ Promising ★★★ Good ★★★★ Very good ★★★★★ Exceptional