Our airport, often regarded as one of the best in the world, comes filled with impressive structures and attractions that draw huge throngs of curious crowds. But away from the man-made waterfall and rooftop gardens, there lies a secret garden café that is hidden from plain sight. Hub and Spoke Cafe, located just off Terminal 2, offers a tranquil escape to unwind and grab a bite. But first, you'll need to uncover this elusive spot.
Getting there by way of a car is the easiest option: drop off at the open-air South Car Park and pop right by the café. For those heading there via public transport, walk away from the crowd (and from Jewel Changi) and stroll down the length of the now-closed Terminal 2. It's a strange journey – one filled with dimly lit corridors and an empty arrival hall – that almost feels like you're heading down the wrong direction. Only after some 15 minutes of walking will you then reach Hub and Spoke Cafe.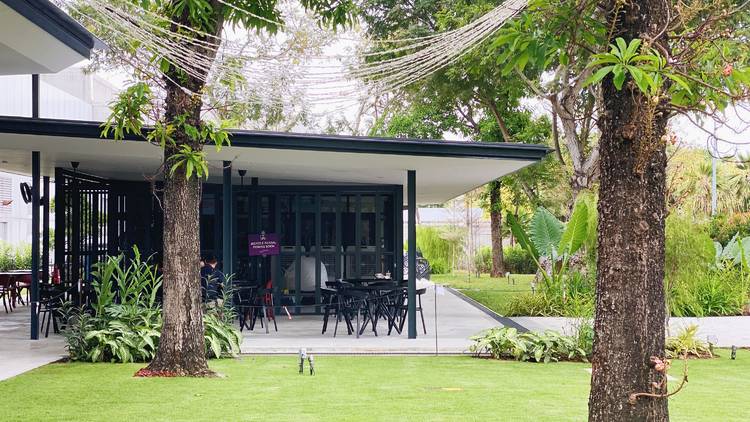 But it's this hard-to-access address that provides the place with a serene, exclusive allure; the glasshouse-looking space lets in oodles of natural sunlight, and the breezy alfresco veranda comes flanked by plenty of fauna. Tip: look out for a self-watering green wall – adorned with luscious blooms – that makes for a great photo backdrop.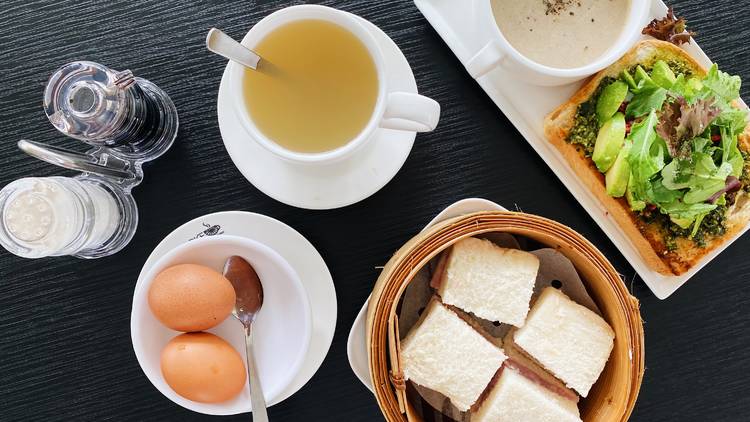 And perhaps as a nod to its location as a transport hub, the menu here captures a colourful, multi-cultural variety – from toast and kopi to eggs Benedict and bubble tea. Sip on classic kopi and teh (from $1.30) as you pair it with some steamed yam buns ($4.50) or honey butter French toast ($4.40). Other local favourites of mee siam ($5.90) and mee rebus ($6.90) are also worth a try. Of course, all-day brunch options are available as well, with avocado toast ($14.90) served alongside a bowl of soup, salmon Benedict ($11.90), and pasta tossed with beef and black pepper ($14.90). Don't expect stellar quality here (our mushroom soup came lukewarm and the steamed bun could afford to be fluffier), but its soothing ambience is reason enough to seek out this secluded hideout.