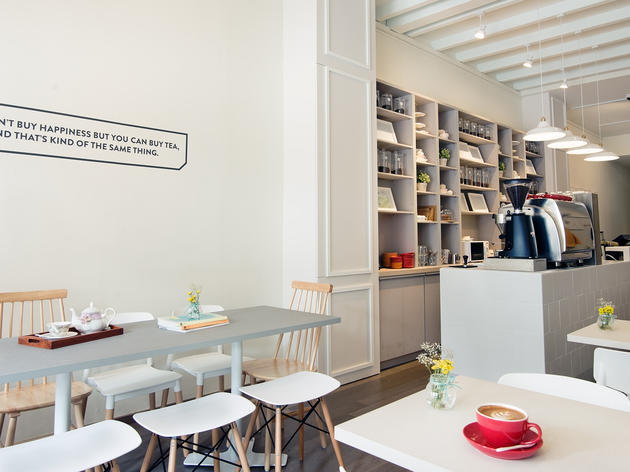 1/2
2/2
Singapore meets the UK
The vibe
Artistic director of theatre company Sight Lines Productions, Derrick Chew, enters the brunchmunching fray with Hyde & Co. Despite the café's self-professed Anglophilia, we're thankfully spared the camp and Union Jacks. Instead, Chew's gone for a cleaner palette of white and grainy wood.
The food
Hyde is on a campaign to make the British crumpet a thing in Singapore – but the muffin-like disc here is more reminiscent of the stodgy Chinese min jiang kueh pancakes than the fluffy British original. The sweet combination of crumpets with lemon curd, cream and condensed milk ($11.90) works better than when it adds sponge to already-soft meatballs in the Balls O' Fire ($13.90).
And if you're keen to further explore the crumpet's potential, there are also DIY stacks for you to assemble. Pick the number of discs you want ($5.50/two, $6.50/three, $7/four), then select add-ons like smoked salmon ($4.50), scrambled eggs ($3) and strawberry jam ($2.50).
Other picks on the menu are better bets. The Lady Hyde ($12.90) is a play on the Croque Madame, with hae bee hiam and pineapple, and the Full Works ($17.90) is a generous plate of eggs, Portobello mushrooms, English bangers, bacon, sourdough, and more crumpets.
The drinks
What's an English café without tea? Chew's assembled 45 black, flavoured, green, white, fruit, rooibos and herb blends, all sold at a reasonable – and refillable – $6.50 a pot. The French Earl Grey is a more floral take on the regular brew, while the China Rose's fragrant cinnamon and Apple Chamomile blows up light whiffs of Christmas if you're still in the mood. Coffees brewed with Bettr Barista's Bold Heart blend ($3.50-$7), fresh juices ($5) and fruit sodas ($5.50) are also available here.
Verdict
Don't expect groundbreaking cuisine. The food is functional, and tea selection and quality exceptional for their prices. Get a pot, take lots of pictures of the pretty vessel, then bask in the sun-drenched white décor of the space.
Venue name:
Hyde & Co (Closed)
Contact:
Address:
785 North Bridge Rd
Singapore
198753

Opening hours:
Wed-Mon 9am-6pm
Do you own this business?