Interview: chef Emma Bengtsson of two-Michelin-starred Aquavit in NYC
We speak to New York City's most decorated female chef, Emma Bengtsson, of two-Michelin-starred restaurant Aquavit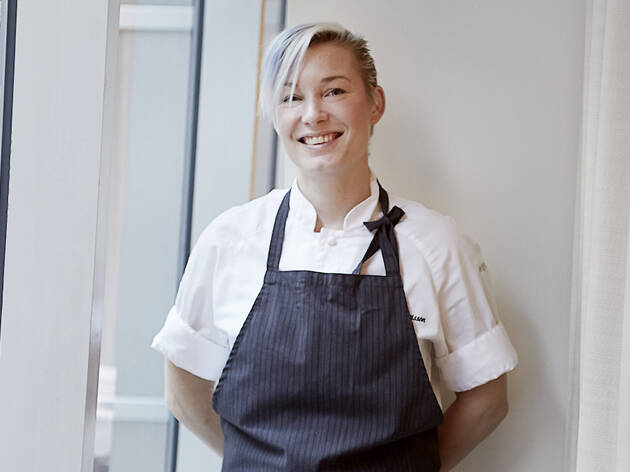 Born on the west coast of Sweden in the small fishing village of Falkenberg, chef Emma Bengtsson was interested in cooking from a young age thanks to the influence of her grandmother. She trained as a pastry chef in Sweden, cooking in the country's best establishments before joining Aquavit's dessert team in 2010. The restaurant earned its first Michelin star in 2013 and its second in 2015, following chef Bengtsson's appointment as Aquavit's new executive chef in 2014. We catch up with her while she's in Singapore for Art at Curate's first four-hands menu of the year.
Tell us about your journey as a chef – how did you start and how did you get to where you are today?
I started cooking at a home from a very young age with my grandmother. I knew early on that I wanted to pursue cooking and when I was 15, I enrolled in Stockholm's Hotel and Restaurant School. From there my first job outside of school was at Edsbacka Krog, then I spent time at Restaurant Prinsen before joining Operakällaren, where I worked for close to five years. It was when I was at Operakällaren that I got a message from Marcus Jernmark to come to New York and join Aquavit. I moved to New York in 2010 and it was in 2014 that I became executive chef.
Mangalista pork collar with celeriac and apple. Photo by: Signe Birck
What's your fondest memory involving food?
I have a lot of fond memories cooking at home with my grandmother, we did everything from baking Swedish cookies and pastries to preparing Sunday evening pot roast.
What makes Aquavit stand out in New York City's competitive dining scene?
Aquavit just celebrated its 30th anniversary this past Fall and what I think has allowed the restaurant to remain current is that from day one, it has been consistent in its devotion to Swedish cuisine. Over the years, the restaurant has stood out because that definition has evolved – it's because we aren't afraid to redefine what Swedish cuisine is that people are excited to see what we are doing.
What do you think you did differently to raise Aquavit from a one-star rating to a two-star?
Getting two stars was certainly and continues to be a team effort. I can't exactly pinpoint one exact thing, but I work to create a constructive and creative work environment for my team so that we can consistently execute our food every service, and I think consistency is just as big of a contributor as innovation.
Gravlax and sea urchin. Photo by: Signe Birck
What's something you wish people knew about running a two-Michelin-starred kitchen?
Just how many hours go into every service. It is not unusual that I'm in the kitchen six days a week, but I love what I do so it's worth it.
Where do you get inspiration from?
I get inspiration for new dishes from almost everything – I've been inspired by a dress I saw in a window in New York, memories of favorite dishes from my childhood to trips and collaborations with chefs like this series. My team is also a big source of inspiration and I like to involve everyone in the kitchen to bounce ideas off one another and help brainstorm the dish.
What's next for you and the restaurant? Are you eyeing that final star or is your focus on something else?
I try to focus more on the present. My daily goal is to have a good service so that every guest that comes into the restaurant has a memorable experience. But yes, I would like to see Aquavit grow and maybe one day we can see that third star on our wall, though for now I am very happy to be in Singapore and am glad that I get to share my food with you and work with chef Bemjamin Halat.
Chef Emma Bengtsson brings modern Nordic cuisine to Art at Curate from January 12 to 18. The four-course lunch is priced at $88 or $138 with wine pairing and the eight-course dinner is available at $155 or $275 with wine pairing.