Heads up! We're working hard to be accurate – but these are unusual times, so please always check before heading out.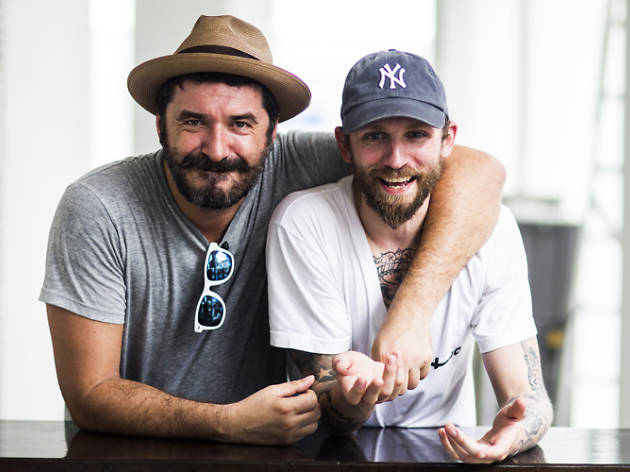 Interview: Employees Only
We speak to the Employees Only team about their newest international address: Amoy Street
There's a moment in our chat with team Employees Only when we come pretty close to tossing our page of questions. Did bar manager and partner Steve Schneider, the industry-regarded main guy of one of New York's best bars just say he's moved here for good? 'Yeah,' he smiles. 'This is not a consulting gig.'
We're in disbelief. Here we are at the Employees Only Singapore office – 'Club Street Social round table at the front', as it's written on co-owner Igor Hadzismajlovic's name card – thinking this is yet another international franchise strutting onto our shores but conducting its business from afar. A few minutes into our conversation, Hadzismajlovic, Schneider and executive chef-partner Julia Jaksic banish all our doubts.
This predecessor of the hoity speakeasy movement started churning out cocktails in New York City 11 years ago, and has since picked up plenty of accolades including fourth spot on the World's Best list. The brand announced plans earlier this year to expand to Miami and Singapore. Now set up in a shophouse in an enclave Hadzismajlovic (almost) jokingly insists we call 'Little America' – Luke's, Club Street Social, Angelenos and Burger Joint are fellow state-siders – he and Schneider are giving our city-state's cocktail scene even more street cred. And yes, the pair now call an apartment in Chinatown home.
'It's who we are, so there's no way we're going to franchise this'
Steve Schneider. Photo: Employees Only Singapore
'Once this bar opens up, I'll be behind the bar along with Igor – the three of us, pretty much, every night of the week,' explains Schneider. 'For us, it's really important because we've all worked so hard on this brand. It's who we are, so there's no way we're going to franchise this.'
Hadzismajlovic takes a lighter point-of-view: 'Tropical climate, beach volleyball, Josh Schwartz, jobs, English as first language,' he cackles as he counts off the reasons for being here. Not to mention that Employees Only Singapore is a partnership with Massive Collective's Joshua and Sarissa Rodriguez Schwartz, the former of whom was Hadzismajlovic's mentor before he moved from New York to set up Pangaea here. And it turns out that expansion plans have been four years in the making. 'We've been trying to find the right space on the right street just close to, but not in, the CBD,' he explains.
With all its stars aligned, the Singaporean extension will become its own living, breathing creature, evolving to local tastes yet centred on the colourful personalities running the bar. Schneider's assembled a cast of local bartenders who will, just as he did eight years ago, start from apprentice level and work their way up. Jaksic, who'll ply her skills between Employees' three locations will be represented here by long-time team member Maurice Espinoza. And Hadzismajlovic, a crack bartender himself, is the winking, warm mascot that's the embodiment of the hospitality the brand prides itself in.
'We want Employees Only Singapore to be a good representation of the brand, but more importantly a great representation of Singapore'
Igor Hadzismajlovic. Photo: Employees Only Singapore
The launch menu will introduce 17 cocktails successful in New York as a starting point, some infused with fresh, locally available ingredients with 'no crazy garnishes, no wacky programmes, nothing really over the top,' declares Hadzismajlovic. The food, served 'til late at night, will also launch with a list of the 'best hits in New York' that redefine classic American dishes, before eventually incorporating regional products and dishes closer to home. One thing we'll stay up late for is the staff meal. Traditionally dished out as pre-service sustenance for the front-of-house and kitchen teams, punters at the bar will get a taste of what the employees dine on late into the night.
This early into its opening, Schneider sums up very clearly what Employees Only Singapore won't be: 'It's not overly complex. It's just really good stuff on a plate or in a glass, served quickly with intensive service. We want Employees Only Singapore to be a good representation of the brand, but more importantly a great representation of Singapore.'
Hadzismajlovic is far more succinct in his commitment to the brand, 'I bought a one-way ticket. We're done with America.'
Opening soon
We had a hunch that Igor Hadzismajlovic, co-founder of New York's Employees Only, was planning something around our parts, but we never thought it'd be this exciting. The NYC cocktail institution is getting a younger sister in Singapore, just down the road from The Spiffy Dapper, Jigger and Pony, and Sugarhall, on Amoy Street. Taking over the space once occupied by a Hokkien restaurant, Employees Only Singapore is just bare concrete at the time of writing, and those all-caps 'COMING SOON' teasers on Facebook aren't making the wait any easier.