It is clear from the name – Kinki – that this isn't your typical Japanese eatery. For over a decade, this waterfront restaurant and bar has rebelled against the norm, serving up unconventional flavours in an eclectic setting – nothing like the zen, minimalist set-up that comes with most Japanese diners.
But now, after 10 years, the rebellious child is ready for change. After undergoing a revamp, Kinki trades its funky aesthetic for one that is sleek and chic. Enter the lift, clad in a captivating Kintsugi-inspired wallpaper, and step into a sexy restaurant space on level two. Under hushed lighting, savour an updated menu filled with jazzed-up creations. Corn Duo ($16) is a smoky-sweet treat where sautéed local baby corn comes served with corn puree and furikake; and Cassava Nachos ($18) uses the cassava chips instead for a lighter crunch, topped with miso-cooked beef mince and pickled Japanese cucumber.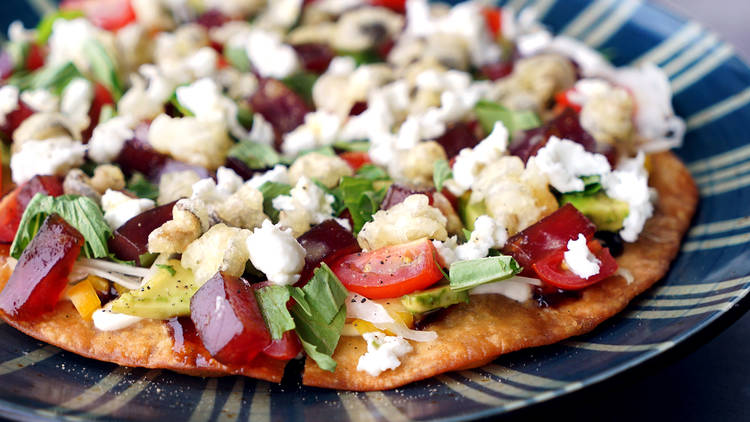 The tuna tartare tortilla ($34) feels almost like a lighter take on okonomiyaki; crispy tortilla is crowned with cubes of soy-aged bluefin tuna, avocado, and tempura-fried shimeiji mushrooms. Also worth a try is the squid ($32). The heat from chimichurri is tempered with brown sugar to yield a sweet chilli blend that pairs well with meaty loops of the grilled seafood.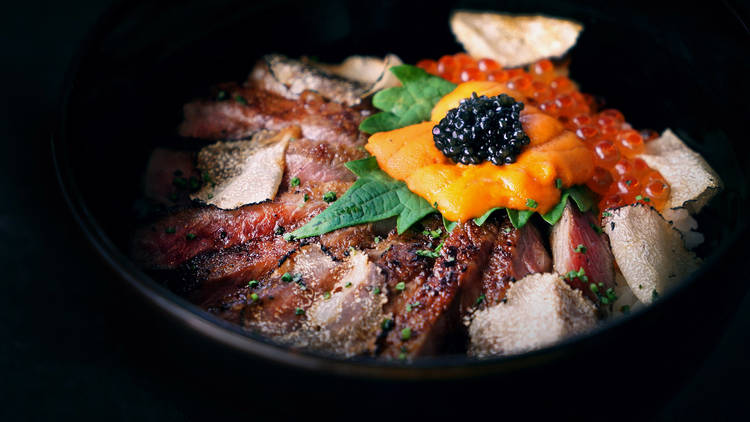 Usual sushi rolls are made with flair, too. Cowabunga ($36) holds a centre of wagyu short plate and cream cheese, then finished with torched wagyu striploin; while AC/DC Dynamite ($22) is a mixed seafood roll that is first deep-fried for crunch, and finished with a generous spoonful of diced seafood tossed in creamy Sriracha-laced mayonnaise. Be sure to make room for the signature unagi claypot ($35), an umami-filled dish of unagi fried rice paired with a slab of charred fish. Or indulge in the High Roller Wagyu Don ($98), a rice bowl lavished with char-grilled A4 wagyu striploin, Hokkaido uni, ikura, an onsen egg, and freshly grated Italian black truffle.
Imported Japanese ice cream ($8) is available as desserts, but the best way to end a meal at Kinki is to head up to the rooftop bar on level three. There, take in sweeping views of the Marina Bay skyline while sipping on Asian-influenced tipples ($22). Gin Assam Boi is a homage to the local sugarcane drink, with Kyro gin, Malibu rum, and pineapple juice; while Geisha-rita is a refreshing margarita cocktail made with umeshu and Cointreau. To match the sunset hues, consider the pretty Aurora Polaris ($19) with layers of butterfly pea-infused Kyro gin, lime juice, and grapefruit tonic.