Min Jiang has long been a household name. The beloved establishment has been serving up refined Cantonese and Sichuan cuisine since 1982; it's quality unfailing over the years. But now, after 38 years, it's finally time for some change.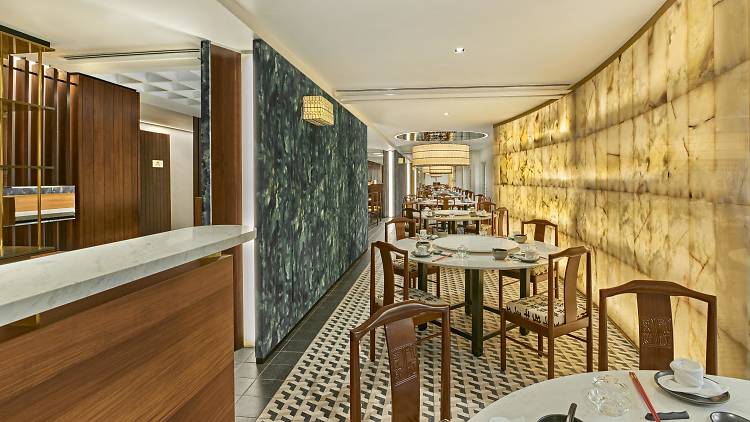 It begins with the aged interior. After undergoing refurbishments, the new Min Jiang boasts a sleeker, brighter environment. The inviting, sepia-toned space is spruced up with soft textile panels, elegant white marble tabletops, and onyx wall panels. But not everything comes with contemporary touch; splashes of chinoiserie helps retain an old-school charm that harkens to the roots of the stalwart Chinese restaurant. Dotting the ceiling are custom latticed chandeliers, made to resemble Asian fishing baskets. Regular guests will also find the upholstered chairs familiar – the fabric, found in the old Min Jiang, has been upcycled and given new life.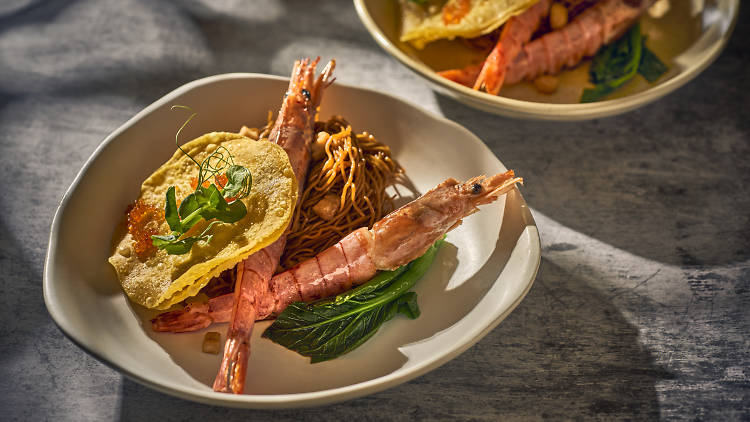 The food has similarly been updated to celebrate the restaurant's new chapter. Sample newly created dim sum, which includes the steamed pumpkin ball ($6.20 for three) and homemade squid tofu with XO sauce ($7.80 for three), or try the latest offerings of deep-fried stuffed dough sticks with shredded abalone and enoki mushroom ($36) and roasted chicken skin with prawn paste in sesame pockets ($36). Also worth a try is the lavish wonton noodles ($18), served with sweet Argentinian red prawns.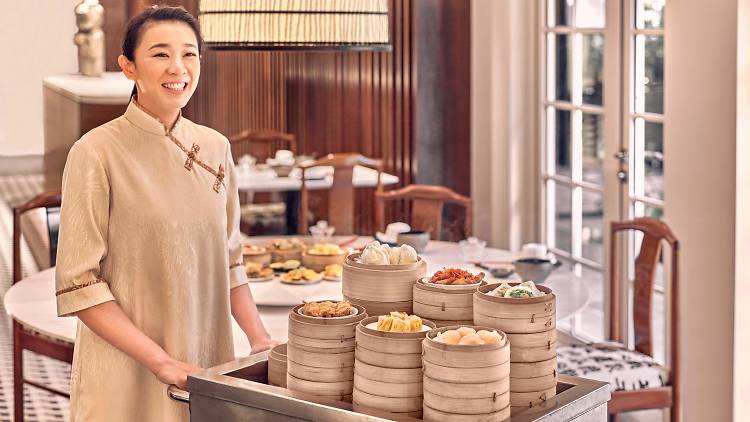 Of course, longstanding favourites remain as part of the menu. Must-orders include the Mongolian chicken with almond flakes, slick with fragrant chilli oil ($48); spicy sliced red garoupa soup with preserved cabbage ($18); and slow-braised beef brisket with tendon and radish ($36). In keeping with traditions, Min Jiang continues to offer the dim sum pushcart service during lunchtimes – a rare sight in Chinese eateries these days. Choose from baskets of steamed prawn dumplings ($6.20 for four) or siew mai ($6.20 for four), or place an order of the Land and Sea Quartet ($16.80). It features four exquisite parcels, each fashioned into adorable shapes. These picture-worthy bites feature a rabbit-looking steamed prawn and carrot dumpling, a carrot-shaped char siew puff, tobiko dumpling made into a starfish, and a sea cucumber dumpling.