Miznon's whole roasted cauliflower is the stuff of legend. Around the world, people flock to celebrity chef Eyal Shani's casual Israeli eatery to sample this deceptively simple dish: whole baby cauliflower ($16), with its flower intact, is seasoned with olive oil then roasted till tender.
So popular is this vegetable dish that it was sold out early in the week, when we visited on a Tuesday afternoon.
Thankfully, there are other worthy creations to savour at the first Singapore, and Asia, outpost of Miznon. At this casual 42-seater space along Stanley Street, pillowy pitas and aromatic tahini flow in endless supply; guests can munch on these at no extra cost as part of their meal.
The pitas, in particular, are flown in specially from a bakery in Israel. It is thick, soft, fluffy – and unlike any version found elsewhere. On its own, the flatbread is chewy and nutty and irresistible as a warm snack. But it's true potential shines when used as a base – a warm blanket – to hug whatever ingredients you choose to have stuffed within.
There are about a dozen varieties to choose from, including the popular steak and egg ($21), with seared striploin and fried egg; juicy lamb and beef meatballs ($24) drizzled with green chilli; and ratatouille ($17) that has been cooked down to a jam-like consistency, leaving a concentrated pack of flavour.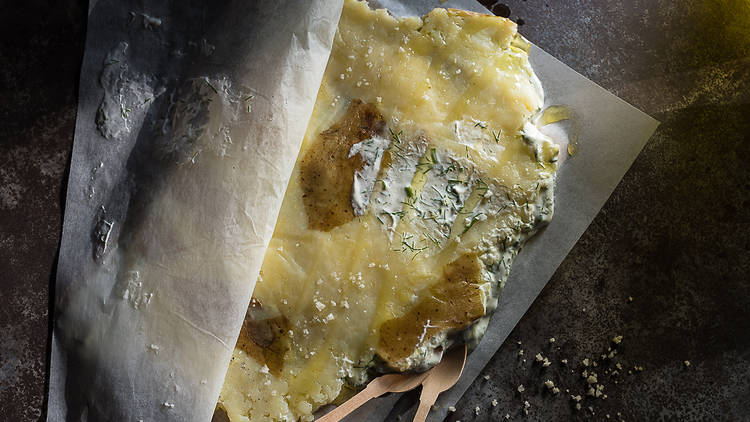 Of course, orders of its cauliflower is a must if you get the chance. Other vegetables are treated with reverence, too. Batata ($12), or sweet potato, is baked whole and needs only simple accompaniments of sour cream and salt to enjoy; and the Run Over Potato ($11) features steamed spuds that have been flattened and perfumed with dill and scallions.
In due time, Miznon will also launch a Singapore-exclusive pita flavour, along with some sweet treats to end the meal with.