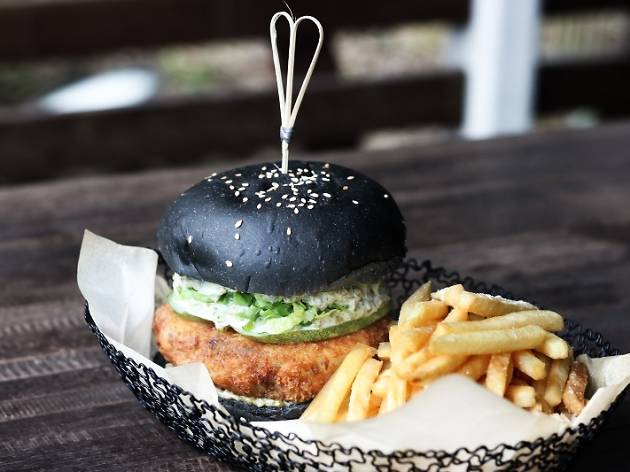 1/6
2/6
3/6
4/6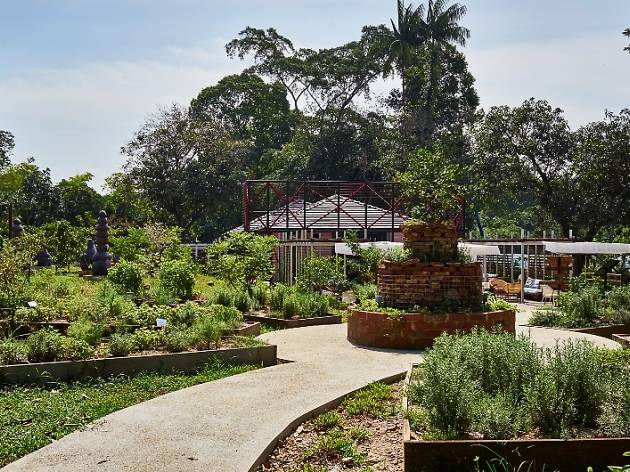 5/6
6/6
Farm-to-table with a lower carbon footprint
You'd expect an establishment that's selling buzzwords like 'organic', 'low carbon footprint' and 'hand-picked herbs' to be all judgmental, but Spa Esprit's new farm restaurant, Open Farm Community (OFC), doesn't at all try to make you feel like they're perched over you on some moral high ground.
Yes, the kitchen packs some hefty culinary muscle. Tippling Club's Ryan Clift and ODP's Daniele Sperindio are in charge of the cuisine here, and the Edible Gardens crew has turned the surrounding grounds into plots for greens like lemon balm, rosemary and dill. They're laying the foundations for Singapore Seasonal cuisine, perhaps to catch up with the produce-driven New Nordic movement. In a country where we look south for ingredients when it's snowing in the north, and where children think vegetables grow in supermarket aisles, OFC is pressing for the already discerning Singaporean eater to gain a greater appreciation of the elements on the plate.
And the best way to experience this is in their food. A rustic greenhouse building at the end of the plot serves as a dining room and open kitchen. Seeing farmers hunched over and fiddling with plants outside just adds to the Aussie vineyard-like experience.
The menu and chirpy staff don't bully you to eat your greens. Housemade pastas, as well as meat and seafood – Clift's tracked down locally reared yabbies, barramundi and goldband snappers – feature heavily, and courses like a dessert of curry leaves with coconut meringue, sago and torched mango slices ($17) cleverly give the dishes a sense of place.
There's a strong emphasis on comfort, too, seen in Thai red curry coating mud crab meat, curry leaves and thick, al dente spaghettoni ($28), and the meal-sized pan of smoked haddock and salted egg omelette ($24), which is cooked in a wood-fired oven. And tender slices of Mangalica pork belly smarts with ginger spice ($34) alongside refreshing forkfuls of apple salad and bok choy.
You're under no obligation to chow down on a salad, but you should try the toss of rockets and basil leaves, tomatoes, white pickled anchovies and grilled halloumi ($18). Seafood dishes such as coal-baked barramundi ($26) and the seared tuna appetiser ($26) benefit from the fresh zing of mint, dill and parsley. It isn't until we reach our lemon tart dessert with a side of basil ice cream ($17) that something on the plate begins to feel too vegetal, but by then, our enthusiasm for OFC has already been cemented.
A retail fridge with freshly plucked veggies, organic wines and juices, and the Common Man Coffee Roasters-led nook at the front lets you take the experience home. When the garden playground up front is finished, your young ones will get to tumble around and find out where their food really comes from.
There hasn't been much to be excited about in Dempsey lately, but OFC is a breath of rustic air to the plush dining neighbourhood. It's working hard to open minds with its lovely brunch rays, hearty and thoughtful cuisine, and a mission to push our local dining scene to the next level. What's not to love about that?
Venue name:
Open Farm Community
Contact:
Address:
130E Minden Rd
Singapore
248819

Opening hours:
Mon-Fri noon-3pm, 6-10pm; Sat & Sun 11am-10pm
Do you own this business?
You may be interested in:
Average User Rating
3.5 / 5
Rating Breakdown
5 star:

0

4 star:

1

3 star:

1

2 star:

0

1 star:

0
Summary: Open Farm Community at Minden Road (Dempsey) has received 38 Positive Reviews, 3 Mixed Review and 1 Negative Review, and has been given an overall score of 77 based on 42 blog reviews! Sitting on a 35,000 square feet piece of land, OFC is surrounded by plenty of lush greenery, their own farm plots, their own sculpture park as well as plenty of room for other activities such as lawn bowling, table tennis and even a playground. It feels like you're at the countryside.
The beautiful restaurant occupies a greenhouse-like structure with a main dining area and a semi-open concept kitchen. There is also an alfresco timber-decked terrace and a cafe where some retail products are available. The furniture used throughout the restaurant's premise is made up of an eclectic mix of functional, rustic and comfortable.
The style of food here modern European with some Asian influences. Some of their well received dishes are Coal Baked Omelette, Lemon Tart with Basil Ice Cream, and remarkably, most of their fresh home-made pasta dishes. One main focus here are the freshness of their ingredients, locally-sourced whenever possible.
Reservation is recommended. Please take note of the limited parking space as well as a few bugs that you would normally encounter when you're outside surrounded by greenery.
Come read all the reviews of OFC at foodinsing.com !
My partner and I came here tonight and the meal was beautiful, a great find. However, the service was poor by Singapore standards, quite cold and aloof in fact. The only friendly waiter was called Zoe and no-one bothered to ask how our meal was or if we enjoyed it. We went home feeling a little disappointed. The management here would do well to attend a customer service course.