While some restaurants bring the farm to the table, with freshly harvested herbs and organic produce, others set up dining spaces directly within an edible garden. Nestled among verdant green and plots of blooming herbs lies Open Farm Community, a concept by the Spa Esprit Group that hopes to champion the locavore movement through its thoughtful menu.
Grab a seat at the alfresco deck (one of the few places we actually don't mind sitting outdoors). The newly launched farm feast ($88) dinner provides an apt accompaniment to the idyllic, kampong-like surroundings. Much like an omakase meal, the ever-changing menu is a delicious reflection of what nature has to offer.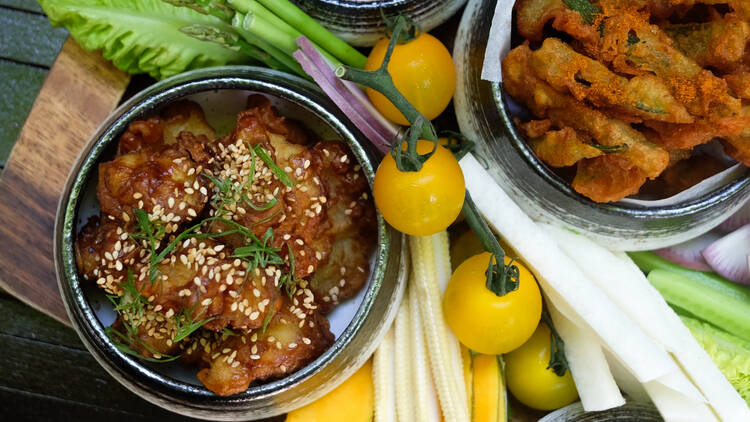 Freshly harvested basil from the adjacent garden might go into making a welcome drink, spiked with gin for a refreshingly bright and herbaceous tipple. Or locally grown baby radishes, crisp and bursting with juice, can come plated with cultured cream and sourdough crumble for an appetising snack. The signature cauliflower wings, slick with tamarind miso, is also a welcomed sight.
Corn, plucked metres away from the table, is split and grilled till smoky-sweet; while plump coins of sweet Hokkaido scallops sit atop velvety corn puree. Order the main course of beef, and it arrives in an alluring glaze of Mexican mole with onions prepped three ways – fried, pickled, and caramelised. A knife might be provided, but it is unnecessary; the grass-fed short rib, cooked for over 13 hours, is unbelievably tender that the meat crumbles under a spoon. Sides might include ancient grains, perfumed with sesame oil; mustard-spiced mashed pumpkin; and local greens tossed in tropical coconut ranch.
Pair bites with natural labels from Drunken Farmer. Amphoreus Malvasia, 2018 ($145) is a dry, summery burst of apricot and chamomile; while pet-nat La Roue Qui Tourne Blanc, 2019 ($108) refreshes with its bright acidity.
Otherwise, regular a la carte offerings are also available. Many of its vegetable dishes like the mushroom ravioli ($36) come from Kin Yan Agrotech, while cheeses of ricotta, used to pair with Genting tomatoes ($18), are made from the milk of goats at Hay Dairies.