Park Bench Deli is no longer just a tiny sandwich shop. What was previously a tiny takeaway-focused joint, with narrow tables and limited seating, has since grown into a sleek all-day diner, complete with proper fixtures for a comfortable sit-down meal.
The same blue facade remains, but step through the doors, and the place looks completely transformed. A reconfiguration of the store's layout now sees a sleek bar and open kitchen taking up half of the space, freeing up the other for a 42-seater dine-in area.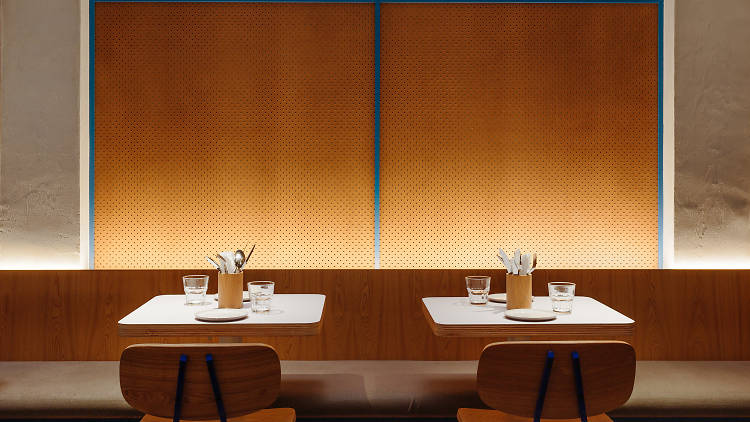 Not to worry: a smaller kitchen certainly did not stop the team from expanding its menu. Beyond the usual famed sloppy sammies, Park Bench Deli now serves breakfast dishes and desserts, best paired with either coffee or cocktails – depending on the time of day.
Brunch (from 11am to 3pm) features the lemon ricotta hotcakes ($20), with a lightness similar to meringues; and a Breakfast Sandwich ($15) that sees a patty of spam and gooey Swiss cheese layered between fluffy slices white.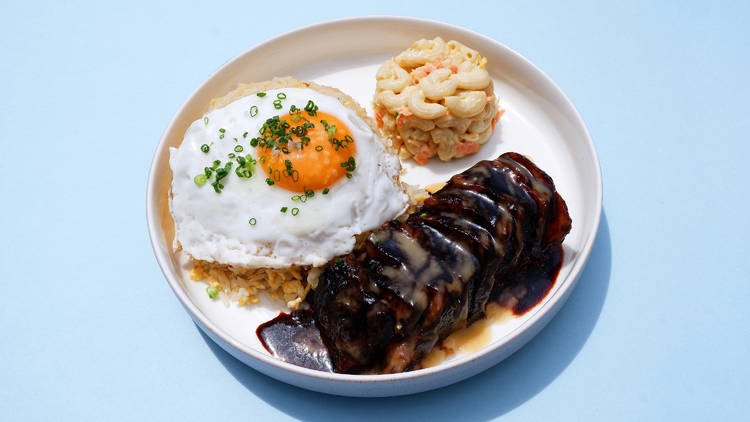 Plated dishes are fresh to the menu. Look forward to smoked pork collar ($28), or a Hawaiian-inspired Kalbi Loco Moco ($36) that comes with slow-braised short rib, fried rice, and macaroni.
Of course, sandwiches remain the highlight of Park Bench Deli, and there are five mainstays available, including the porchetta ($18), with hearty slices of pork and crackling stuffed between ciabatta; and spicy-smoky Italian Hero ($18) with smoked duck ham, mortadella, pepperoni, and fennel. The grilled cheese ($15) and mala-spiced chicken ($17) are also worth a try.
From the bar counter, sip on a lean selection of natural wines and craft beers. Cocktails ($18) – from the likes of the refreshing Peach Fuzz to the Pickle Back Old Fashioned – make the place suitable as a post-work hangout too.
"Over the last six years, the spirit of the place has already organically gone from being a lunchtime deli to an all-day eatery," shares co-founder Andrei Soen. "I've been looking around the shop and thinking, 'hold up, we got to get these people more seats and stronger drinks!'"