Pek Kio Market and Food Centre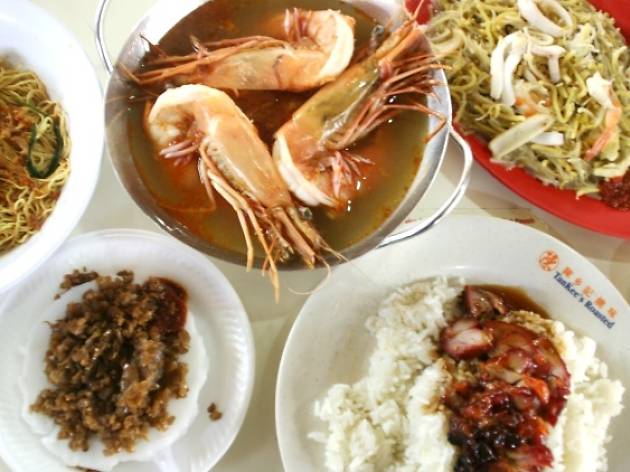 There's a certain old-world charm to Pek Kio Market – and we're not just talking about the sleepy ambiance. Most dishes start at $2.50 for huge portions. But you'll have to head down early as most stalls sell out by 1.30pm.
Prawn noodle soup with large prawns
$20 at Wah Kee Big Prawn Noodles (#01-15)
The owners, an old couple, pride themselves on their rich soup made from prawn shells, haebi and onions, without any pork bones. As much it sounds crazy to shell out that much, the large prawns ($15 and above) are worth it. Heck, the uncle peels the prawns only upon ordering to keep them fresh.
Hokkien mee
$2.50 at Sheng Seng Fried Prawn Noodles (#01-40)
Wet and juicy, the Hokkien mee here is cooked with a copious amount of seafood stock and leans heavily on the eggy side. It's also one of the most value-for-money fried noodles around, setting us back a mere $2.50 for what is a $5 or so portion at most other hawkers.
Char siew rice
$2.50 at TanKee's Roasted (#01-26)
If you're in the mood for roast meats on the cheap, TanKee's for you. It's also among the few local hawker stalls we've seen that offers the bright green, Hong Kong-style scallion-and-ginger sauce, so swap out the dark sauce to give this a go.
Chwee kueh
$1.30 at Pek Kio Handmade Chwee Kueh (#01-28)
Before you get too excited at the thought of freshly steamed chwee kueh and over-order, know that each rice cake here is about the size of a clenched fist. Size does matter, but we'd like a stronger dose of seasoning in the chye poh – it tastes almost factory-made – but that's just us nitpicking.
Venue name:
Pek Kio Market and Food Centre
Address:
41 Cambridge Rd
Singapore


Do you own this business?