At Rappu, a new Japanese handroll bar, it is encouraged that the food is consumed within four seconds. The reason: for maximum enjoyment. Here, the seaweed wrapper enveloping the sushi rice is kept and served warm to retain all its crispness – an often overlooked component in most handrolls.
This handroll-centric eatery is the latest brainchild from the team behind The Feather Blade. What started out as a pop-up concept at Revamp Cocktail Bar has now moved into a bigger, permanent home along Duxton Road. Groove to rap music ('rappu' translates to 'rap' in Japanese) from the likes of Wu-Tang Clan to Kendrick Lamar as you indulge in sushi and cocktails.
The crown jewel of the space is a 36-seater sushi bar, where food and drinks are prepped before your very eyes. Here, the menu will feature a concise selection of just seven handrolls, including an over-the-top creation crowned with uni, wagyu, and caviar.
For $36, diners can look forward to six freshly prepped rolls, each stuffed with a selection of fresh catch. It starts off with easy-to-love options of fatty toro, diced hotate, and house-brined salmon dressed with wasabi furikake. But other lesser-known fillings do just as well: kanpachi is firm and sweet; crab meat comes basted with its own essence and mayonnaise; and the torched engawa is at once warm, smokey, and creamy. A sake pairing option is also available for an additional $18 (one per roll), and might feature a fruity, sparkling variant, or Kawatsuru, a cloudy and tart option.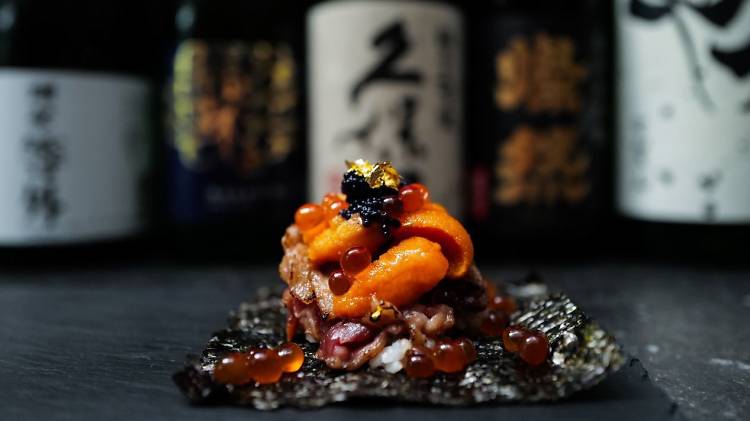 Still hungry? Consider the aptly named High Roller ($28) that comes crowned with wagyu, dollops of uni, caviar, and dusted with gold flakes for the ultimate indulgence. It's an umami bomb best enjoyed in one smooth bite, then washed down with a shot of warm miso soup.
Wrapping the perimeter of Rappu is additional seating where izakaya-style bar bites are served. Snack on nori popcorn ($3), chicken cartilage karaage ($6.50), and ei-hire or dried stingray fin ($8.50), and pair them with a selection of Japanese-inspired tipples from the cocktail cupboard.