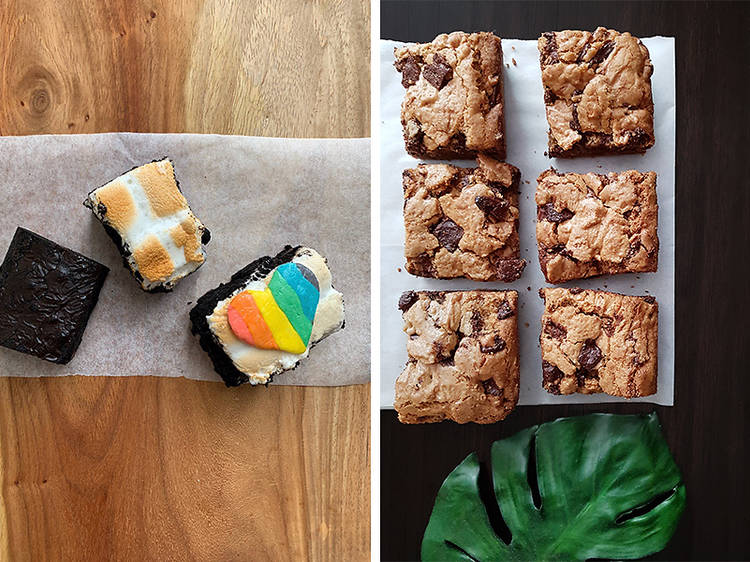 Photograph: @eatoutinside/ Instagram
They started with a simple mission: to amplify the love during Pride Month.
Childhood friends, Cheah Hui Yi and Natasha Sadiq, decided to organise a bake sale for the coming weekend, and all proceeds will go to the Relief and Resilience Fund for LGBTQ+ Persons, a campaign organised by Sayoni and Brave Spaces.
"The inspiration for Eatoutinside came about because Pride feels rather muted this year without a physical event like Pink Dot," shares Natasha. Through their warm bakes, the pair want to spread "cheer, comfort, and solidarity".
"We also know that LGBTQ+ organisations have a harder time accessing government funding. So no matter how big or small our contribution is, it's going to go a long way in supporting the community," adds Natasha.
Natasha and Hui Yi have put together three different offerings that showcase each of their signature bakes. The menu features servings of cookie bars or brownie squares, and a variety box filled with treats of lemon blueberry loaf, spiced apple streusel loaf, fudge brownie, and cookie bars.
"We want the assorted box to feel like a little bit of everything, flavour-wise, covering chocolatey, fruity, and sweet and spicy," says Hui Yi. In keeping with social distancing rules, the duo are baking and assembling the bake boxes in their respective homes, then sending them out for deliveries or pick-ups on June 20 and 21.
Currently, Natasha and Hui Yi both hold full-time jobs, and are utilising their days off to fulfil the orders. They hope to raise $500, and have even gotten an offer to match the funds raised.
"We're optimistic and excited," shares Natasha. "It's almost like a reminder to other LGBTQ+ people that we're still here, and that we still see the community, even if we're all behind closed doors now."