The rising popularity of Genevieve Lee's sourbombe, or sourdough bomboloni, has shown no signs of stopping ever since the MasterChef Singapore runner-up first started selling her gourmet bakes through an online micro-bakery. Sales for the puffy pillows stuffed with luscious flavoured cream – are often sold out within minutes. Demand for the doughnuts from Sourbombe Artisanal Bakery soon outgrew Genevieve's home kitchen; and together with business partner Tan Chun Rong, the pair decided to open a physical store with more space for production to be stepped up.
At Penang Road, the pair transformed a 900 sq ft unit into a sugary shrine dedicated to the fluffy pastry. The sun-drenched place comes equipped with an open kitchen, which offers a peek into the baking process; naturally leavened dough is first left to ferment for 18 to 24 hours, before earning a golden-brown coat from a coconut oil bath. Each fried parcel ($3.60 to $5.60) is then augmented with custard laced with caramelised banana, hojicha, black sesame, and more.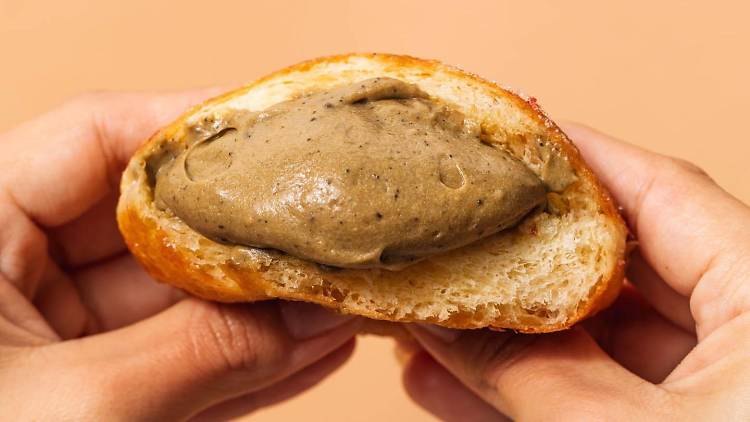 Swing by to choose from the full display of treats, or pick up the signature box of nine ($44) that provides a sampling of what the store has to offer. Some favourites: the delightfully floral lavender-lime mascarpone; burnt honey and sage, with crunchy walnut bits; and a take on the Basque burnt cheesecake that is oozing (quite literally) with umami from the addition of blue cheese.
Beyond doughnuts, the sourdough starter finds its way into other bakes too. The menu at the takeaway-only storefront features sourdough croissants ($4 to $6.50) and loaves ($8.90) adorned with fruits and berries.
In keeping with the fermentation theme, house-brewed kombucha tinged with purple carrot ($7) and strawberry rhubarb ($7.50) are also available. To pair with the sweet treats, pick up bottles of cold brew made in collaboration with Asterix Coffee Co, or sip on freshly pulled tea lattes ($5.50 to $7.50) made using oat milk.