Old-world charm and contemporary European cuisine meet at Tablescape, a sleek dining room located on the third floor of Grand Park City Hall. Forget what you know about stuffy hotel restaurants with stiff service and boring tasting menus that don't stray too far from the French classics; everything about Tablescape is warm, sincere, and welcoming.
The conventionally romantic set-up makes for a great date-night spot. Before the meal starts, look forward to a bread basket filled with signature bakes from the restaurant. The refreshed a la carte menu offers a taste from Europe updated for modern – and local – tastes. Botanic Garden ($26) is a sculptural salad that pays homage to the national icon. An assembly of seasonal greens rest atop grilled eggplant – enjoy it as is for the crisp, fresh flavours to shine; drizzle in the raspberry vinaigrette-based dressing to layer on sweetness and tartness; or have it between mouthfuls of lapsang souchong tea to underscore notes of smokiness.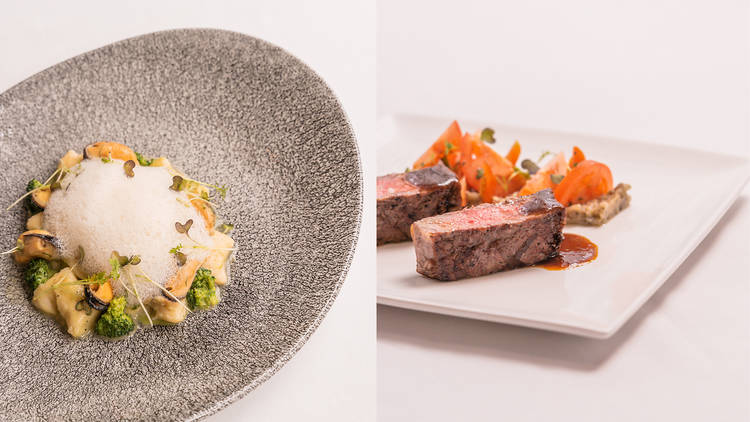 Mains feature the gnocchi ($28), handmade with a large proportion of potato to give a pillow-soft, almost fluffy, mouthful. To prep the sauce, salt is traded for black mussels and anchovies to impart plenty of brine. A classic steak comes in the form of wagyu striploin ($68), grilled in the Josper oven and paired with a colourful medley of heirloom tomatoes. Sweet treats come in the form of refreshing champagne jelly, dolloped with mascarpone cheese and berries; or a chocolate caramel cake ($14) perfumed with cardamon-infused sauce.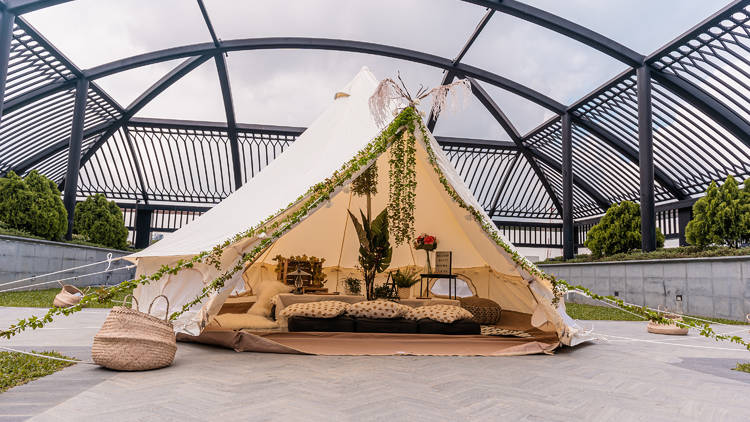 But the charming dining experience extends beyond the dinner table as well. The rooftop terrace of Grand Park City Hall has been outfitted with two roomy tents offerings a gourmet glamping experience. Depending on the time slot (5.30pm to 7.30pm, or 8pm to 10pm), bask under the sun's golden glow or dine under the stars. Gather up to five friends and indulge in a picnic spread lavished with truffled mini beef burgers, lobster blinis, cheese and crackers, foie gras, and more. Note that there is a minimum spend requirement of $88 per person, and a total of $350.