Tampines Round Market & Food Centre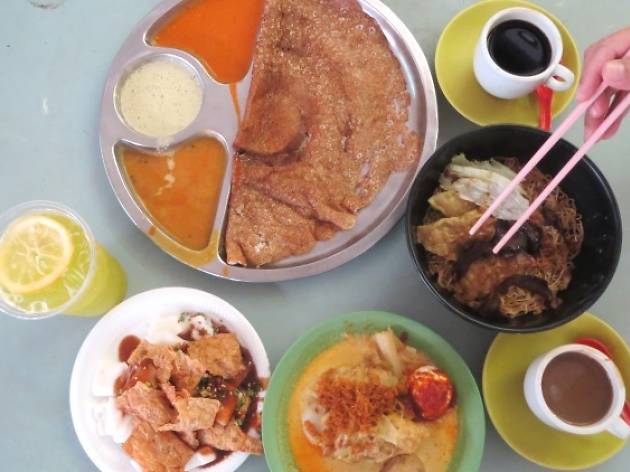 Time Out says
This well-known landmark – seriously, just ask any cabbie – is also a helluva hawker centre. Popular among residents of the area, the food centre fills out with those hungry for a proper local breakfast or a full steamboat dinner. We've been one of those people for decades now, and this is what we typically order.
Dumpling Noodle
$3 at Teo Kee Mushroom Minced Pork Noodle (#01-05)
Melt-in-your-mouth mushrooms and plump crescents of dumplings – with water chestnuts inside, natch – sit messily over a bed of thicker-than-mee kia noodles. And draped over everything is the star of the dish: a moreish, herbal dark sauce that you'll want to lick clean.
Plain Thosai
$1.20 at Rajarani Thosai (#01-33)
A thosai will get the breakfast job done. The version here is exactly what you'd expect: crispy, slightly sour and with enough structural integrity to mop up the lovely sauces. And, oh, the sauces. We can drink a whole cup of the white coconut one any day.
Niang Dou Fu Zhu Chang Fen
$2.15 at Yummy (#01-42)
Crisp shards of beancurd skin and chewy slices of fish cake provide the protein punch in a dish that, really, is all about the chee cheong fun and sweet, dark yong tau foo sauce. Yummy is right.
Lontong
$3 at Tok Ayah Nasi Padang Muslim Corner (#01-36)
We don't know about you, but we love spicy, rich food in the morning. And this bowl of unctuous, creamy and fiery lontong hits the spot. Unlike other stalls, this one isn't watered down – and, of course, we had to ask for an extra begedil. This isn't just a breakfast for champs. It's the champion of breakfasts.
Details
Users say