One of Barcelona's buzziest – and busiest – tapas bar has arrived in Singapore. Tapas 24 has long been drawing big crowds with its small plates ever since it opened in 2006 by Michelin-started chef Carles Abellan. And now, the first Asia outlet of this well-loved restaurant can be found along the breezy banks of Robertson Quay.
The interior, which overlooks the river, comes dressed in bright hues of red and blue to capture the vibrancy of Spanish culture.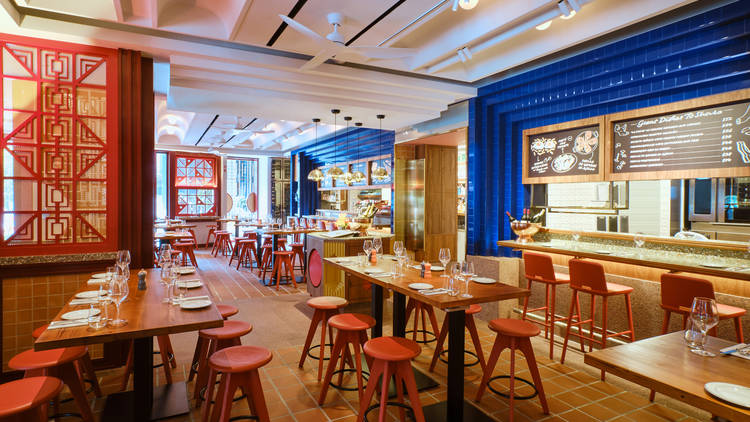 Dressed in hues of red and blue, the waterfront outpost captures the same vibrant energy of Spanish culture. It helps that the menu, too, is a celebration of fresh seasonal produce and iconic street cocktails from the region.
Settle down in front of the open kitchen, and watch chef Carolina Garcia Santamaria (protege to Carles himself) and team dole up an expansive selection of sharing treats. While you wait, split a jug of summery sangria ($58/$68), or sip on the easy-to-drink El Rebujito ($58) with its refreshing combination of sherry, lemon-lime soda, and mint.
Transition to a savoury feast with some cool shots of Andalusian Gazpacho ($14), blended with Roma tomatoes; and snack on slices of Pan Con Tomate ($8), where crevices from the crusty Catalonian coca bread help trap pockets of oil and juicy fruit.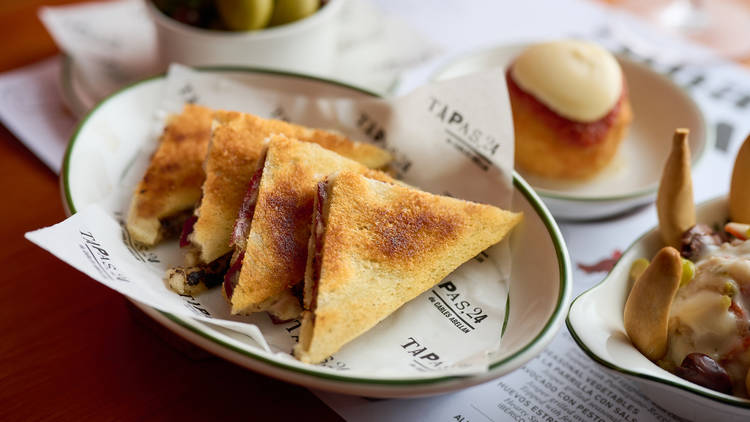 Don't clean off those greasy fingers too quickly; get them ready for the addictive Bikini Sandwich ($16), a signature sandwich that will have you reaching out for more, made with Iberico ham, buffalo mozzarella, and black truffle paste.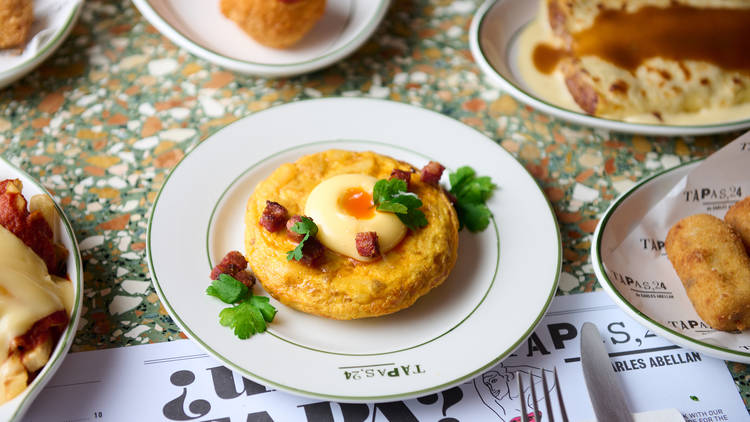 For heartier bites, try the Croquetas de Pollo ($8), deep-fried parcels stuffed with shredded chicken that is left to braise overnight for added taste – and texture. Also enjoyable are the tender slices of octopus ($22), dusted with smoked paprika; and a rendition of Spanish tortilla ($12) that comes stuffed with chorizo, confit potato, caramelised onions, and a surprise oozy middle.
To help cut through the bold flavours, sample the Singapore-exclusive avocado ($16) grilled in the Josper oven to develop smoky char, then brightened with pesto and pine nuts. Fans of potato salad will enjoy the curiously arranged Ensaladilla Rusa ($14) of tuna, olives, and breadsticks. Of course, no Spanish meal is complete without paella, and Tapas 24 has a version ($40) umami-laden with a combination of seafood stock and prawns.