It seems only fitting that the lush compound of Dempsey is also home to the largest organic and natural food store in Singapore. Terra Madre champions the best that nature has to offer, with an expansive retail store and an adjoining dining space.
From its well-stocked shelves, pick up pantry staples and ready-to-consume products sourced largely from farmers and growers in Australia. Over 1,000 products are available to choose from.
Then, swing by Terra Madre Restaurant for a hearty, healthy menu that embraces the bounty of nature. Fresh produce, conscious ingredients, and local finds are used extensively in the kitchen to cook up a line-up of Australian-inspired plates. Kickstart the day on the right note with nourishing breakfast bowls ($14/$15) and loaded toasties ($18/$19), or construct your own wholesome salad for lunch. Grilled sweet potatoes ($25) can come paired with spiced vegetable fritters, while halloumi slices might sit on a bed of avocado and kale ($25).
Come dinner time, the options expand to present sharing plates loaded with flavour. Burrata salad ($32) wins in both presentation and taste; the creamy ball of cheese gets enlivened with berry-scented poached pear and a drizzle of basil oil. Wild-caught prawns ($28) get a delightful char from the grill, and come dressed with pickled cucumbers to get through the smoke. Also enjoyable: charred eggplant ($22), where sweet, soft flesh gets a punchy pairing of chilli-hinted yoghurt sauce.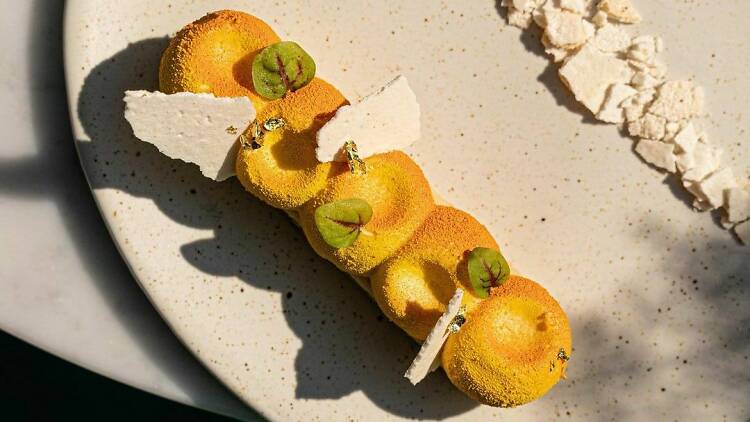 While the menu might lean healthy, proteins still feature extensively as part of the selection. Grilled Kurobuta pork belly ($35) is sweetened with a honeyed glaze and side of baby carrots, and whole red snapper ($58), wrapped in a blanket of banana leaf, will fill the belly up with its spice-forward profile. Desserts remain just as guilt-free; Calabaza squash is turned into creamy mousse, and piped onto a gluten-free sponge ($15).
The interior, too, is soothing and welcoming. Splashed in warm hues of earthy terracotta and pastel peach, Terra Madre is a gorgeous reminder that healthy food can look as good as they taste.