After calling Lavender Street home for seven years, Muslim-owned The Bravery is ready to start a new chapter. It begins with a change in location – from a humble café space at Jalan Besar to a two-storey shophouse along Amoy Street.
And it almost feels like a coming-of-age. Gone are the neon colour-blocked plastic sheets that line the entrance. Now, splashes of colour come through in subtler, more thoughtful ways: as lime green banquette, paired with brown rattan seatings, and plenty of natural light.
The updated menu also features heartier additions, apart from usual brunch offerings of pancakes ($14) and cheese toast ($16). Stand-outs include the Cod en Papillote ($39), which involves cooking the fish in a paper pouch. Sealed within are slices of crisp fennel and seasonal greens, cooked in a Japanese-inspired ginger-soy broth. A serving of furikake-topped rice completes this belly-warming dish.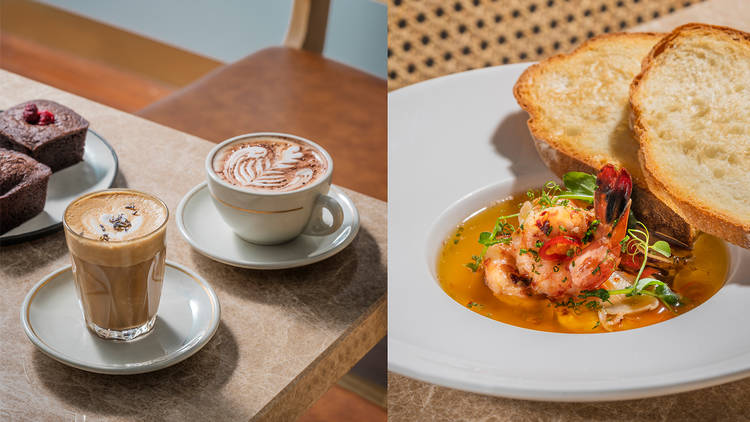 Come dinner, more options come in the form of grilled meats and fresh catch. Homemade crab cake ($16) is a plump parcel well-stuffed with seafood, and Gambas al Ajillo ($16) sees prawns slow-cooked in a pool of garlic-scented oil. The sweet celeriac root mash in the pureblood wagyu deckle ($58) helps balance out the smoky, albeit sinewy, cut of beef.
For a sweet perk-me-up, The Bravery offers a selection of freshly baked treats that are available all-day. Grab a slice of decadent Gateau au Chocolat ($6.90) or the deceptively light Nutella Tiramisu ($6.90), and wash everything down with sips of its signature lavender latte ($6) with fragrant, floral notes; or some iced hojicha milk ($6).