It's a hard task to create a menu that completely omits gluten. It's an even harder task to create a menu where you don't notice that it's gone. But The Butcher's Wife has been doing just that since 2018 – feeding both the gluten-free crowd and those looking for a good meal in a casual space at Tiong Bahru.
For the restaurant's latest menu, head chef Mariana Campos D'Almeida taps into her Brazilian heritage and combines it with Asian flavours. The revamped selection of tasty plates pays tribute to her love and appreciation of both diverse cuisines.
Fermentation techniques feature extensively in the kitchen. According to Mariana, the process of breaking down food substances and having a gluten-free diet is "intrinsically linked" – fermentation is what allows the gluten to break down in sourdough-making, and turns lactose in milk into cheese.
At the restaurant, she puts her skills to good use, creating homemade kombucha ($14) with flavours that change up frequently. Roselle and orange, tart and bright, will whet the appetite for a full meal ahead. If not, choose from an extensive range of natural wine from The Drunken Farmer retail space found within the restaurant.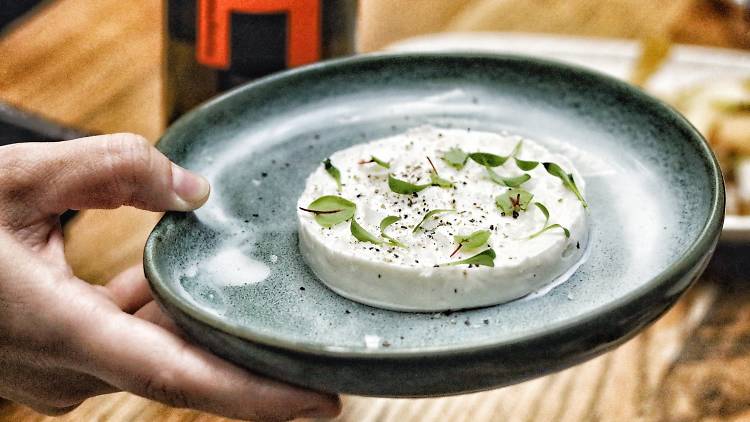 Begin with Our Own Goat Cheese ($17), made in-house using local goat milk from Hay Dairies. Kefir grains are used to kickstart the curdling process, and the final product is dressed with sea salt, edible flowers (from Open Farm Community), and a drizzle of honey. The tangy spread is best enjoyed with the nutty walnut and buckwheat bread that's served on the side. Her way with fermentation can also be found in the ceviche ($22). Tapioca juice is used instead of lime to cure slices of locally farmed barramundi for a piquant appetiser.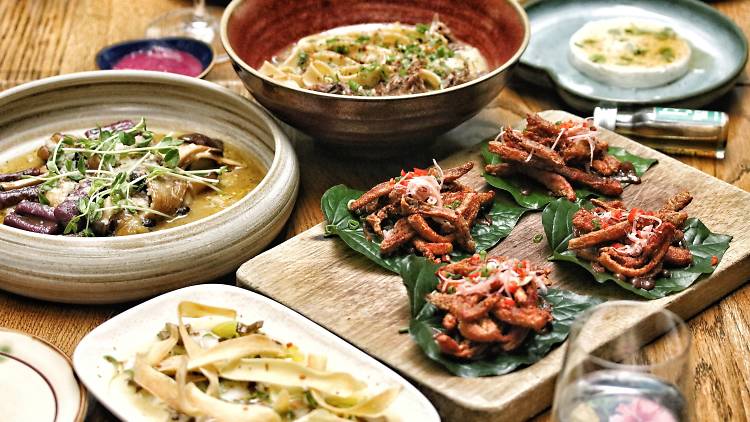 Don't overlook the crispy pig's ears ($21) either. Inspired by the Brazilian national dish of feijoada, a stew that utilises every part of the pig, Mariana uses off-cuts from the ear and cooks it for over 10 hours. It then gets deep-fried, and served with red date sauce, pickled ginger flower, and raw wild pepper leaf for a crunchy taco-like snack bursting with flavour.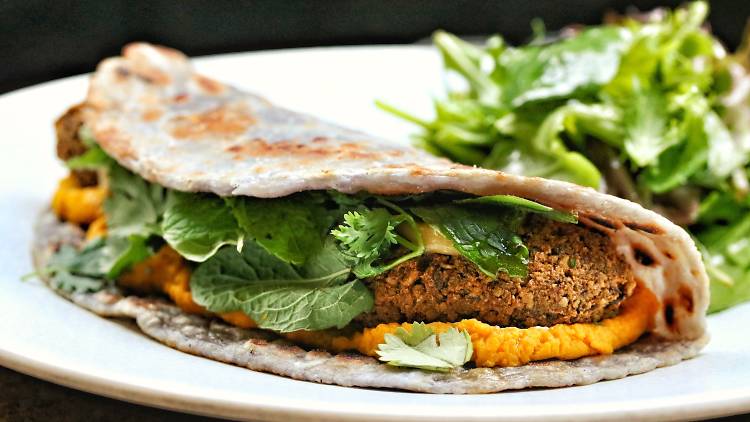 Her playfulness can also be seen in the blue pea flower naan sandwich ($20). Marianna admits that it is a challenging task to create a version of naan for the gluten-adverse. "But I think the result is very nice," she says. It looks great too, and comes stained in an indigo hue from the addition of blue pea flower extract. Within, fermented black beans are used as a base to make its falafel, and yoghurt and green mango chilli sauce add a bright pop of freshness. Gnocchi ($22), made using sweet potatoes and buckwheat flour, is also a great option for carb-lovers. Meat-wise, there's the wagyu picanha ($38), jazzed up with salsa made from Thai green papaya – a fruit the chef discovered during her trip to the wet market. Burnt cauliflower puree serves as a smokey accompaniment to the grilled meat, brightened with a sprinkling of dehydrated banana powder.
Gluten-free baking presents yet another set of challenges, but The Butcher's Wife remains unfazed. There's the lemongrass panna cotta ($13), made using tropical ingredients instead of the usual red fruits. Pineapple is left to sous vide in its own juice, and is served alongside calamansi curd and butternut tulip. Remember to save space for the warm chocolate cake ($14), a time-intensive creation that needs to sit within the ramekin for at least a day to hold its shape. Based on a childhood recipe, Marianna uses Lemuel Chocolate's 72% Ecuadorian bar to make this decadent treat that comes with a scoop of caramel miso ice cream.