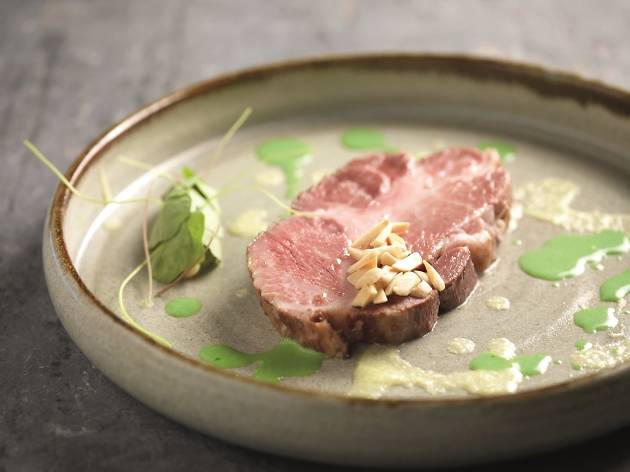 1/5
2/5
Butter and buttermilk sourdough
3/5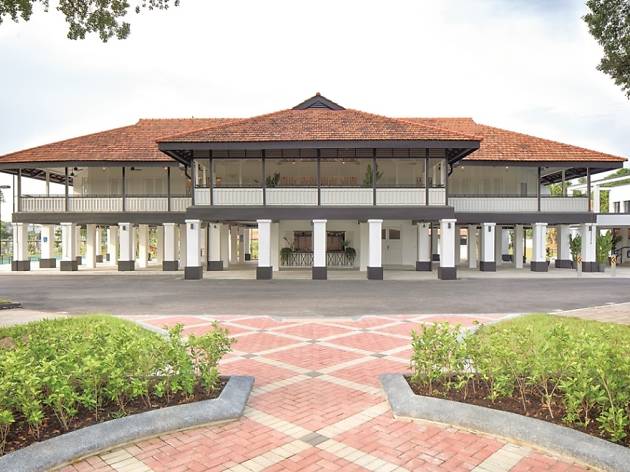 4/5
5/5
'Farms'-to-table cuisine in a colonial era bungalow
Seletar Aerospace Park (SAP) might not be top-of-mind when considering dining options in Singapore but that's about to change. Part of The Oval @ SAP, The Summerhouse joins three other food and beverage tenants – Youngs Bar and Restaurant, Di Wei Teo Chew Restaurant and Wheeler's Estate – to breathe new life into the (previously) deserted former Seletar Airbase.
The 45,000-sqft grounds is home to Poppy Flora Studio; Nomad the Gallant, an on-site coffee roasting facility; Wildseed, a casual café and bar; and the Summerhouse Dining Room, the main restaurant perched on the second floor of the conserved colonial bungalow. It's one of those places where you'll find no problem lounging at for the entire day – book in one hand, coffee (or cocktail) in the other. It's also where chef Florian Ridder dishes out his 'farms'-to-table creations, serving food carefully and personally sourced from Singaporean and Malaysian producers, garnished with herbs freshly plucked from the garden within the premises.
Having cooked at three-Michelin-starred La Belle Epoque in Germany and more recently at one-Michelin-starred Alma by Juan Amador in Singapore, Ridder believes in exceptional yet approachable cuisine. It's a breath of fresh air (quite literally) to see Ridder focus on sustainable regional produce, elevating the local farmer through his plates – even if he's still getting some ingredients from Europe. Here, pick from either two collective farming menus ($90/six courses, $128/ten courses), or a small à la carte one for those who prefer sharing.
The beetroot ($18) is a bold place to start – the vegetable is pickled in a raspberry and hibiscus liquid, hollowed out, then stuffed with a creamy mix of ricotta, barley, black sesame and fried shallots for a touch of savouriness. The chilled beetroot is served with a warm gazpacho, playing with temperatures with each bite. Each spoonful of his buckwheat porridge ($16) is warm and comforting, with bits of crispy bacon, pumpkin seeds and Parmesan chips providing a playful crunch alongside umami-rich tomatoes from Cameron Highlands. Wearing a laurel of marigold and snakeweed flowers from the garden, it's easy to crown this risotto-like dish The Summerhouse in a bowl.
But it's not all veggies – mains include grouper ($32) sourced from a Singapore kelong, Inka-grilled Mayura beef ($56) and Iberico pork ($36). While the Iberico doesn't look particularly impressive on the plate (mine comes as a sliver of pork drizzled with chervil sauce), the first bite throws all assumptions out the window. Cured in buttermilk before being smoked and cooked sous vide for 72 hours, the pork collar melts in the mouth while bits of crushed almonds and camomile-infused onions provide some texture. If only the slice of meat was a wee bit thicker.
As the farm-to-table movement picks up steam in Singapore, we'll be interested in seeing if The Summerhouse could possibly be Ridder's answer to Dan Barber's Blue Hill in New York, incorporating even more sustainable produce from across the region and using more from the garden à la Stone Barns. And if this early introduction is anything to go by, we're sure it could be.
Venue name:
The Summerhouse
Contact:
Address:
3 Park Ln
Singapore
798387

Opening hours:
The Summerhouse Dining Room: Wed–Sat 6–10pm; Sun 11am–5PM. Wildseed Cafe and Poppy Flora Studio Tue–Sun 10am–7pm. Wildseed Bar Tue–Thu & Sun 4–10pm; Fri & Sat 4–11pm
You may be interested in: