Tigerlily Patisserie has come into full bloom. What started as a virtual bakery during the lockdown period last year has now grown into a full-fledged café in the east – complete with a dine-in space and an expanded repertoire of sweets and savouries.
Taking root along Joo Chiat Road, the cosy 24-seater space comes decked out in bold botanical murals and soft pastels finishings. Rainbow arches and candy-hued tableware lend fun, whimsy details that help echo the playful creations doled out by the open kitchen.
Start by heading to the two vitrines at the counter; one is dedicated to warm pastries, and another chills the sweet treats that are available for the day. Head honcho Maxine Ngooi uses the best ingredients that nature has to offer – seasonal fruits, herbs, and vegetables – to create a menu that changes with the season.
The line-up might feature tomato and artichoke tart ($7), where a flaky, buttery base cradles juicy pops of heirloom tomatoes and pickled artichoke hearts; or the yellow peach danish ($8) that heroes the unbelievably sweet fruit from Spain.
And with a bigger workstation (and dine-in space) comes the chance to serve a lean selection of heartier brunch plates. Monsieur Kim ($15) jazzes up the simple grilled cheese sandwich into an elegant dish layered with Emmental, Comté, kimchi, and ham. Or try the salmon tzatziki ($14), where slices of salmon are first cured for over four days, then sandwiched between homemade ciabatta, alongside avocado. Dill-scented tzatziki helps add brightness to the creamy dressing.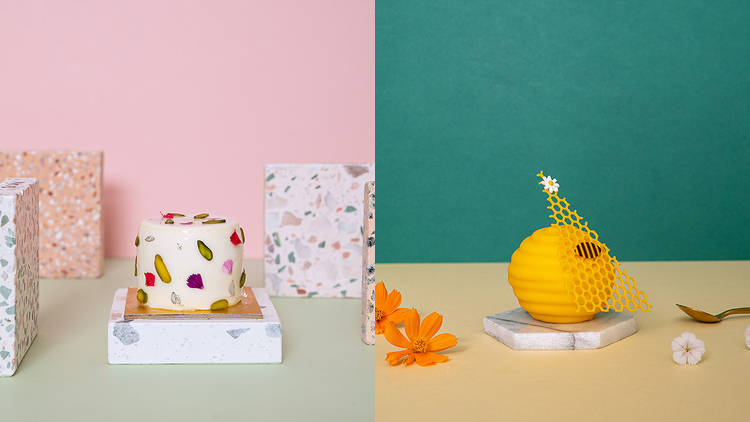 Desserts, naturally, are a show-stopper here. Pink guava and pear ($10), a signature, captures the colours of the store's terrazzo tabletop, turning the visual motif into a stunning treat. Juicy pear cubes and pink guava mousse are lifted with elderflower liqueur and pear mousse for a sweet, summery delight. Maxine also taps into her archive to reimagine a dessert served at her old workplace. Here, the adorable Beehive ($11) is a refreshing chocolate-coated dessert – filled with yuzu mousse, lemon sponge, honey parfait, and lemon, thyme and lychee honey jelly – that tastes as good as it looks.
Other bakes, including the baguette ($4.50) and the familiar mochi blondie ($6) from her virtual bake box days are also available. To pair with all the bakes, sip on brews, created in collaboration with local roaster Bearded Bella and The 1972 Clipper Tea Co.