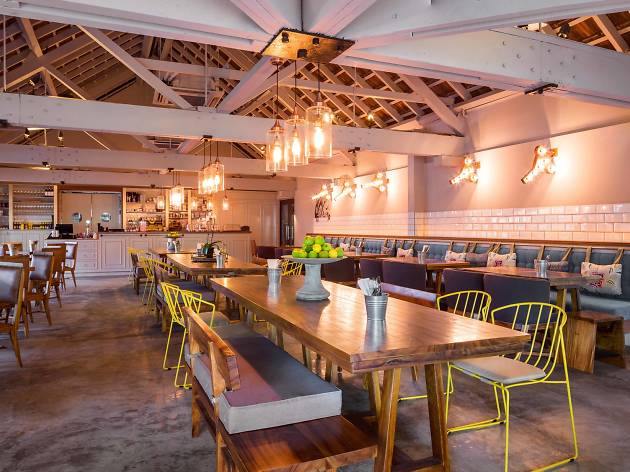 1/4
2/4
3/4
Beef tartare with bone marrow
4/4
Hay smoked pulled pork and pancetta pizza
Secluded spot for boozy brunches
The green pockets in the 'neigh'-bourhood of Bukit Timah's Turf Club have long become a hideaway for weekend brunch spots, and newcomer Tin Hill Social – it's English for Bukit Timah – is no exception to the sunny rule.
In this competitive F&B climate, Tin Hill Social is ambitiously big for a restaurant of its calibre. Two colonial stables have been repurposed for a twinkly cocktail bar and an air-conditioned dining room, but you'll find yourself indecisive over whether to take the seats on the fake turf outside, or under one of the canopy-covered balconies flanking the main room. With the mismatched chairs, solid wood tables and visible roof ribs leftover from its equine past, the overall look is a hipsters' dream wedding waiting to happen.
Such attention to design detail would knock competition like Pasarbella, Riders' Cafe and Picotin Express out of the park if function met form, but the Western bistro food Tin Hill serves doesn't impress. Finely chopped beef tartare ($22), served in a hollowed-out length of bone, is inexplicably topped with palate-ruining, congealed cubes of beef marrow. And the Tin Hill Bangers N Mash ($22) makes up for two miserable breakfast wieners with a disproportionate amount of mash. The zingy cider gravy poured over the dish is the only reason to eat that amount of carbs to fill your tummy.
On a night where only two other groups competed for the servers' attention, we watched oil unappetisingly coagulate on our uncollected starter plates while working on our mains. At least the servings here are big, though you don't necessarily get good quality produce to justify polishing off the plate. The off-white and rubbery rings of squid, watery prawns and mealy textured muscles in the cocotte of seafood stew ($30) is reminiscent of a frozen seafood mix in a bag. Only the sweet and citrusy crab salad ($17.50) brightened the meal, but the too few toast points only reinforced the idea that the dishes haven't been road-tested for their practicality.
Cocktails like the Hill Top mojito ($15) and Frontier ($15) are designed for afternoon boozing, though our mojito tasted only of green tea, and the Frontier more pineapple than gin. A kids' menu ($15, includes drink and ice cream), with make-your-own pizzas, mac and cheese, fish and chips, and bangers and mash means the whole clan can come along.
There's no knocking Tin Hill's lush setting and utility for the social calendar. But there are not many other reasons to pay this much to live the Bukit Timah dream for just one afternoon.
Venue name:
Tin Hill Social
Contact:
Address:
Horse City
100 Turf Club Rd
Singapore
287992

Opening hours:
Tue-Fri 10am-midnight; Sat & Sun 9am-midnight
You may be interested in:
Rating Breakdown
5 star:

1

4 star:

0

3 star:

0

2 star:

0

1 star:

1
We had a wonderful experience at our wedding. All our guests had a fantastic time. They went above and beyond service excellence.
We had our wedding dinner at Tin Hill Social for 130 pax. My husband is french and we were really looking to have specific things like Foie Gras on the menu. Chef Michael allowed us to customise the menu based on our budget, and the food was exceptional, definitely made with love.
Marie Christine and Lidia were also very very helpful to us, with planning everything, balancing the budget and even recommending hotel and flower packages to meet our total needs. In addition, when we decided to do the decor and flowers on our own, they were very supportive, allowing us to conduct trials well in advance and privatising the venue for us from late the night before so that everything could be set up.
Their staff is also exemplary. We believe you'd be hard pressed to find many in the service industry who are so passionate about their work and so willing to get everything perfect to make sure your special day is excellent.
Choosing Tin Hill is probably the best decision we've made since deciding to get married :)
Bad service - slow, rude and unattentive. Food served was not fresh.