Tiong Bahru Yi Sheng Fried Hokkien Mee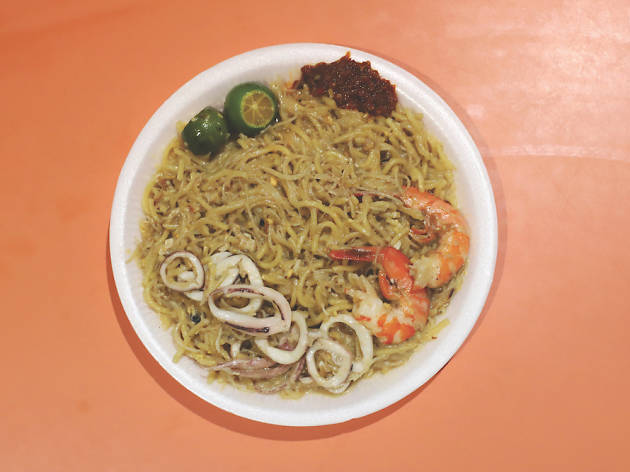 1/2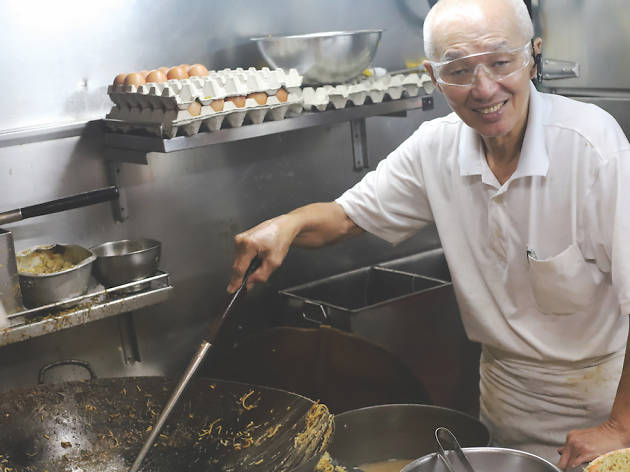 2/2
Don't be fooled by the stall's name – Tiong Bahru Yi Sheng Fried Hokkien Prawn Mee has been housed in Jalan Bukit Merah's ABC Food Centre since 1993 and there's still a relentless queue snaking around the shop 'til the late hours of the night, when loyal customers clear up the final few plates of this carby delight.
It's hard to pass up a comforting serving of Hokkien mee lovingly prepared by owner Toh Seng Wang, who has been dishing out his wildly popular prawn noodles for over 40 years. It's an absolute treat to witness the 68-year-old – who's as strong as an ox – raising his ladle high up in the air, showering the noodles with stock and working up a storm with his giant wok. His noodles are doused in a prawn stock that is painstakingly prepared every day, paired with pre-peeled juicy prawns and sotong. When he pops that huge wooden lid open – another sign that this place is legit – it won't be long until you are greeted with piping hot noodles steeped in a rich crustacean sauce (and history).
Yi Sheng's humble beginnings date back to the 1950s, when Toh's father would roll out the hearty dish in a pushcart along the streets of Tiong Bahru. The recipe was passed down to his son in the 80s and now Toh says: "I will never leave (this craft), I will fry until I can't fry any more." And don't be afraid to ask for an extra serving of sambal. Trust us – it's that tasty.
Quite the traditionalist, Toh follows his father's recipe to a tee, only making slight changes over the years to suit his customers' preferences. Each plate of robust goodness goes for $4, $5 or $6.
When asked how he bares to stand for such long hours cooking each day, Toh says: "Aiyah! It's just four or five hours! Once I enter the kitchen around 3pm, I don't leave until we close." Sadly, on the topic of finding a successor, Toh reveals there'll be no third generation: "I can't find someone to take over. For now, I will do as much as I possibly can until I can't do this any more."
Venue name:
Tiong Bahru Yi Sheng Fried Hokkien Mee
Address:
#01-13
ABC Food Centre
6 Jalan Bukit Merah
Singapore
150006

Do you own this business?