Try these festive buffets with a twist
Whether it's for Christmas or NYE, opt for these unconventional spreads inspired by local food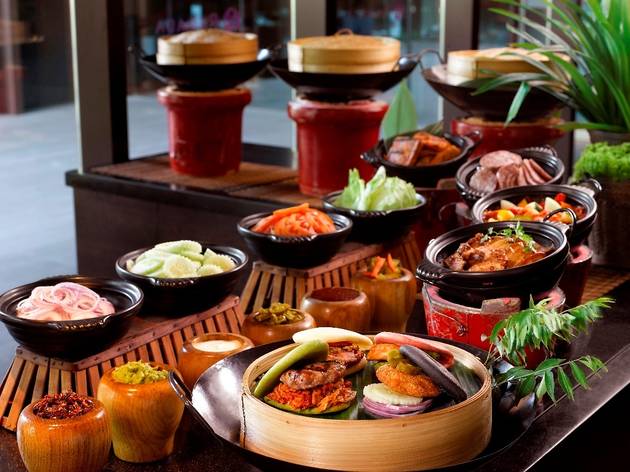 'Tis the season to be jolly over mountains of food. And if you've got several circles of friends to celebrate with, why not try something other than turkey and ham for Christmas? Ramada Singapore's restaurant Flavours At Zhongshan Park is serving up a Hawkerlicious buffet spread, where seafood, burgers and even classic Christmas roasts are given a local twist. For Halal-certified fare, head over to sister hotel Days Hotel Singapore At Zhongshan Park. There, you'll find a Sedap-tious festive lunch and dinner, which take inspiration from Mediterranean and Asian street markets. So while everyone else is tucking into yet another log cake, you'll be Instagramming these unexpected dishes instead. To make things easier (we know the feeling of being overwhelmed at buffets), we've narrowed down the food stations at the Hawkerlicious and Sedap-tious buffets to make a beeline for.
Hawkerlicious
Easy bites
If you're in the mood for finger food, check out the Christmas burgers at Ah Hood Burger Stall, made with buns that come in pumpkin, beetroot, cranberry, almond and bamboo charcoal, raisin, and spinach flavours.If you're game for something more hands-on, friendly chefs will assist you in filling out your very own stack. They're not your average beef patties, either – try the wok-fried apricot glazed pork accompanied by hae bee hiam or pan-fried Asian spiced turkey with kimchi.
Seafood in the spotlight
Freshly shucked oysters, fleshy lobsters, melt-in-your-mouth salmon – it's no wonder we associate seafood with indulgence. Fans of the catches can heap their plates at the Seafood Spotlight station. Pick from prawns, clams, crayfish, and escargot and have them topped with your choice of condiment – be adventurous and try the cranberry chilli sauce or pumpkin salted egg yolk sauce. These are the unique concoctions of Chef de Cuisine Kristopher Cheng, who sought to balance local flavours and classic yuletide ingredients.
Prata party
Ditch the crêpes and opt for the Singaporean version instead at Rudolph's Prata Wagon. At the Hawkerlicious buffet, you can have fun customising your dream prata. You'll be spoilt for choice with a range of ingredients and flavours, such as truffle potatoes, banana, Nutella, and even chestnut murtabak, to name a few.
Hawkerlicious festive lunch and dinner buffets at Flavours At Zhongshan Park (Ramada Singapore At Zhongshan Park): from $32/adult and $16/child. Valid until Jan 1. For more information, visit ramadasingapore.com.

Sedap-tious
It's a catch
Sedap-tious is not to be outdone in the seafood department, either. The buffet features black pepper slipper lobsters, seabass in pink peppercorn citrus sauce and even a 'live-action' station that cooks up mee goreng as well as seafood or turkey puttanesca. On New Year's Eve, you can also look forward to the star dish: Norwegian salmon, slow-cooked with spicy honey tamarind for a succulent, fork-tender mouthful.
Exotic tastes
Sample Mediterranean-inspired meat options such as the Moroccan-spiced chicken, cranberry barbecue beef meatballs, or Turkey Kuzi with raisins, beurre noisette Brussel sprouts, turkey bacon, and cherry tomatoes.
Sweet dips
Who needs chocolate fondue when you've got a gula Melaka fountain? At the Sedap-tious buffet, satisfy your sweet tooth when you pair fruits and condiments with a gula Melaka dip. You can munch on some raspberry and charcoal churros, too, and go all-out saccharine by dipping them in luscious salted caramel.
Sedap-tious festive lunch and dinner buffets at 21 On Rajah (Days Hotel At Zhongshan Park): from $33/adult and $16.50/child. Valid until Jan 1. For more information, visit dayshotelsingapore.com