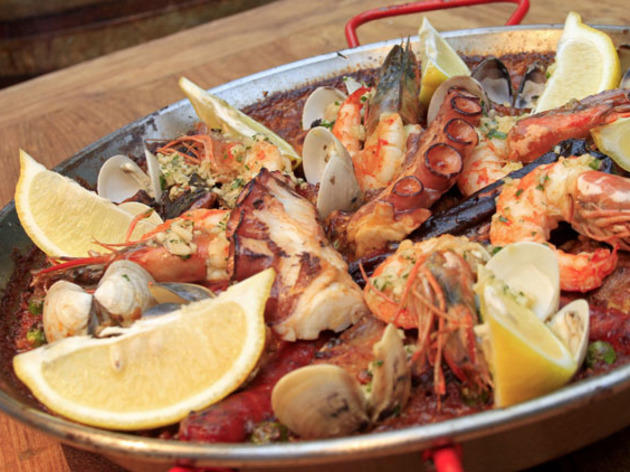 Time Out says
After arriving to Singapore in 2012 to helm the Spanish paella bar Bomba (which was edged out of its Martin Road location in January due to the PS.Cafe Group's takeover of the two-storey complex), chef Jean-Philippe Patruno returns to the fore with a concept that seems to showcase Patruno's European embrace of the Singaporean concept of rojak.
Fittingly named UNA (it's located at 1 Rochester Park), the colonial mansion space for up to 150 diners is a chimera of narratives. The décor vacillates from graphic-tiled Mediterranean casual in the upstairs tapas bar, to white tablecloth and ornate (but somewhat ugly plastic) chaired-opulence set in a terraza-like garden downstairs – and what was that trail bike doing in the dining room downstairs on our visit? This same kind of cut-and-paste approach thankfully works much better in the food – Patruno's a seasoned pro, after all, having toiled for over 20 years in top London and Michelin-starred restaurants like Barrafina and Fino, with pretty good success at Bomba in Singapore. The cuisine here offers plates thick on French, Italian and Spanish influences, with the specific regions of inspiration detailed next to each dish on the menu.
Portion sizes come in small and large servings, and there's a bit of sticker shock on the hefty prices ($16-$28 for starters, $38-$55 for mains). In most cases, the small starters are sufficient (though the staff may try to convince you that they're only tasting portions, 'smaller than an appetiser'), as with the 'small' plate of Scallops à la Plancha ($28/$38), which featured three good-sized Scottish scallops sitting cosy with proportionate chunks of fork-tender veal cheeks. Execution-wise, the land-meets-sea pairing and produce were stellar, and somewhat justify the price (though it's still on the high side).
Other recommended starters include the slow-cooked octopus served with a tart caper, olive and tomato salsa that takes a page from Provence ($21/$31), and the bright Granada-roused option of scallop ceviche with avocado purée and crisp shallots ($19/$29). We recommend skipping the near-flavourless chopped hanger steak tartare ($28/$38).
In contrast to the daintily-plated starters, the mains are delivered in heartier, more rustic fashion, evidenced in the must-try of melt-in-the-mouth ox cheek and smoked mash studded with chewy butter-bathed snails ($33/$43) and chef's signature porky and wholly enjoyable plate of mid-rare Iberico shoulder flanks seared over apple wood and charcoal, enriched by a sprinkling of lardons ($33/$44).
Taking a page from his last job, he also serves up a Catalonian squid ink paella contrasted with battered baby squid ($28/$38), and though the staff warned us that chef makes it wetter than usual, we were more turned off by the over-saltiness (a common complaint also at Bomba) and overcooked squid.
Overall, UNA provided us with one of the better meals we've had on the Rochester stretch, though we found the restaurant in a bit of a dull mood, with the chef mulling about in the dining area barely engaging the clientele, and servers busy with their own chatter. Had we been shown the wine list, we might have shelled out for one of their reasonably-priced Italian, Spanish or French bottles ($73-$160) – unfortunately, the clunky food menu doesn't help on its promise of wine pairings either.
The service needs improvement and the sprawling space doesn't ultimately work in their favour on a quiet evening. It exacerbates the feeling that it's unloved, especially on the quieter weekday nights, and undeservedly takes away the energy, colour and atmosphere the promising food offers. For now, the balance on UNA's rojak is unfortunately off-kilter.
Details
Address:
1 Rochester Park
Singapore
139212

Contact:
Opening hours:
Daily 6pm-1am
Do you own this business?
Users say