Wonton noodles have undergone quite the transformation under the hands of Benson Ng and Brandon Teo. As an ode to their favourite dish, the pair of childhood friends adapted a traditional recipe – from Seng's Wanton Noodles at Dunman Food Centre back in 1968 – to create an elevated version. At Seng's Noodle Bar, handmade egg noodles come served alongside quality fix-ins: torched char siew, smoky and tender; roast pork; meaty parcels of wonton; and upbeat hip hop tunes.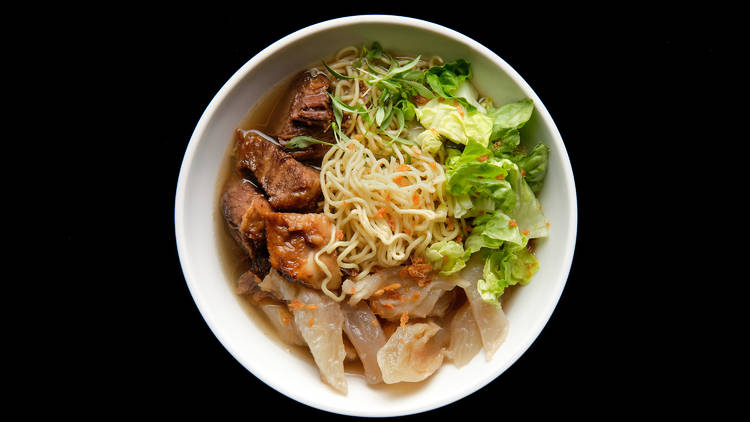 But the dish is due for an upgrade; Benson and Brandon wanted to chart a new chapter for wonton noodles with the brand's latest concept: Wanton Seng's Eating House. Which is why the menu at the 88-seater space spotlights a series of modern creation. Wok Hey Beef Noodle Soup ($18.80) is jazzed-up pho, with beef tendons and chuck roll in a smoky, clear broth; while char siu noodles ($12.80) features seared pork belly with dashi broth served in a separate teapot. Also worth a try: Mala Bah Chor Noodles ($9.80) with notes of fiery spice.
Even the sides are given a sprucing up. Crispy wontons can come stuffed with tiger prawns and scallops ($12), or filled with pork and dressed in an umami-packed XO sauce ($9). Its signature roasts ($18/$28) are also presented in a platter similar to that of Korean barbecues, complete with baby romaine lettuce wraps and garlic hoisin.
To pair with all the hearty grub, sip on a range of tea-based cocktails. Favourites include the Ju Hua Highball ($18), made with Haku vodka and chrysanthemum; or the floral Jasmine Sangria ($18). Classic highballs ($15), bottled Suntory beers ($14), and a lean list of sake is also available.