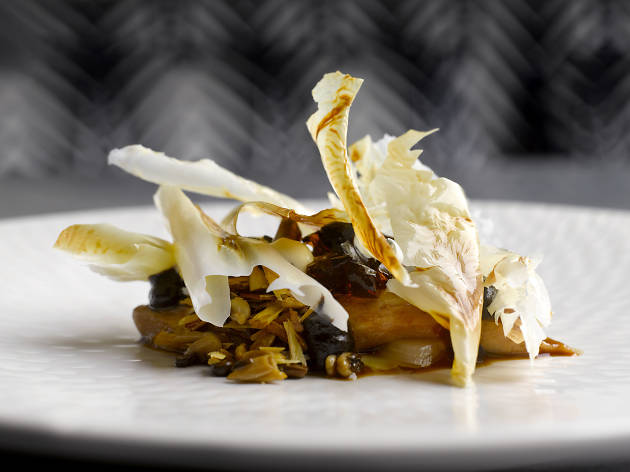 1/10
Butter-poached Quail
2/10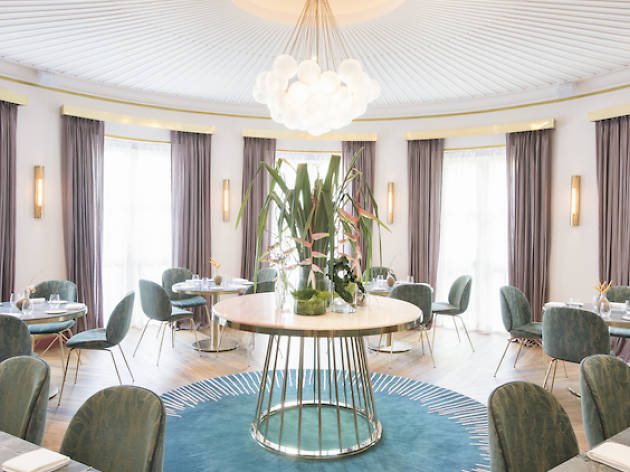 3/10
4/10
Deep Sea NZ Lobster
5/10
Hokkaido Scallops
6/10
Slow-cooked Mangalica Pork
7/10
Sashimi of Yellowtail Amberjack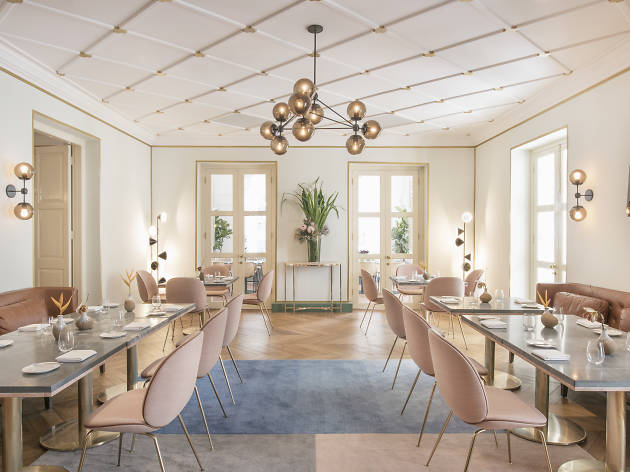 8/10
9/10
10/10
Black Gold
Modern Australian restaurant of note
CHIJMES' makeover has seen a spree of new restaurants and bars set up shop in the enclave – and modern Australian fine dining spot Whitegrass, driven by chef-owner Sam Aisbett, is its crowning glory.
The Australian chef made his approach here, after departing three-hatted Quay in Sydney, felt first via Instagram (@sam_aisbett), documenting every notch on the progress chart with tantalising photo updates. The tease was in the details, like the arrival of his mesmerising aluminium and acrylic steak knives from French knifemaker Roland Lannier, to the pastel wall murals by local illustrator Messymxsi, to the custom-blended bottles of olive oil pressed by his pal in the Cudgegong Valley just outside of Sydney.
But after a meal here, we had to ask: does this effort ultimately fly over the heads of the touristy and there-to-be-seen clientele that CHIJMES has cultivated over the years? Because Whitegrass isn't just another pass from Down Under peddling roo burgers and fork-pressed avocado. Yet, after we ate a lean lunch in preparation of the $265 fee that an eight-course meal at Whitegrass commands, other patrons thought nothing of asking if the Tetsuya-trained Aisbett and his head chef Diego Cossio could prepare a few Japanese dishes, or if the plates could be issued out faster. Yes, Aisbett's Japanese training certainly shows up on the menu, as do local accents. But the modern Aussie way of incorporating seasonal native ingredients on the plate still reigns. In contrast, the wine menu ($16-$39/glass, $75-$1,970/bottle) cedes cellar space to vivid French white and Australian red bottlings.
The cooking is ambitious and the techniques bear the hallmarks of a pro. Find proof of that in the fluttering leaves of skimmed and baked milk skins that shroud a main course of quail. Pulled back, the skins reveal elegant lobes of the juicy bird, buried under a granola of flaxseed, sunflower seeds and almonds, earthy nubs of black garlic, and the jellied 'whites' of century egg, cleverly incorporated for chew.
This method of plating, used on multiple dishes, gets tired quickly. It also shows up in an appetiser to hide meaty, sweet beetroot, smoked eels and roselle jam under ethereally thin sheaths of rice and more beetroot. And it's there again in the dessert of tropically sweet feijoa ice cream covered with milk skins. That said, the two dishes thrill with their complexity and the clarity of their carefully sourced ingredients. In another course, emu apples (they're actually berries) from the Australian bush sing a tart note against caviar, fennel jam, cultured cream and slices of Hokkaido scallop.
The pains Whitegrass takes to ship over native Australian produce pays off in the plate of crunchy marron – a crayfish from Western Australia that sits on the plate like a row of fat beads – with accompanying risotto of uni, white miso butter and tobiko. The only thing threatening the umami high we felt throughout the meal was in the bitter, blackened mash of celeriac and herbal master stock that drapes over tender grade-nine Australian wagyu striploin. Even then, you get a sense of Aisbett's moxie, pitting such bold flavours in measured tones on the prized fillet.
The final dessert, a layered log of chocolate in mousse, ganache and pearls, is the only disappointment in an otherwise enlightening meal. Although it's made well, it feels like a hard landing to a more pedestrian cuisine after a procession of dishes that each had their individual wow factors. This brand of ingredient-attuned cuisine, refracted through an Australian lens, is still nascent in Singapore – but this first 'G'day mate' is pretty damn impressive.
Venue name:
Whitegrass
Contact:
Address:
#01-26/27 CHIJMES
30 Victoria St
Singapore
187996

Opening hours:
Restaurant: Tue-Sat 6-9.30pm; Bar: Daily 5-11.45pm
Do you own this business?