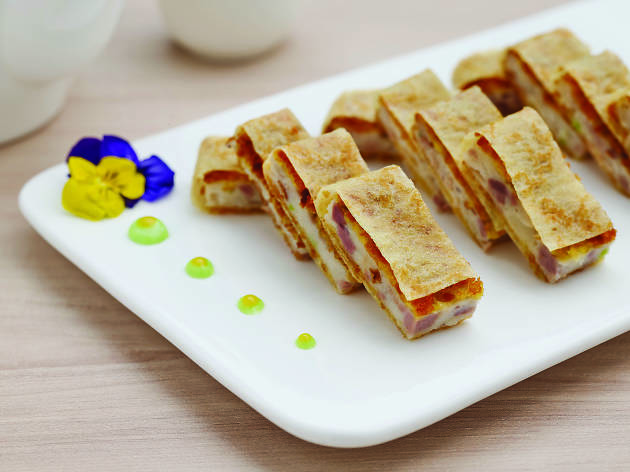 1/2
Photograph: Yan
Fried minced duck meat and cuttlefish paste in egg pancake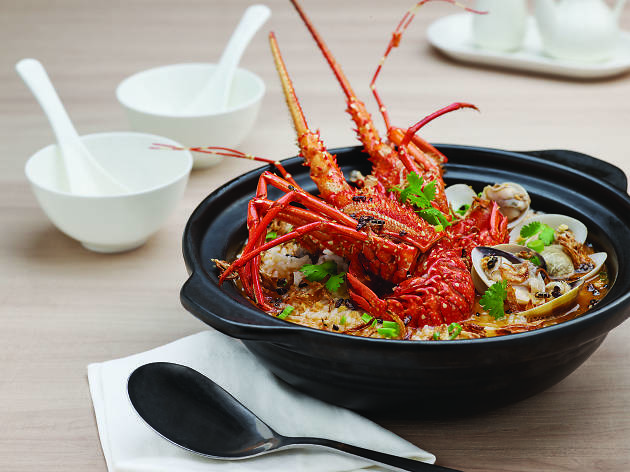 2/2
House special local lobster porridge with clams and puffed rice
Time Out says
There's a new chef in the kitchens of Yan, but the same comforting flavours of Cantonese cuisine remains. The seafood-focused menu reflects the head chef Ng Sen Tio's love for the ingredient. It starts with the fried minced duck meat and cuttlefish paste in egg pancake ($14) – a rare, heritage dish that he first learned in the 1970s. As you move on to the mains, seafood takes center stage, or pot, in Yan's case. Lobsters and clams are used to flavour porridge ($18/ 100g) in one of Yan's signature dishes, while scallops and prawns are mixed into a paste with chicken and beancurd to go with a nourishing golden pumpkin broth ($18).
–
Original review by Natasha Hong on November 16 2015
Plush Chinese you won't write home about

The onslaught of modern restaurants with their mashed-up cuisines means it's tough for a traditional Chinese joint to stand out. So Yan is counting on its National Gallery location and a Cantonese chef veteran with 20 years of experience, Chan Kung Lai, as its draws.
This Park Hotel Group venture is part of a duplex below rooftop bar Smoke and Mirrors. Vibrant orange, pink and red threads string some privacy between intimate booths, red tassels hang off sleek grey dining chairs, and cherry blossoms texture plates on white-clothed tables. The decor still evokes connotations of a plush Chinese restaurant, as do the dishes, which are firmly rooted in Cantonese flavour.
Like most establishments of its genre, the book-like menu can be intimidating to navigate. A list of recommendations upfront is helpful, and surely the signature Peking duck's ($40/half, $80/whole, add $10-$15 for the second course) top billing must mean something. It doesn't. Our half of the glistening bird is presented to us, then squirrelled far away for its skin to be cleaved. More of the dish's magic is lost when a harried server wraps each slice for us with thick stems of scallions and too much hoisin sauce. And then the meat returns in bland ee-fu noodles.
Fried rice is a better option. But when it comes as a small cone next to oily battered soft-shelled crab ($14/person), we're left wanting more. The plate of spicy beef tenderloin cubes with asparagus ($14/person) is an excellent choice, but the rectangles of seaweed on overcooked tofu ($20/small, $30/medium, $40/large) with broccoli, while large enough to feed three, lacks any compelling flavour.
It turns out making the effort to sift through the 13-page menu does have its benefits. The buttery fillet of sea perch ($15/piece), sitting in an umami-rich soya sauce, is a highlight, and cold, pungent durian meat lurking beneath fried batter ($10) our happy ending to the meal.
Given its location and prices that quickly add up, it might be better idea to pop by for dim sum (from $5.80/serving) or a set (from $58/minimum two to order) then walk off the calories in the sprawling galleries downstairs. A meal at Yan is okay and the service is snippy – you just won't find yourself falling out of love with your regular go-to Chinese restaurant.
Time Out Singapore reviews anonymously and pays for all meals. Read our restaurant review policy here.
What the stars mean:
★ Poor ★ ★ Promising ★★★ Good ★★★★ Very good ★★★★★ Exceptional
Details
Address:
Level 5, National Gallery Singapore
1 St Andrews Rd
Singapore
178957

Contact:
Opening hours:
Mon-Fri 11.30am-2.30pm, 6-10.30pm; Sat & Sun 11.30am-2.30pm, 6-10.30pm
Do you own this business?
Best selling Time Out Offers