Zion Road Riverside Food Centre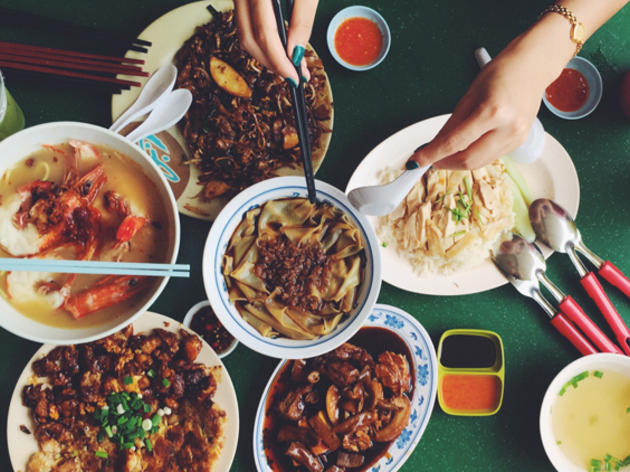 Time Out says
This triangular hawker centre serves a more atas crowd populating the River Valley neighbourhood. Despite warning signs like a '101 guide to hawker food' by our tourism board at the entrance, the higher-than-average prices, and a rather sparse weekday lunch crowd, the food's pretty legit. Here are a few dishes we tried at the breezy food centre.
Fried kway teow
$3, at No. 18 Fried Kway Teow (Stall 17)
PM Lee gave his No.18 homies a shout out in a Facebook post, but we're honestly not fans. Cooked up more bitter than other sweet soya sauce-laden versions, the dish's prized cockles were also rendered rubbery on our generously served plate.
Chicken rice
$3, at Boon Tiong Kee Chicken Rice (Stall 15)
The possibility of having a plate of one of Singapore's best chicken rice at hawker price gave us reason to check out this stall. We learnt a little too late – after dry chicken and bland rice – that this perhaps wasn't the real deal. On closer look, we realised it was 'Tiong' and not 'Tong'. Sneaky…
Big prawn noodles
$10, at Noo Cheng Adam Road Prawn Mee (Stall 4)
Prawns come in medium ($5-$8) and striped extra-large ($10-$12) options that are halved to keep eating elegant. The cloudy soup's as good – peppery and rich in shrimp-y sweetness.
Kway chap
$3/plate, $0.50 for noodles, at Boon Tong Kee Kway Chap (Stall 24)
Are the stewed pig innards here as good as the bill of newspaper clippings wants you to believe? Yup, they are. The intestine tubes are tender, and the tofu, taupok and boiled eggs draped in a lightly herbal and starchy sauce that was a good supporting character for the piggy parts. Bonus points for letting us take as much fried shallots as we wanted.
Carrot cake
$5 at Lau Goh Teochew Chye Thow Kway (Stall 26)
Crisp on the surface and almost gooey inside, this umami-rich radish cake chunks are smaller than most and a tad bit darker – as if enriched with yam. To order, indicate to the smiley, hearing-impaired owners if you'd like it black or white (from $4), or a mix of both ($5).
Details
Users say