Santorini-inspired eatery Zorba the Greek Taverna used to be an evening-only eatery, designed to recreate the stunning sunset views that the coastal holiday destination is so famous for. But the beauty of Santorini islands is also worth experiencing in the day, which is why Zorba has recently unveiled a new day-time concept: Zorba the Greek Café.
While the sun is up, settle down at the breezy alfresco dining deck, complete with waterfront views of the Singapore River, and tuck into a brunch menu inspired by Hellenic cuisine. Try the Avga ($20), a spin on the usual eggs Benedict where muffins come replaced with toasted pitas. It then comes topped with baby spinach, and a choice between ham or smoked salmon. There's also the Tsoureki ($16), where slices of traditional Greek Easter sweet bread are turned into French toast, served alongside banana and caramel. Other highlights include classic brunch offerings: avocado toast ($18), shakshuka ($16), and a breakfast platter ($24) of eggs paired with Greek sausage and portobello mushroom.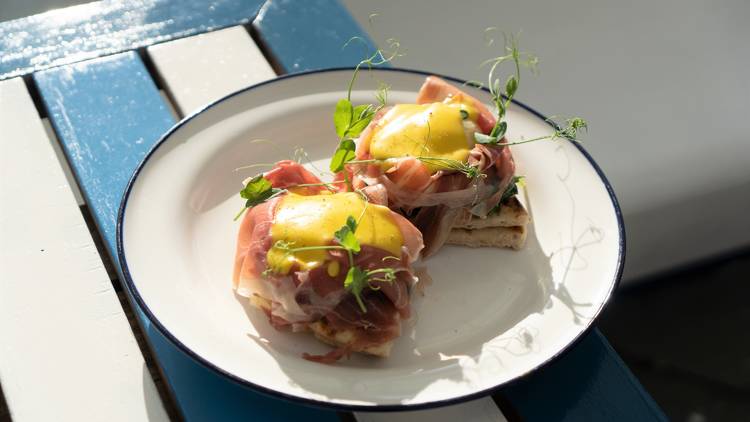 Heartier plates of Greek-style flank steak ($28), bifteki ($28), a Mediterranean-style beef burger, and Zorba mixed grill platter ($55) are also available. And to complete the dining experience, throw in orders of traditional plates, including the mezze ($22), chicken gyro wrap ($18), and quintessential baklava ($10).
And when things get a little warm while dining at this pet-friendly open-air café during the day, cool down with a cold smoothie ($10), blended with Greek yoghurt, or some iced coffee (from $5). Or if you're in the mood for a little day-drinking, clink glasses with some Greek rose ($15) or grab a bottle of Mythos ($10), the nation's famous lager. Come nightfall, the menu switches up to feature the usual smokey plates from Zorba the Greek Taverna.
_

Original review on March 22 2020:
★★★
Everything about Zorba is designed to transport you to the coastal Santorini islands. First, there's the location of the space, nestled along the Singapore River, which brings to mind the same waterfront views and soothing breeze. There's also the azure blue-white decor that draws reference to the Mediterranean Sea.
Settle in and peruse the menu rooted in traditional Hellenic cuisine. Hot tip: refrain from ordering the platter of dips ($28) – they make their appearance in the mains anyway.
The highly recommended octopus ($30) – slow-grilled and served atop luscious fava-bean spread – would have been perfect if it hadn't spent too long on the grill, developing unpleasant blackened bits of bitterness. Thankfully, beef striploin souvlaki ($28) fares much better under the same heat. Three skewers, glistening with oil and juice, come with slashes of char to prove its smoky flavour. An accompanying side of tzatziki provides much-needed brightness to whatever it touches: the tender meat, pita bread, and crispy potato.
But at some point in your meal, the strong, bold flavours might prove too much. Cut through all the grease with a cold Mythos ($12), the nation's famous lager, or grab some Greek yoghurt – imported from Greece, of course – sweetened with honey and topped with walnuts ($8) for a light end to a heavy meal.
Time Out Singapore reviews anonymously and pays for all meals. Read our restaurant review policy here.

What the stars mean:
★ Poor ★ ★ Promising ★★★ Good ★★★★ Very good ★★★★★ Exceptional