It's 2021, and Singapore has yet to normalise conversations around sex. Even lounging around naked in your own digs is illegal here. But that's about to change – talking about sex, that is – as many brazen voices are hitting the airwaves to break taboos, including Nixalina Watson with her podcast Sex & Singapore City.
The Londoner started out as a blogger and writer, before moving to the Lion City a few years ago and adding podcaster to her repertoire. The outrageous yet relatable podcast features the sexpert get candid about the art of lovemaking and dating in all its weird, messy, and sometimes awkward, glory. It's an engaging mix of dating horror stories, interesting observations in bed, and helpful tips of #self-care. Frisky feeling folks can also listen in for some NSFW ideas.
Take it from us – listening to Sex & Singapore City is like having a personal girl talk with Nixalina on the go. And speaking of girl talk, we chat with the podcaster about her show, her upcoming novel Lolly, and the #self-care tips we could all use during these strange times.
RECOMMENDED: The authors of Scarlet Harlot: My Double Life on being an escort in Singapore and the best local podcasts to listen to in Singapore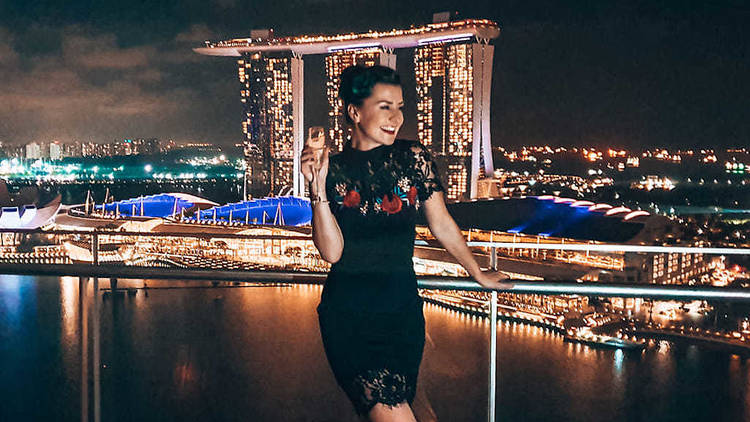 Hi Nixalina! First things first, what gets you excited about Singapore?
I fell in love with this island the day I landed, hence why I have been here for over four years now! I adore how multi-cultural Singapore is, and how it is both a mixture of city life and then beautiful tropical jungle life too. I find the heritage fascinating and enjoy the mixture of traditional shophouses set against modern architecture. I am a beach bunny and water baby, so Sentosa's beach clubs or my home pool makes me damn happy too.
I adore how multi-cultural Singapore is, and how it is both a mixture of city life and then beautiful tropical jungle life too.
Is there any particular place you absolutely love?
I love nature, so I get my kicks from visiting the beautiful natural hotspots here, such as East Coast Park or MacRitchie Nature Trail.
Speaking of love, we're currently loving your podcast Sex & Singapore City.
Oh, that's too kind of you, thank you!
For those who haven't heard of it, how would you describe your show?
It's a show that mainly focuses on the relationship sphere, with a target audience of women but of course, men tune in too and can learn a lot from the topics discussed. It reflects my website of the same namesake, as well as my other website Sex & London City.
I've always been open and honest around the topic of love, sex, and everything in between, so my podcast of course delves into such things too. I also focus on women's lifestyle in general – this can include health, fitness, feminine hygiene, body positivity, social media. I discuss it all, with utter brutal honesty and truth.
My show tagline is thus: Let's talk about all the stuff nobody wants to talk about, shall we?
Why did you decide to start the show?
Actually, if I'm completely honest (which I always am) I had no intention of becoming a podcaster. I am a writer by trade and wanted to bring my London-based brand to Singapore shores, so I launched my website Sex & Singapore City in October 2019.
About a month later, I then got an email from the producer of Splice Studios saying he had found my blog and was wondering if I had ever considered turning my content into a podcast show. And the rest is history!
The press has called you "London's answer to Carrie Bradshaw", and with a name like Sex & London City/Sex & Singapore City, we've got to ask – are you a huge fan of Sex & the City?
I am, but not as much as you'd expect. I was late to the party of tuning into the series, but yes, once I discovered it during my university days, I loved it. Although Carrie does annoy me, I can't lie! As a character, she's very self-centred in my opinion.
Good thing the podcast is nothing like Carrie Bradshaw! Less annoying and more engaging, it features unfiltered conversations about sex and dating – which can be pretty intimate. What things are off-limits when on air?
For me, it will be my current private life. I rarely talk about my current affairs. I talk about things after they've happened, after I've healed or time has passed. I also do not talk about someone if they've expressly said not to. On top of that, I don't name names, and don't discuss anything that's illegal.
What are some of your favourite episodes on the podcast?
I really like Storytime – This one time, I went to a London Sex Party because it's hilarious and true – you just can't make this shizz up! But I also really like The Emotional Damage & Abuse of Being in a Relationship with a Narcissist (And why you need to GET OUT). It is my longest episode but really should be listened to by anyone who might be in a toxic relationship.
I've always been open and honest around the topic of love, sex and everything in between, so my podcast of course delves into such things too.
Are there any other podcasts you listen to?
I enjoy Just So We're Clear by two Singapore babes Hanli Hoefer and Marissa Trew. I love their chemistry and how authentic they are every episode.
Thoughts on the dating scene in Singapore, more so now?
Personally, I have been in a relationship since I moved here 4 years ago, and only became single end of summer 2020, so I can't speak from a place of experience here.
What I can say though, is it sucks that we can't interact with different groups, or party past 10.30pm, or mingle at bars or clubs. It makes being single more difficult, so you end up taking to dating apps to meet people. Or via social media!
Many Singaporeans still find it uncomfortable to talk about the birds and the bees. How important is it to normalise conversations about sex?
This is one of my aims – to normalise the discussion of sex. It's not just Singaporeans. I grew up in a world where this was a taboo subject and not discussed. I want sex to not be something that is seen as shameful. It's normal. It's all within us to want it, to enjoy it, to use it to connect to our other half. Nobody should feel shameful about something so natural.
What advice would you give someone who wishes to open up about sex without being "judged"?
I'd say, if someone wants to discuss it, they should definitely find someone they trust to discuss it – it can be their partner, friends or family. Or message me on social media – I'm always here!
Dating during a pandemic must be quite strange. What advice would you give to all the singletons seeking love or just someone to cuddle during these strange times?
Try and see it in the same way you would normally date minus any pandemic. Meet up on your first dates in public places, take your time, get to know them properly.
If you're after a hookup, also fine, but be safe and ensure you don't just go from a dating app straight to their bed. Exchange numbers first, or find them on social media, just to ensure they're legit.
What about masturbation in the name of #selfcare?
This is so spooky. I've just recorded a podcast episode on this exact subject! I am all for self-pleasure. I think, once again, it needs to be normalised and no shame attached to it. There are so many benefits to self-pleasure – of which I detail in my episode.
Any tips for the ladies on finding the right sex toy?
If you're looking for a sex toy to help out, start small. Start easy. So I'd say for beginners, go for a small standard vibrator. You don't need to use them inside you either – just vibrations on the clitoris works wonders. As long as it vibrates, you'll be fine.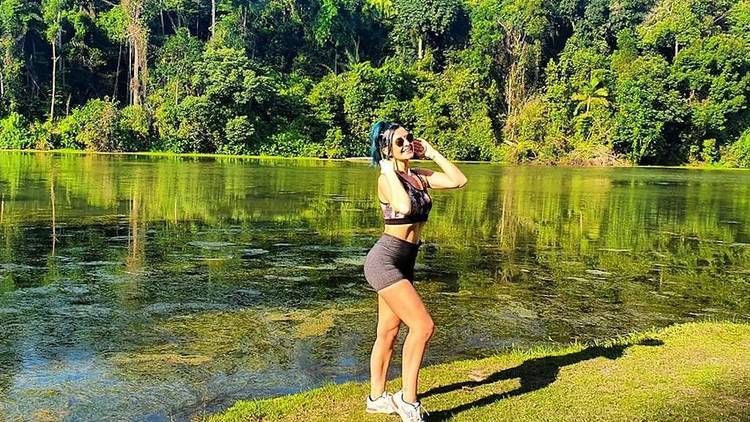 What are some of your favourite #selfcare things to do?
I personally love to get outside in nature. Nature really resets me. I have really learnt to love spending time with myself, and I love doing things for relaxation such as painting, reading a good book, or a decent yoga session. I also make sure I have a monthly full body massage to keep my stress levels low in my body, as well as ad hoc facials. I think it's important to invest time in taking care of your body and nurturing your mind too.
Also, for a real selfcare tip – stay the f– away from toxic men. That would be a good start to self-care. I wish someone had given me that advice 4 years ago!
Lastly, what do you look forward to in 2021?
Finishing and publishing my novel, Lolly. It's a story based on my personal life – it is dark, twisted, sexual, passionate, scary. If I had to reference it, I'd say it is like Fifty Shades of Grey. But it is a true narrative and it's much darker, believe it or not.
So yes, 2021 is the year I launch my first novel, as well as continuing to push my brand Sex & Singapore City. Cheers to that!
Sex & Singapore City is available on sexandsingaporecity.com, Spotify and Apple Podcasts.