2020 was a brutal year for many shops – some even called it quits due to the negative impact of the pandemic. Others saw it as a challenge worth stepping to, whether through setting up an online store or joining forces with another. A few took the opportunity to step into the retail scene.
New brand on the block Sparks recently launched in November last year as an activewear label that champions the active lifestyle while being invested in giving back to the community in Singapore and abroad including Myanmar, Nepal and Hong Kong.
The brainchild of Sarabe Chan and Moe Thitsa, Sparks creates quality kits made from the soft and cotton-like Luxe-rib material and sustainable Tencel that are stylish and versatile sans the hefty price tag. You can find size-inclusive tights with pocket panels, tie-dye workout sets, comfy tanks, and even jackets and long-sleeved tops if you're looking for modest workout gear, on its online store. A part of the proceeds from each purchase is then donated to selected charities.
But that's not all. To better understand the various ways in which Sparks gives back to the community, we chat with co-founder Sarabe who shares with us the innovative concept behind the brand, the causes that are close to her heart, and her personal self-care tips on getting through these strange times.
RECOMMENDED: The best online stores for activewear and gym gear and the best gyms in Singapore to smash your fitness goals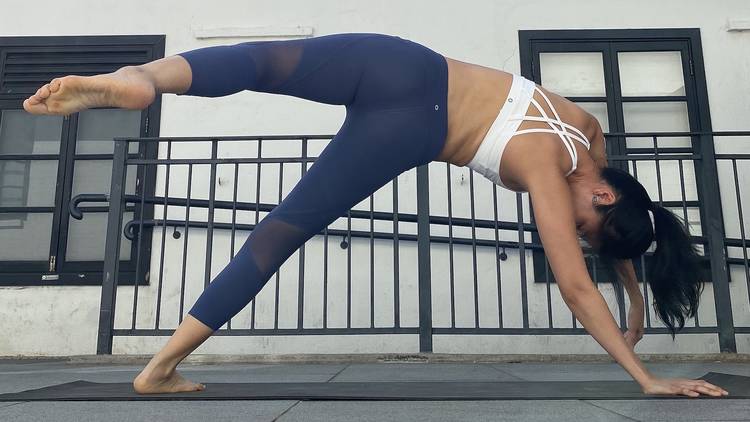 Hi Sarabe! First things first, what gets you excited about Singapore?
Definitely the food! I am a sucker for bak kut teh, chicken rice, laksa, and I also love the multicultural diversity of Singapore.
What's your favourite place in Singapore?
It's definitely Red Dot Museum Cafe Bar where you can admire the lifestyle design prototype inside and enjoy the breeze of Marina Bay outside. I have a collection of annual RedDot Design Awards Books which feature the winning product designs. I'm inspired by the evolution of our daily product design.
What tops your list of new years' resolutions?
2020 has really taught me to explore the treasures within my own community, so 2021 will continue to be that, and hopefully, explore more of nature.
2020 has really taught me to explore the treasures within my own community.
You've recently launched Sparks with Moe Thitsa. Tell us more about it.
I used to work in the social enterprise sector in Myanmar where I met Moe, who was also working on similar causes. Sparks is actually our second venture together after our first company (an education centre) got acquired. We both love yoga, and just see a huge need in affordable activewear. [We] have always wanted to promote a lifestyle philosophy that centres on giving back to the community.
We actually started a year ago with rounds of product testing with athletes and yogis, but we only launched [the brand] in November 2020. It was a slow process but we really wanted to get the quality right!
Sparks is currently operating as an online store. Are there any plans on setting up a physical store soon?
Sparks' mission is "look good, live good and do good', all without breaking the bank. Running an online store allows us to save rental costs and keep our prices as low as possible for our customers.
However, we know that for some it is important to see the sizing and feel the fabric before purchasing, so starting from February we will be partnering with Barre2Barre to have our items displayed [at its studio]. We are also working hard to have our activewear accessible offline in more locations by partnering with fitness studios. Stay tuned!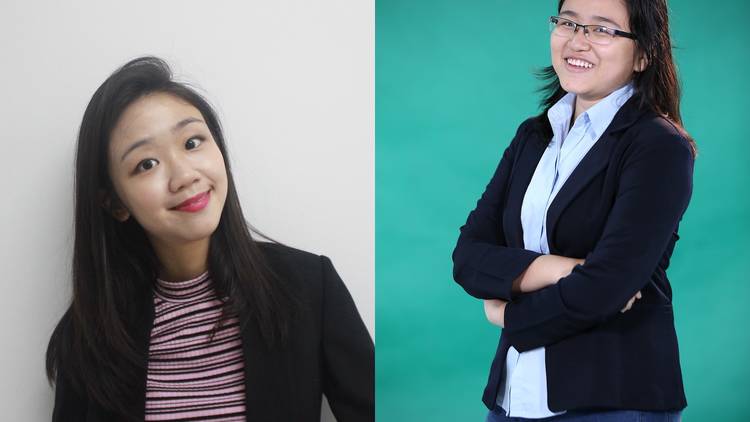 Co-founders Sarabe Chan and Moe Thitsa
What sets Sparks apart from other local activewear brands?
We are not only promoting being active but also a lifestyle where self-care meets caring for the planet, so when you wear Sparks, you are not just wearing it for the quality and design but also to show that you care about making a difference with your conscious choices. We believe that everyone can make a difference, which is why we were quite set on keeping at a certain price that is accessible for everyone.
What about the products?
Our products are tested by athletes and yogis, and are designed for every woman. Our sizes range from XS to XXL so it caters to all shapes and sizes, and our items are very versatile – they can be used for light intensity exercises like yoga to more intense exercises that require more support like kickboxing and climbing. We also see activewear as an everyday fashion item, so our designs are kept simple and sleek, so that on our non-workout days they can also be staples for your wardrobe.
When you wear Sparks, you are not just wearing it for the quality and design but also to show that you care about making a difference with your conscious choices.
How does Sparks give back to the community through activewear?
Active people are the ones with strong discipline and a large dose of self-care, that's why we want to turn this power into caring about the planet. During childhood, especially where I grew up in New Zealand, athletes are always the idols of kids because they are very goal-driven and inspiring.
We give a part of our proceeds back to charities that are making impacts in the environment in Myanmar, education in Nepal and refugee empowerment through sports in Hong Kong. When customers buy from us, they can choose which cause they want to support, and we also constantly communicate on our social media about the impact that our charity partners are making.
Why these specific causes?
The fashion industry has been a culprit to harming the environment, so quite naturally we want to do something that is eco-friendly. The organisation that we partner with in Yangon, Myanmar, plants trees and educates the communities about environmental care.
Changing Stories from Nepal teaches hundreds of students each year to learn basic skills through their unique and proven accelerated learning programmes. Education is very close to our hearts because it is still the most effective way to alleviate poverty.
RUN is a charity that provides rehabilitation from trauma through sports education and beyond [such as] hiking, running and yoga [It helps] refugees in Hong Kong restore their mental and physical strength, and ultimately rebuild their lives.
Sparks is launching an ambassador program to build a community of people who want to spread awareness on pressing causes while promoting an active lifestyle. Tell us more about this program.
Our upcoming milestone will be to get more people on board with this lifestyle philosophy, so we are launching an ambassador programme where everyday people, yogis, fitness gurus and athletes wear Sparks with pride and promote the message on their social media. They will also have a say in product design and the direction that the company should go towards.
Sparks also champions self-care while caring for others. What are some of your self-care tips that come in handy during these strange times?
I believe that a healthy mind lives in a healthy body. Moe and I always make sure that no matter how busy we are, everyone on the team is getting enough sleep, eating healthily, and exercising everyday even if it's just for 20 minutes.
In regards to having a healthy mind, contributing somewhere can have a tremendously positive effect on us because it also allows us to have a strong sense of belonging. During this strange time, it allows us to reflect on our time and the past. So, don't feel stressed when you can't work as much as you used to, and focus on the small achievements.
Lastly, what are you looking forward to the most this year?
Travel! I actually haven't seen my Moe in a year, so we can't wait to meet up.
Sparks is available online via sparks-asia.com. Get 10 percent off with the promo code 'SPARKSXTIMEOUT10'. Check out its concept store in partnership with Barre2Barre at its Nankin Row studio.