Hidden gems in heartland malls
Forget the massive international chains – these secret shops in your average neighbourhood mall are just as worth hitting up
Dozens of shopping centres, from behemoths like VivoCity to smaller ones such as City Plaza, are outfitted with Wireless@SG that you can access via a one-time setup with an app – no passwords and usernames needed.
To get you started on your shopping adventure, we've rounded up the most surprising finds in our heartland malls: Nex, Tampines 1, City Plaza, North Point and White Sands.
Nex
Kidzplay @ SkyGarden
Stay cool with Kidzplay. The water park is spacious for you and your little ones to run around and get wet. There are plenty of mist machines to soak yourselves in, not forgetting the huge centre-piece bucket that unleashes a torrential waterfall when it is full.
L4R Nex, 23 Serangoon Central (6416 6366, nex.com.sg). Serangoon MRT. Mon-Fri 1-8pm; Sat & Sun 11am-8pm.
Hako
Home to many local brands, the store is filled with plenty of cubicles selling trendy items – pick up a fidget spinner, change the look of your phone with mobile accessories or purchase skincare products such as Australia's emu oil and oatmeal soap bars. You can even bring home an authentic Coach handbag for about $350.
#B2-19/20 Nex, 23 Serangoon Central (6509 9877, toyoutpost.sg). Serangoon MRT. Daily 10.30am-10pm.
Men Men Don Don
Quality Japanese food at super affordable prices is the calling card of this gargantuan restaurant. Grab a warm bowl of miso tonkotsu ramen ($7.80) or dig into the katsu curry don ($8.80) if you're hungry. For those with smaller appetites, opt for plain udon ($5.80). And once you're all filled up, bring home some takeaway sushi for a snack.
#B2-10 Nex, 23 Serangoon Central (6634 2104). Serangoon MRT. Daily 11am-9.30pm.
Tampines 1
Churro 101
Churros have shed their image of being mere carnival food. This store's crunchy fried dough sticks ooze a variety of flavours: try the classic chocolate ($4.50) or cream cheese ($4.70), which is all the rage in Korea right now. The dark chocolate churros ($5.40) also make their debut in Singapore, with intensely bitter cocoa notes.
#01-61 Tampines 1, 10 Tampines Central 1 (facebook.com/churro101sg). Tampines MRT. Daily 10.30am-10pm.
Love and Bravery
At this local womenswear retailer, purchase a full outfit that's perfect for work or a day out. The brand focuses on comfort and quality, offering timeless ready-to-wear staples in modern silhouettes. Accessories start from $10 and apparels start from $25.
#03-3, Tampines 1, 10 Tampines Central 1 (6783 3530, loveandbravery.com). Tampines MRT. Daily 11am-10pm.
Manneken's Waffles
No surprises what this stall doles out: waffles, and loads of it. The Chick Cone ($4.90) is the most popular snack, stuffing glazed fried chicken chunks and mashed potato into a waffle cone. You can pile on a side dish – pick from pasta, apple coleslaw and ratatouille – and choose from Thai, Korean or Japanese fried chicken. Top up a buck for a cup of ice lemon tea to wash everything down.
#01-59 Tampines 1, 10 Tampines Central 1. Tampines MRT. Daily 11am-10pm.
City Plaza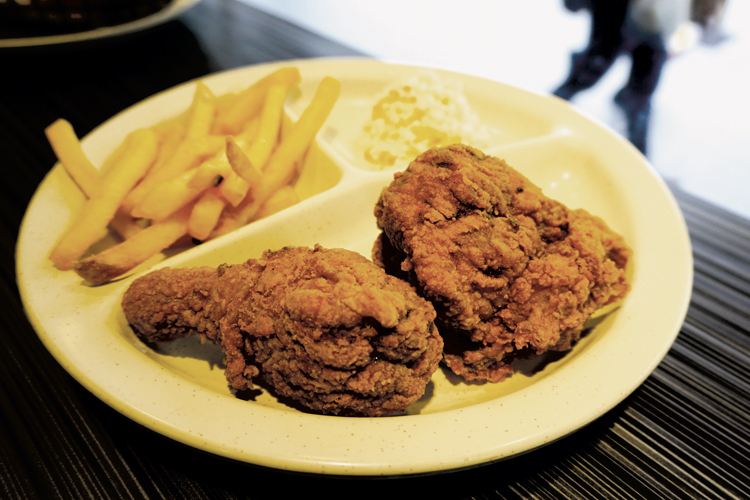 Arnold's Fried Chicken
No trip to City Plaza is complete without a limb from this fried chicken shack. In fact, make it your priority to crush a half spring chicken meal ($7.50, with fries and coleslaw). The folks at this homegrown fast food restaurant have been at it for three decades, and it shows: once you get past the gently spicy, golden-brown blanket of skin that glides off your chicken, you'll tear into juicy, fall-off-the-bone meat. This beats KFC, hands-down.
#02-99, City Plaza, 810 Geylang Rd (6746 2372). Paya Lebar MRT. Daily 11am-10pm.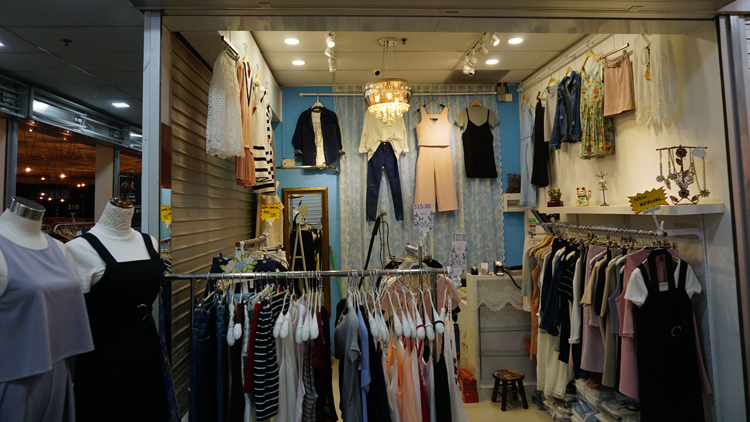 Peony Collection
The tiny space boasts a range of strappy tops, wide-legged pants and off-shoulder tops – our favourite rack is, naturally, the $10 one. Like most shops in City Plaza, clothes are refreshed as soon as the one-off pieces are sold, so you won't have to worry about looking like your next fast fashion-clad individual.
#03-130(918J), City Plaza, 810 Geylang Rd (6841 3740). Paya Lebar MRT. Daily 10am-9pm.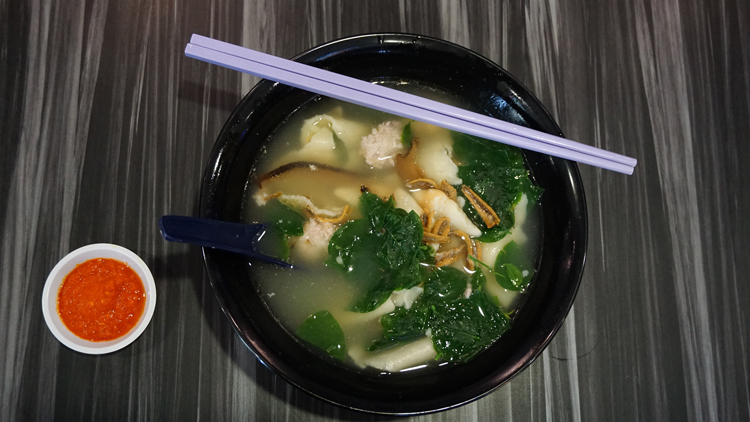 Poon Nah
There's something undeniably addictive about the ban mian from this stall. Choose from eight options and your soup base. With it's moreish flat flour noodles cooked chewy with every bite, the raved-about abalone clam handmade noodles (from $4) is a must have when you're here. The broth, though light in consistency, is fragrant with onion oil, and easy to slurp when paired with clams and coarse wolfberry leaves.
#05-02, City Plaza, 810 Geylang Rd (6842 4524). Paya Lebar MRT. Daily 11am-8pm.
North Point
Hoops Factory
Calling all hoop shooters, looks like we've found Singapore's ultimate basketball sanctuary. Offering the widest and latest collection of authentic basketball merchandise on the island, expect footwear, apparel, equipment and accessories from international brands like Nike, Adidas, Jordan, Under Armour, Peak, Li Ning, McDavid and Molten.
#02-35 North Point Shopping Centre, 930 Yishun Ave 2 (6756 9021). Yishun MRT. Daily 10am-10pm.
GoGo Franks
Sneak a quick hearty bite with this humble sausage joint that's far from ordinary. Not only is it Muslim-friendly, but you get to choose from distinct Asian-flavoured sausages like satay, black pepper, char siew and more. Celebrate your cheat day with a prata wrap – we recommend the double sausage prata – which comes with a sausage, vegetables and sauces wrapped in crispy prata.
#B1-25 North Point Shopping Centre, 930 Yishun Ave 2 (6481 7951). Yishun MRT. Daily 10am-10pm.
Unusual Express
Ever wanted your face plastered right next to your favourite pop star's on a Rubik's cube, or maybe a pillow? With Unusual Express, customise mugs, t-shirts, photo books, cocktail books, crystal printings, rock printings and more with your favourite pictures in less than a day. The coolest birthday gift ever.
#B1-31 North Point Shopping Centre, 930 Yishun Ave 2. (6755 2030). Yishun MRT. Daily 10am-10pm.
White Sands Shopping Centre
Cottage Pies Café
Follow the aroma of freshly brewed coffee to this cosy little cottage tucked in a corner of White Sands Shopping Centre. Then sit back, relax and enjoy a warm cuppa with a country-style pie that's baked in-house. Go for the hearty chicken pie – it's the house specialty – but make it quick as these sell out fast.
#01-01 White Sands Shopping Centre, 1 Pasir Ris Central St 3 (6481 7951, cottagepies.com). Pasir Ris MRT. Daily 7am-10pm.
G-Military
Sedia! Army boys, this is your one-stop shop for value-for-money military, camping and outdoor supplies. Aside from backpacks, food warmers, pop-up tents and more, G-Military also provides sewing services for army uniforms, t-shirt printing and logo embroidery.
#02-21/22 White Sands Shopping Centre, 1 Pasir Ris Central St 3 (6702 2894, facebook.com/ghimhuatsportsenterprise). Pasir Ris MRT. Daily 11am-9pm.
Ministry of Rojak by Abdhus Salam Rojak
Ministry of Rojak's innovative twist on the traditional dish is definitely a must-try when you're in the area. Make it a family event and excite your taste buds with The Rojak Fondue platter – oh and it'll look pretty dope on Instagram, too. If you're tummy's got room for more, have a few fluffy pieces of prata alongside a cup of Milo Dinosaur while you're at it.
#01-30, White Sands Shopping Centre, 1 Pasir Ris Central St 3. Pasir Ris MRT. Daily 11am-10pm.
Discover even more hidden gems in your area with the app's (iOS and Android) search function, which delivers nearby F&B and retail establishments with Wireless@SG.