Red and white picks from Capitol Piazza
Ahead of National Day, rock these special picks from Capitol Piazza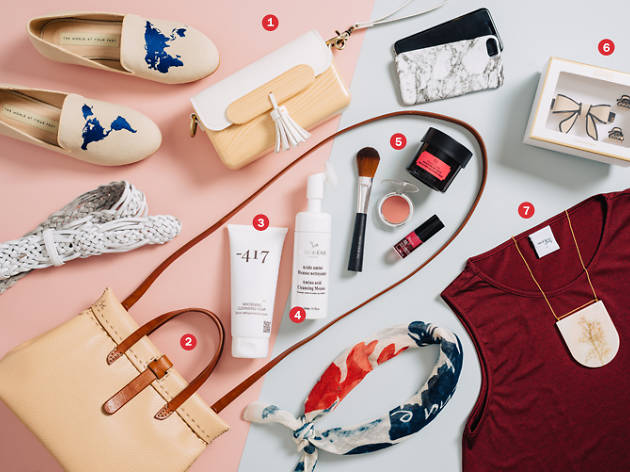 Photo: Ahmad Iskandar Photography
1. Globetrotters, you'll be all set to conquer the globe with this pair of quirky loafers that quite literally put the world at your feet. Take it up two notches with a handmade wooden clutch that doubles up as a cross body bag and an oh-sotrendy marble iPhone case. You can be sure these picks from SABRINAGOH (#02-14) aren't your usual touristy getups.
The World at Your Feet Cream Loafer, $129; WoodView TS Clutch, $66; Fabrix Marble iPhone 7 Snap Case, $30.
2. Pair 45R's (#01-13/14) summery bandana and white handwoven leather belt with a cream cross body bag for a chic Sunday brunch look.
45R Leather Handwoven Belt, $370; Hula Gauze Bandana, $110; Henry Cuir Bag, $1,340.
3. Pamper your skin with this gentle luxury cleansing soap from -417 (#B2-23) to reveal a brighter and smoother complexion.
-417 Whitening Cleansing Soap (200ml), $160.
4. Lather up with this cleansing mousse from True Harmony (#B2-38/39) for that treat yo'self spa feel – at home.
Laurene Amino Acid Cleansing Mousse (160ml), $99-199.
5. Wake your skin up with The Body Shop's (#B2-18) açai face mask and add pops of colour with its range of lip and cheek products.
The Body Shop Blusher Brush, $28.90; Amazonian Açai Energising Radiance Mask, $32.90; All-in-One Cheek Colour, $22.90; Lip and Cheek Stain, $24.90.
6. Upgrade your tresses from bland to glam with this matching bow and hair clips set from Alexandre De Paris (#01-18) – handcrafted in France, no less.
Alexandre De Paris Gift Box, $225.
7. Keep it simple with The Reckless Shop's (#02-32) dark maroon luxe jersey dress and a one-of-a-kind handcrafted bioresin Amado Gudek necklace that's ecofriendly, too.
Reckless Jersey Side Drape Dress, $89; Amado Gudek Crest Necklace, $129.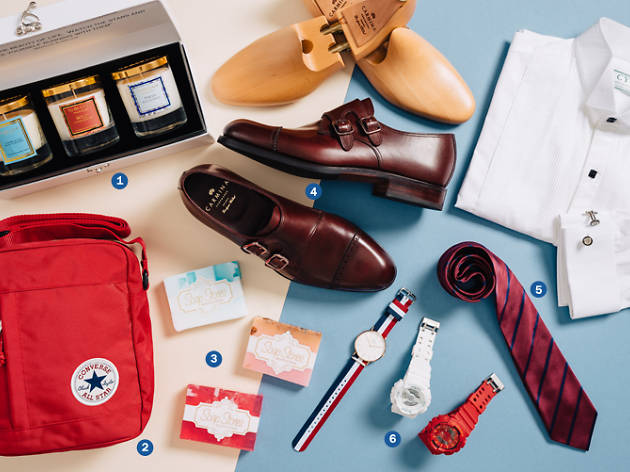 Photo: Ahmad Iskandar Photography
1. Hit all the right notes with To Be Calm's (#B1-16) selection of scented candles.
To Be Calm Luxury Box, $99.
2. Fit all your daily necessities into this roomy and lightweight sling bag from Converse (#B2-46/47) for a casual day out.
Converse Red Sling Bag, $29.90.
3. Go back to basics with these beautifully-crafted slice soaps from Soap Stories (#B2-22). Psst, they make good gifts, too.
Soap Stories Slice Soap, $15.
4. Got a big date coming up? Fret not, Carmina's (#01-66) double monk strap shoes instantly polishes up your outfit.
Carmina 80476 Robert in Burgundy, $645.
5. Every man needs a smart suit in his wardrobe. Get one tailored at CYC Made to Measure (#02-11/12), or, if you're pressed for time, pick a set off the rack, along with cufflinks to match. Tight on your budget? A new tie refreshes your look just as well.
CYC Made to Measure Tuxedo Shirt, $185; Button Cufflinks, $49; Tie, $49.
6. Expand your timepiece collection with TIME INDEX (#B2-27). For everyday wear, a classic white face dial with tri-coloured strap does the trick. Trying to channel an athleisure vibe? You can't go wrong with a Casio G-Shock.
Daniel Wellington classic oxford, $279; Casio G-Shock in white, $239; Casio G-Shock in red, $219.