Shop day to night looks at Capitol Piazza
From trendy shades to hydrating facial sprays, we sort out our daytime and evening needs at Capitol Piazza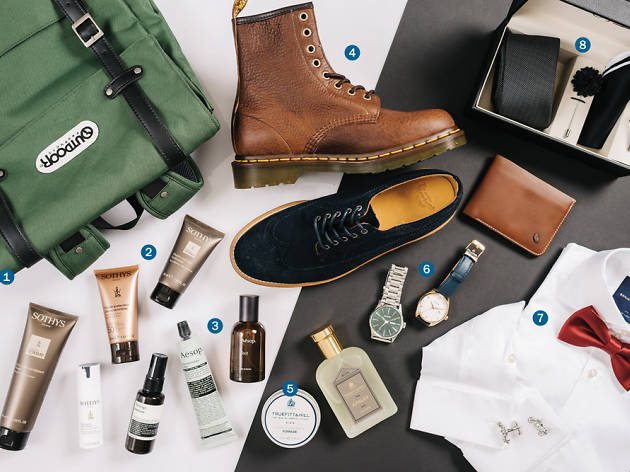 Photo: Ahmad Iskandar Photography
DAY
1. This olive two-strap buckle backpack from Outdoor Products (#B2-34) is casual but smart enough for the office and a lunch date.
Olive backpack, $129.
2. Freshen up after a sweaty gym session with skincare products from Genesis Lifestyle (#B2-48).
Sothys Homme face cleanser, $82; Hydrating fluid, $154; Protective fluid SPF 50, $113; Eye contour $134.
3. The gorgeous packaging of Aesop's (#01-11) travel-friendly fragrance, deodorant and hand balm is reason enough to earn them a place in your bag.
Aesop Tacit Eau de Parfum (50ml), $135; Deodorant (50ml), $47; Reverence Aromatique hand balm (75ml), $37.
4. Up your street cred with Dr Martens' (#B1-31) iconic highcut boots or go sleek with a pair of navy blue suede five-eye brogues.
Dr Martens 399 in dress blue, $209; Dr Martens 1460 in bark brown, $229.
NIGHT
5. Slick back that pompadour with Truefitt & Hill's (#01-61) matte pomade and seal the deal with the brand's newly released musky cologne.
Truefitt & Hill pomade (100ml), $44; Apsley cologne (100ml), $115.
6. You won't lose track of time with these gorgeous timepieces from Nixon (#B1-32). Besides, every guy needs a classic white face leather and a stainless steel model in his watch collection.
Nixon Sentry in silver, $319.
7. Swap your tees for a crisp white shirt from Benjamin Barker (#B1-30). Then jazz up your outfit with accessories like a sturdy brown wallet, a pair of quirky cufflinks and a bowtie.
Benjamin Barker white shirt, $89.90; Bike cufflinks, $29.90; Maroon bowtie, $45; Bellroy wallet, $129.
8. Attending a black tie event? Don't sweat it. This Goldlion (#B1-17) men's accessories box has you covered with a tie, pocket square and even a boutonniere.
Goldlion men's set, $99.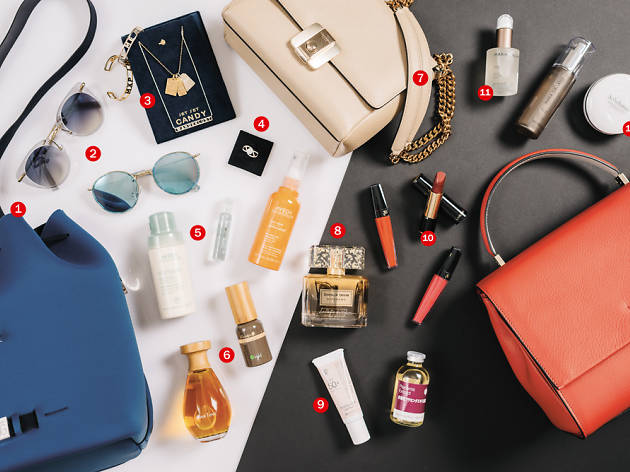 Photo: Ahmad Iskandar Photography
DAY
1. This roomy and lightweight bucket bag from Joli (#01-16) fits all your daily essentials and more.
Save My Bag Bubble bucket bag, $205.
2. Shield your peepers from harmful UV rays with this range of Korean collection Vedi Vero shades from Picabo Eyeworks (#B1-15).
Grey gradient lens with gold frames sunglass, $415; Blue reflective lens with gold frames sunglass, $335.
3. Satiate your wanderlust with Jet Set Candy's travel-inspired dainty jewellery from Mimento (#B1-17).
Gold ball chain necklace, $132; CPT gold tag, $162; HKG gold tag, $162; PER silver tag, $112; Wanderlust silver necklace, $162; Take Me Away cuff, $326; Fashion Capitals cuff, $408.
4. Why wait for a ring when ORRO Private Collection (#B1-12) has all the bling you need, starting with this delicate interlocking bands encrusted with gems of unrivalled brillance.
Ovani Lago Di Como 99144, $458.
5. Can't deal with the humidity? Treat your tresses with these travel-friendly hair products from Aveda (#B2-33).
Aveda shampure™ dry shampoo, $46; Cooling balancing oil concentrate, $32; Sun care protective hair veil, $50.
6. These organic hair and scalp treatment solutions from Organic Hair Professional (#B2-43) revitalise scalp cells and add shine to your locks.
O'right Recoffee hair oil, $32; O'right Caffeine hair tonic (100ml), $228.
NIGHT
7. Opt for a shoulder bag to keep it low key or, if you're feeling bold, a statement red handbag such as these from Julie Nicole (#01-17).
Serapian Emily bag in pearl, $615; Serapian Audrey bag in red, $1,205.
8. Whether it's flirty date night fragrance or a fun girls' night out scent, the wide selection at Scentre (#B2-19) hits all the right notes.
Givenchy Dahlia Divin Le Nectar (75ml), $187.
9. These skin boosters from BB Laboratories (#B2-15) maintain your skin's elasticity and glow so you don't have to pile the makeup on.
BB Laboratories Placenta Extract (50ml), $168; Glow Shield UV Base, $55.
10. Put away the nude shades – evenings are for siren reds, dark plums and deep browns from Lancôme (#01-12).
Lancôme L'Absolu Rouge, $46; L'Absolu Velours, $44.
11. Need a quick pick-me-up? Dab on Maria Galland's serum and spritz a refreshing facial spray from L'Essenza (#02-30) – after all, the night is still young.
Maria Galland 722 spray, $119; Maria Galland 917 serum, $462.
12. Keep your makeup game on point throughout the night and touch up with Sulwhasoo's (#01-72/73) iconic cushion foundation.
Sulwhasoo Perfecting Cushion, $80
More to explore