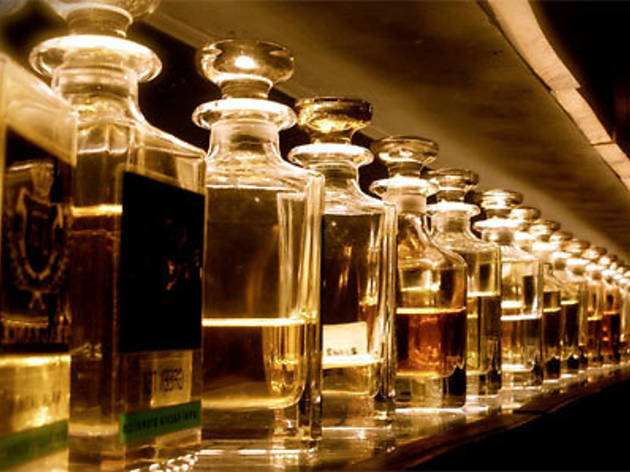 Time Out says
If you're looking for the latest designer fragrance, you won't find it at SIFR Aromatics. What you will find are gorgeous, uniquely shaped bottles that house a myriad of scents, all lovingly handmade by owner Johari Kazura. Named after the Arabic word for 'zero', SIFR represents a new beginning for Kazura, who was attracted to the concept of nothingness and emptiness, which he says is ideal for evaluating scents without distraction.

Far from your ordinary, run-of-the-mill perfumery, the shop offers a unique, customised approach that begins with Kazura asking several basic questions, such as for whom, and for what occasion the perfume is intended, and whether the wearer has any favourite scents. He then introduces a range of ingredients to the client to get a feel for what they're looking for. Using a mix of natural and synthetic ingredients, Kazura doesn't 'subscribe to the idea that anything synthetic is bad and everything natural is good'. He acknowledges the convenience of inexpensive synthetics, as well as the beautiful complexity of natural scents.
From time to time, Kazura receives unusual requests, such as ginger in a fine perfume, but they lead him to new, adventurous ways of blending ingredients. That helps him keep up with changing times, since there is no typical customer at SIFR. His patrons range from bright-eyed, globetrotting 18-year-olds to seasoned travellers in their sixties who have been exposed to niche perfumes around the world.
Drawing inspiration from his clients' preferences, Kazura experiments with blends to formulate a perfume. This process can take anywhere from half an hour to several months, as Kazura consults with the client at various stages. 'It's like asking how long it takes you to paint a masterpiece,' he says. 'You can always find something else to change, but at some point you have to stop and say it's done.'
With a wide range of original perfume 'recipes' collected over the years, Kazura now has perfumes he's perfected for people to buy off the shelf. He's branched out into creating his own moisturisers and aromatherapy mixes too. Benita Lee & Goh Siau Rui
Details
Address:
42 Arab St
Singapore
199741

Contact:
Opening hours:
Sun-Thu 10.30am-8pm; Fri & Sat 10.30am-9pm
Do you own this business?