Singapore's best shops in the heartlands
On the hunt for local shops that artfully hang in the balance between 'auntie' fashion and glossy big brand names, Benita Lee scours the island for some quirky hidden gems in heartland malls
North/Central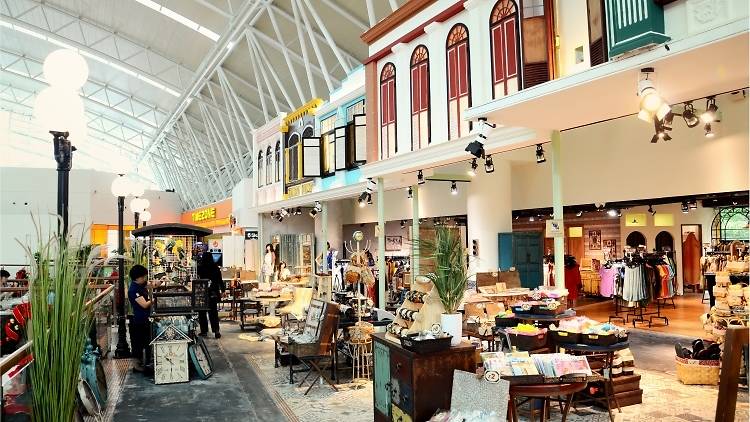 Best for cute and cheap stationery: The Paper Stone
Think of this as a more affordable stationery alternative to brands like Smiggle. Established in November 2012, with the first store at Lot One in Choa Chu Kang, the 100% local retailer has since ascended rapidly through the ranks, expanding to nine outlets across a range of (mostly) heartland malls in Singapore. As for their name? It's inspired by the simple hand game 'Scissors Paper Stone', because they wanted to keep things uncomplicated and fun. From cute stickers and piggy banks to pencils, backpacks, mugs and journals printed with polka dots, florals and adorable animals, they bring in new products every month, with most items sporting a price tag under $20. Great for anyone who needs to stock up on back-to-school supplies.
Nine locations including #03-01 Hougang Mall, 90 Hougang Ave 10 (thepaperstone.com). Hougang MRT. Daily 10am-10pm.
Best for retro lifestyle and fashion: The Roof Top
The uber cool sprawling space, which opened earlier this year, takes up the entire opposite side of the food court on level four at City Square Mall, spreading out a range of new and vintage goodies. True to their name, the homegrown shop features high ceilings and an outside façade of traditional shophouses with colourful rooftops, offering an open concept that mimics the spirit of old school festive markets. In Cantonese, the term translates to 'Yik Gai Fong', which essentially means a strong community spirit that benefits the neighbourhood, and this harkens back to their nostalgic vibe and affordable prices. The multi-label lifestyle knick knacks and fashion threads (from names like Omayo, rarebits and trt) on display are refreshed each month, and local brands are more than welcome to rent a space to hawk their stuff. With lots to browse through here, you can take your pick from hair accessories and tiny flower pots ($3 onwards) to vintage car toys, retro lamps, snacks from days of old and even a giant decorative birdcage ($229).
We especially love the little corner by the womenswear racks decked out in bits and pieces of retro regalia – there's a box set TV surrounded by sewing machines, typewriters, radios and even an old candy dispensing machine – it's like a blast from the past. Plus, they've got plans to start selling old school desserts and pastries in the future, so look out for that. Oh, and if you head over on the weekend, you'll find the friendly staff jazzed up in retro outfits. Too cool.
#04-33/34/35/36 City Square Mall, 180 Kitchener Rd (6636 7898, fb.com/RoofTopMemoirs). Farrer Park MRT. Mon-Thu 10.30am-10pm, Fri-Sun 10am-10pm.
East
Best for quality leather bags: February 29
From humble beginnings as a push-cart at Bugis Junction in 2006, this local brand has grown and expanded over the years to four outlets in malls across Singapore. Taking their name from the unique leap year date, February 29, they are all about offering customers products that grab your attention (in terms of quality and appearance). With over 1,000 stylish and sophisticated designs for totes, satchels, backpacks, sling bags, wallets, accessories and more (from $30 to $400), they keep quantities of each creation under 100 pieces to maintain an air of exclusiveness for the style-conscious. Our fave was a neat three-style bag ($184.90) that can be transformed into a backpack, sling bag or carry-on just by playing around with the straps. And pretty much everything is done in-house – they source for their own leather material (mainly cow leather, plus the occasional sheep, goat or snake skin), craft their own designs (or use freelancers like part-time art students), and make most of their own bag parts (with a few outsourced elements).
Keeping in mind the different needs for different crowds, they provide choices like vegan leather for animal lovers, waxed canvas and nylons for fans of the great outdoors, and more. Plus, they offer a three-day design exchange policy, as well as six months of free servicing for their bags. And if you're feeling too lazy to step out of your PJs for a shopping spree, click on their online shop and start spending from the comfort of home (with free local shipping on orders above $100).
Four locations including #02-172 Vivocity, 1 Harbourfront Walk (6376 8001 http://myfeb29.com/). Harbourfront MRT. Daily 11am-10pm.
Best for kooky menswear: Messy
At first glance, you might walk past this menswear shop without looking back, but it was the spread of quirky (and perhaps borderline ah beng) printed shirts that made us do an about-turn. Sleek men's clutches – which are supposedly unisex but may be too feminine for some – are laid out at the storefront, alongside a neat selection of patterned shorts and shoes. Go in deeper and you'll find smart vests, blazers, trousers, sneakers and boots in a rainbow of colours, as well as button-down shirts etched with paisley, polka dots, florals, whales and even tiny cupids. Belt buckles here come in the form of words like Elvis and Fall Out Boy, or shapes such as Angry Birds (which are, admittedly, rather passé), but the accessories we love most are the colourful spectrum of suspenders ($18.90) and bow ties ($15.90). We also spotted a so-uncool-it's-actually-sort-of-cool black-and-white Christmas sweater with reindeers on the front ($24.90) and a studded black backpack ($79.90) for punks-in-the-making, among other interesting stuff.
It's probably best that you check this place out with a buddy – it's got more hits than misses, but pick the wrong printed shirt (or shorts) and you might end up branded as an 'uncle'… unless you're one of those super rad fashion-forward peeps who can pull off your grandpa's threads with hipster finesse. In any case, Messy's pretty cool for dudes who love experimenting with style.
Three locations including #02-23 Tampines 1, 10 Tampines Central 1 (6789 5455). Tampines MRT. Daily 11am-10pm.
Best for sweet home décor: Swiit Home
When it comes to decorating your home, IKEA may be the furniture behemoth, but smaller names like Swiit Home offer unique furnishings that are anything but mass-market. There's a lot to take in here, with a sweeping array of everything from crystal table lamps and oil paintings to carpets and plush toys. In general, items here tend to err on the girly side – think cute mugs, baskets and vases with stalks of roses and lavender, jewellery boxes, lamps in the shape of cats and home aromatherapy diffusers – but guys can also get in on the action with, ahem, 3D puzzles ($8.90) of buildings from around the world. We also spotted adorable home accessories like decorative merry-go-rounds ($15.90) and tiny rocking horses ($29.90). If you're on the lookout for something more affordable to spruce up your place with, grab a bunch of printed cushions, landscape paintings or fluffy carpets here. And then it's home sweet home.
Three locations, including #01-K1/K2 Changi City Point, 5 Changi Business Park Central 1 (6604 6858). Expo MRT. Daily 10am-10pm.
West
Best for collectible paraphernalia: Caesars
This is every weapon-wielding male's fantasy – an entire shop embellished with fine replicas of swords, guns and armours. Plastered with paintings of warriors, the walls also sport 'do not touch' signs to wave off curious onlookers who want to see and touch; but in case you didn't get the memo, most of the items are encased in glass boxes to shield them from damage. Founded in 2000, Caesars declare themselves to be the exclusive retailer and distributor of such regalia in Singapore, so you probably won't find these exquisite collectibles elsewhere. There's a mishmash of stuff here, from antique pistols and rifles to Japanese swords and sheriff badges; and the timeline of products travels from 13th century Europe to the 21st century. So no matter where your interest lies, they've probably got something for you.
While admiring the selection, we chanced upon a cool-looking zodiac 12-piece sword set ($688), a jaw-dropping snake eye sword ($348) and, for film buffs, a Hobbit-inspired range of weapons, the precious ring from Lord of the Rings ($19.90-$45) and a Kill Bill miniature sword ($65). Besides the sharp, don't-mess-with-me blades, they've also got letter openers and even a couple magic wands. It's the stuff legends are made of.
#07-14 Plaza Singapura, 68 Orchard Road (6884 7644 http://www.caesars.com.sg). Dhoby Ghaut MRT. Mon-Fri 12pm-10pm; Sat-Sun 11am-10pm.
Best for elegant leather goods: Fancy Pin
Nestled in a cosy space at the bustling Queensway Shopping Centre – surrounded by sporting goods galore – sits this quaint little leather store, which moved here after their stint at Mandarin Gallery. It's not hard to stand out among the jerseys, sports shoes and backpacks that overwhelm the building, but Fancy Pin caught our eye immediately − all thanks to their spread of eclectic handmade wooden hangers ($25) in the shape of cats and dogs dressed in 28 different occupations (such as pilots, nurses and firemen), as well as columns of quirky masks splashed with faces of famous peeps like Audrey Hepburn, Elton John and Mona Lisa (brought in from Madame Tussauds' museum range in Amsterdam – and not for sale, unfortunately).
Helmed by a friendly couple who have been in the leather business for 45 years, the shop takes after their kids' middle name (Pin) and, well, they sell fancy stuff. Their bubbly enthusiasm for all things leather is palpable; you can practically feel them radiating excitement as they passionately answer any questions you have. On display are genuine calf and lamb skin leather products such as wallets, coin purses, pencil cases and bags, as well as Mulberry paper journals (you can come back here for refill services), handmade porcelain cups and printed cotton tote bags, with new designs coming in every six weeks. But the jewel of the lot are the genuine snake, lizard and crocodile skin clutches and purses from Colombia encased in a glass box – the most expensive one we found was a glossy black croc belly skin handbag ($2,800).
#02-41G Queensway Shopping Centre, 1 Queensway (6473 3168, fb.com/fancypin). Queenstown MRT. Mon 3pm-9pm; Tue-Sun 11am-9pm.
Best for eco-friendly stuff: Greenbox
Loving the Earth is all the rage these days, what with the ever-rising popularity of a 'green' lifestyle, advocating natural and organic food, recycled and upcycled products, energy-efficient solutions and the like. So for all you greenies out there, pay a visit to Greenbox – the retail side of local environmentally-friendly engineering company, Greenviron Eco. Set up in 2009, this shop marks their sincere efforts to encourage tiny changes in our lifestyles to save the Earth. And believe us, there are loads of things you can do to help.
Step into the quiet space and you'll find shelves stacked neatly with eco-friendly products, some familiar, some not so. With such a wide range, it's no trouble finding something for everyone in the family – even little ones can enjoy the DIY solar toys ($18.90) and the cool-looking Wild Science Eco Dome Planet Management kit ($90) that we found. Equip yourself with water or energy conservation products, items made out of recycled materials, sustainable and organic goods, and even air or water purifiers.
Wish to go green in style? Try on their organic cotton tees ($20.90) or printed messenger bags (from $39.90) made from sheets of newspapers and comic books. Or if you simply want to start small, pick up one of their recycled cardboard paper pens (from $1.10). Now that wasn't so hard, was it?
Two locations, including #B1-26 Star Vista, 1 Vista Exchange Green (6694 4635, greenvironeco.com/greenbox). Buona Vista MRT. Daily 11am-10pm.
Best for all things vintage: The Good Old Days
If you're big on vintage, you might have stumbled upon this little treasure trove somewhere in the confusing, maze-like corners of Bugis Street. Opened since late 2010 by two vintage lovers born in the '70s and '80s, The Good Old Days is a shrine of their childhood memories, each item with a story to tell. They've since located to a gleaming new (and bigger) space at Jem, where they undoubtedly stick out from shiny brand names in the crowd with their quaint, nostalgia-inducing décor.
Just one glance at their walls dotted with retro pictures of local celebs like Chew Chor Meng, Pan Ling Ling and Zhang Ge Ping (we hardly recognised them – see if you can identify more) will send you spiraling straight on a trip down memory lane. Vintage bags and clutches ($39-$499) sit on the table alongside old school toys and hard-to-find candy of yesteryear, and wooden cupboards by the walls house '50s-style telephones, chunky accessories, antique-looking radios and records, as well as an assortment of pre-loved dresses ($49-$399) from years past. If you ask us, there's no better place to get sentimental.
3 New Bugis Street. Bugis MRT. Daily 12pm-10pm.