Heads up! We're working hard to be accurate – but these are unusual times, so please always check before heading out.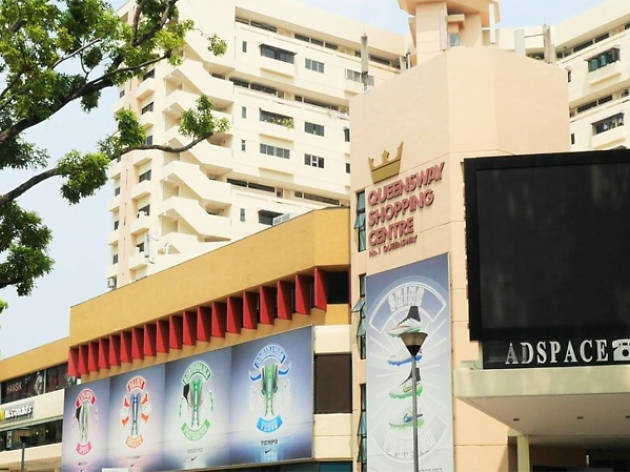 The best of Queensway Shopping Centre
The best shops and restaurants in Queensway Shopping Centre
As the iconic mall and its surrounding buildings prepare for en bloc sales, the future of the Queensway Shopping Centre might be unclear. While it is common for older flats and buildings to be up for sale to make way for newer developments, it seems that some of the folks at this building – which is also one of the stops of Queenstown's heritage trail – are not going without a fight. Not only has a petition against the sale initiated, but more than 20 per cent of the shop owners at the mall have also signed to prevent the en bloc sales from happening. For sales to proceed, at 80 per cent of the development's stakeholders have to approve of it.
While we wait in bated breath for the outcome of this battle, it is still business as usual, at the mall known for its variety of sportswear and equipment. We revisit some of our favourite shops at this old haunt.
RECOMMENDED: The best outlet shopping malls in Singapore and the best sports shops for activewear, equipment and accessories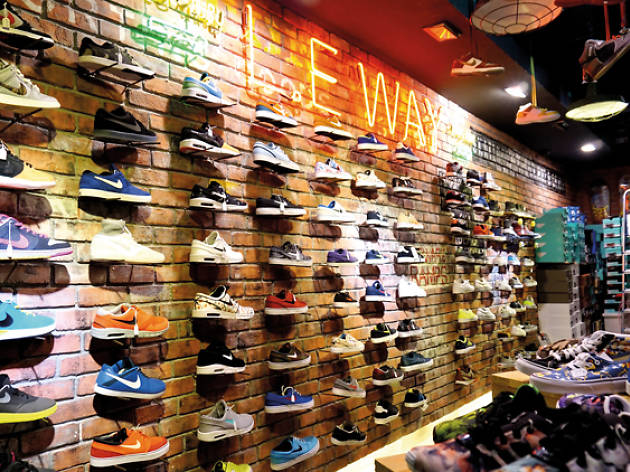 Sneakers have never lost its relevance, and LE Underground has you covered, whether you're contemplating picking up your first or tenth pair of kicks. The racks here are stock brands – mostly skateboarding models – like Nike SB, Adidas and Vans.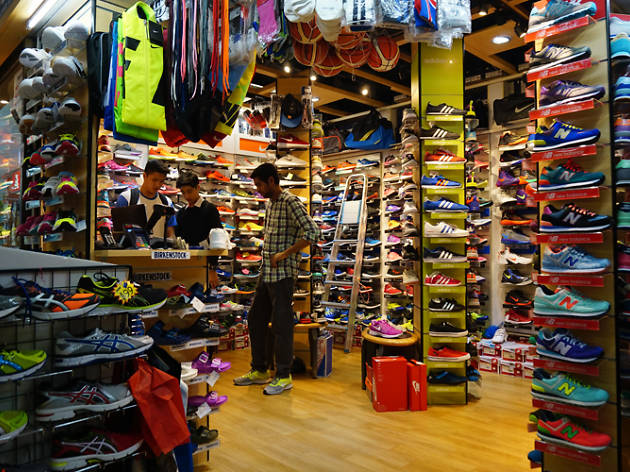 For more functional shoes you can dash around in, Sports World carries footwear for almost every sport you can think of. If you're lucky, you might even snag a discount for a pair of past season trainers.
Whether you're hitting the trails or just chasing after the bus, I-Run's got the right shoe for the job. The running concept store in Queensway is the largest of its four outlets around town, and carries all the major shoe brands you'd expect, alongside accessories like heart rate monitor watches (from $249).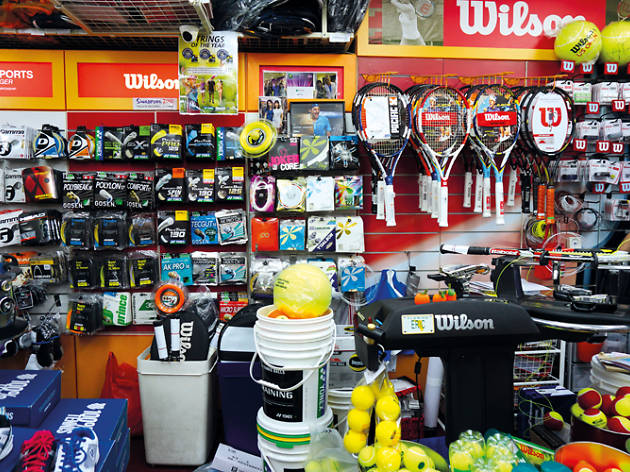 Itching to pick up a racquet after catching some court action? You won't go wrong starting your journey at Transworld Sports, which specialises in all things tennis. Here, you'll find pro-level racquets from brands such as Babolat and Gamma – and if you chat the owners up, they'll be happy to help you get started. They've been around since 1988 and have been the official stringer of professional tournaments for many years, so you can be sure they know their stuff.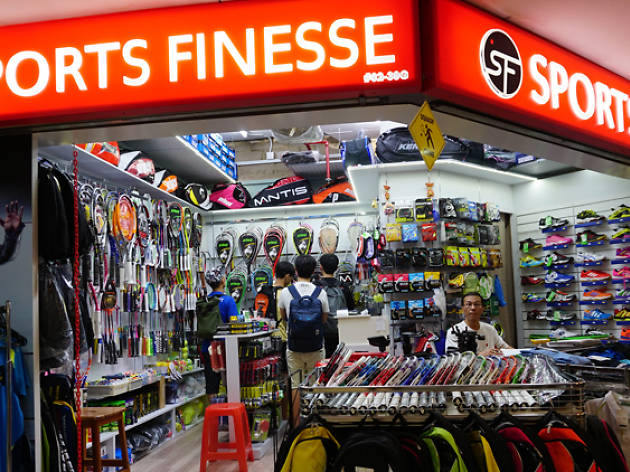 Maybe you prefer pinging a tiny rubber ball in a wooden court. Sports Finesse stocks plenty of squash rackets and accessories for the newbie and professional alike. Talk to the owner, and he might help you select the most suitable racquet based on your built and playing needs.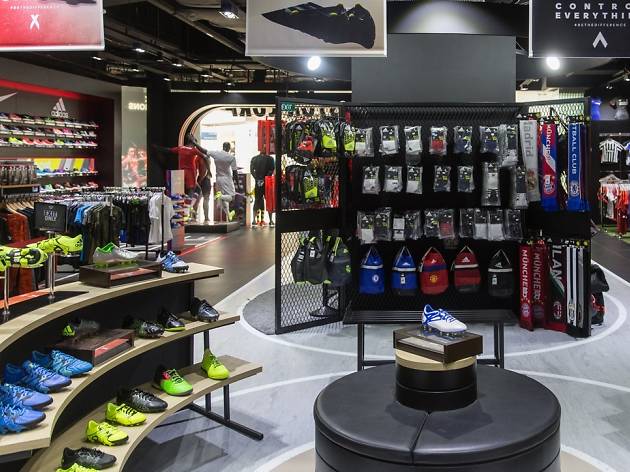 Photograph: Weston Corp
It doesn't matter which football club you're rooting for – Weston Corp does not discriminate. The brand's grown to seven stores across Singapore with the branch at Kallang Wave Mall being its biggest, but it's from neighbourhood malls like these where the brand resonated with the masses with its range of European team jerseys.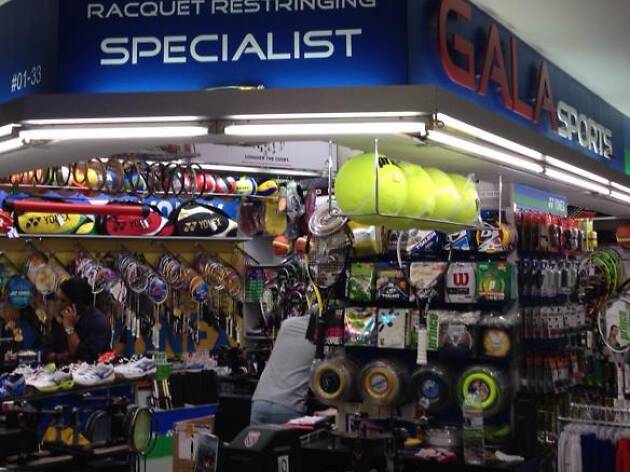 Gala Sports specialises in tennis equipment and supplies, but stocks a variety of badminton rackets. Naturally, Yonex is the main brand featured here, but there are other international brands in stock too. The store also provides racquet-stringing services with its machines in-store.
Laksa wars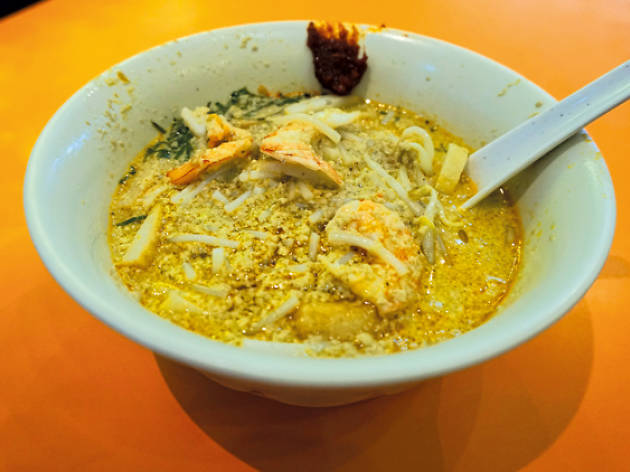 The two stalls in the mall – 328 Katong Laksa and Janggut Laksa – serve the noodle soups in the same way: with a spoonful of sambal and finely chopped laksa leaves you stir in your soup. No chopsticks necessary – all you need is a Chinese spoon.
While the Janggut laksa ($4) is a tad too mild, stirring in the toppings instantly lifts the entire dish from 'meh' to 'shiok'. The one from 328 ($4.50), on the other hand, comes in a bigger portion and is significantly spicier than Janggut's – but it lacks in the flavour department, even with the toppings.
WINNER: Janggut Laksa
Go now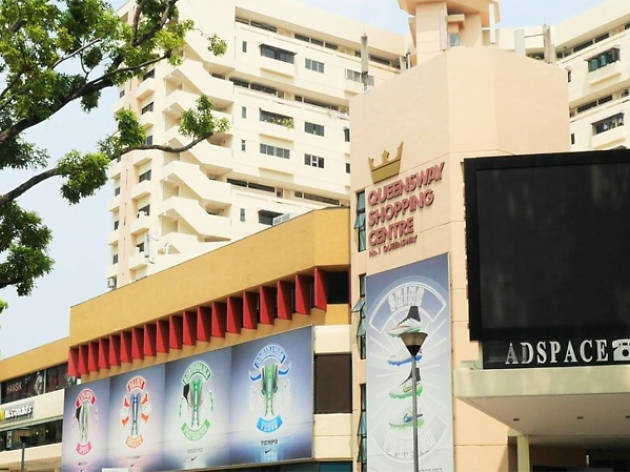 We love Queensway Shopping Centre for its cheap sneakers, racquets and sporting apparel. You can get a pair of Nikes for less than $100 depending on the shoes you have set your eyes on. It's not for fashion-forward types as the shops sell last season's leftovers. But at least it won't cost you an arm and a leg. As the prices vary between shops, we'd recommend that you browse for a bit before buying.